Searching for a reason Case Keenum can replicate his 2017 success? Look no further than guard Ron Leary, a key member of last year's free-agent class who will be one of the men who aims to protect Keenum this fall.
DenverBroncos.com caught up with him about what it will be like to play with the Broncos' new acquisition, how his recovery has gone since being placed on injured reserve with a back injury toward the end of 2017 and how he would feel about a return to left guard.
Aric DiLalla: How are you feeling? Where are you in the recovery process?
Ron Leary: I'm 100 percent. I'm ready to go out there. I've been working out since the season ended. I feel good. I haven't had any setbacks. I'm doing everything right now.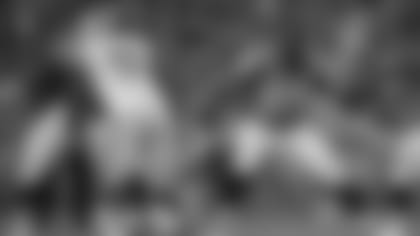 AD: [Head Coach] Vance Joseph said he may move you back to the left side of the line. What would that be like for you to go back to your more natural position?
RL: It is what it is at this point. I've played right [guard], I've played left [guard]. I'll just talk with them. We'll get together and just see what's best for the line. If we get somebody that can roll at the other spot, then I'm cool playing whatever side they need me to play.
AD: If you went back to left guard, you would be next to Garett Bolles. How do you think that would help him improve?
RL: I think it would help him a lot. He was a rookie last year, so he went through his ups and downs, but if you watch him, you know he shows great promise. I think me being a vet and playing the game as long as I have, to be able to play next to a guy like that is going to help him out a lot. And he'll help me out some, too — just being able to get on the same page. … A little stability will help him out a lot.
AD: What are some of your personal goals going into this year from a leadership and productivity standpoint?
RL: I definitely want to step up and be more of a leader on the team this year. I kind of felt like last year I was trying to feel my way around a little too much, just being on a new squad. That's definitely something I shouldn't have done. I plan on picking up a lot more this year and just leading the line. I'm sure there's going to be some moving parts again on the O-line this year. So, really just trying to get us closer together as a group. [We will] try to get the best five on the field and just keep working. Just try to be good. We've got to set a standard for ourselves.
AD:* Is a Pro Bowl appearance something you're aiming for this season?*
RL: Those things will come, but I think we all know how those things work out. I just play ball. I don't need a Pro Bowl accolade to let me know I had a productive season. You've just got to watch the film with me. And I think you can do that [from my film] last year and all my years past. I don't really look into things like that. I just play ball and try to be my dominant self.
AD: The big news around here is the Case Keenum signing. What do you think about the move?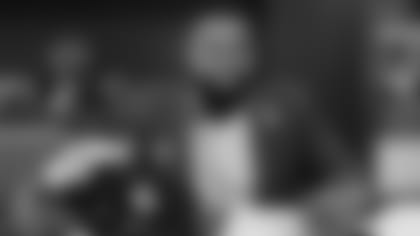 RL: I'm ecstatic about it. I've [played against] Case since college. I went to Memphis, he went to Houston — and he used to light us up back then. It was a lot like what he did last year in Minnesota. I know him. I know he's reading all the doubters, and I know the type of guy he is — being an undrafted guy like myself. It's all going to add fuel to the fire. I'm glad he's here. I can't wait for him to get in and get going.
AD: He's a guy that seems to have very good pocket awareness. As an O-lineman, how can that skill help you?
RL: I think that helps out a lot, but I think if we hold our blocks up front, then hopefully he won't have to move around and avoid guys too much back there. If we do our part, he'll do his part. Every now and then, I know if they come back there, he'll make somebody miss and make the throw.
AD: Have you had a chance to talk with Case since he's gotten here?
RL: I reached out to him. I know he's been really busy with everything, because I remember how it was for me last year. I just reached out to him to let him know I was glad to have him here and couldn't wait to get things going with him. I know he's ecstatic. I watched his press conference, and you could see his face glow up when Elway introduced him. That's the type of guy we need here to get this culture going in the right way.
AD: You arrived here last year as a new player. What would be your advice to Case to hit the ground running?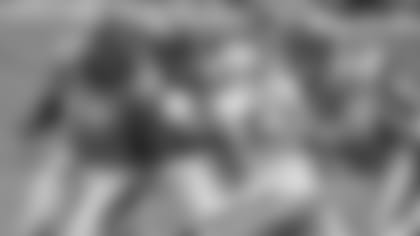 RL: Just to take it all in and get back to being yourself, just being a great football player, which I know he'll do. He's at a real important position on our team. He knows what comes along with that. I'd just tell him to enjoy the process right now, and then when it's time to get rolling, just be yourself.
AD: It's obviously nice to have some time off for the offseason, but after last year, how ready are you to get back in here and get to work?
RL: We're ready. If you look, we had about 20 guys in [on Monday for voluntary workouts], and I know that's a big number compared to how it's been in the past. I think guys know that last year was definitely not up to the standard, and everybody needs to play better across the board. I think everybody knows that, and we're going to take that approach.
AD: Sean Kugler is coming in to be the new Offensive Line-Guards/Centers Coach. You can't talk football yet, but what do you think about that addition and have you been able to get a feel for his personality?
RL: I think his track record speaks for itself. If you go back and look at places he's been, they've always had successful O-lines. [Personality-wise], he's a no B.S. guy. He's not going to take any B.S., and he's going to expect the best out of us. That's something we need.