With 13 years of NFL coaching under his belt, Wide Receivers Coach Tyke Tolbert has helped the Broncos build one of the league's top receiving corps. In 2014, his position group had its third-consecutive year with two receivers recording more than 1,000 receiving yards apiece. As Tolbert and his receivers prepare for a new season, we caught up with the coach entering his fifth year with the Broncos. 
So practice just ended and you stayed afterward to throw with Demaryius Thomas. You and him have been around each other since 2011, his breakout season. What's it like working with him and how have you connected with him?
Well, it's been great, to answer your first question. Working with him, he comes to work every day, he doesn't say a whole lot; he just does what he's asked to do. He works hard in both the passing game and the running game. When I first got here he was coming off his Achilles injury and every day after practice, I used to work with him trying to perfect two routes every day. And we kept going over and over and over those two routes every day. It got to a point where he started perfecting them pretty well and he just evolved as a receiver because the offense he ran in college wasn't very receiver-friendly, the triple-option offense. So he had a lot of route technique to work on and a credit to him, he's worked on it a whole lot and he's become a really good receiver, obviously.
With him and Emmanuel Sanders, they're two different types of players and they're also quite different in personality. How does that combination add in regards to leadership in the locker room?
Everybody's different, first of all. DT, he is a silent type of leader by example and Emmanuel, he's a talker. But I think everybody does what they need to do in order to get the team ready or get their teammates ready. So whatever that is, whether it's by example or talking, whatever the case may be, it's different for everybody. It's just different for everybody and having them and the wide receiver group in general and all the teams I've been on, it's a unique group where you have a ton of different personalities, a ton of different egos, it's everything involved in that position, so we have to be able to manage all those personalities, all those egos and so far it's worked out for us.
Previously you had mentioned that the Broncos have a selfless group of receivers. When I've talked to Sanders in the past, that's something that he's really spoke highly about.
It shows on the field and in practice about them being selfless. Honestly, when you come to the NFL, all these guys were great receivers in college so everybody wants the ball, but they understand that if they don't get the ball, it's all about the team, whatever that is. One of the things that doesn't show up on the stat sheet that you will see in the game, if you watch it closely, is our wide receivers blocking downfield for running backs.* *That's something we demand and those guys know that I'll praise it more for a great block than I will a touchdown because if you run 65 plays in the game and you only catch five passes, what are you doing the other 60 plays? That's my philosophy. They've got to be doing something the other 60 plays to be able to help the team win, and a majority will be blocking, whether it's for a running back or somebody else caught the ball.
A few years ago, then-Broncos WR Eric Decker said you teach technique like few coaches do. Why do you think that is and what is your focus with it?
In my opinion, I put on my receivers' tip sheets every week that technique will get you open before speed. There are a lot of fast guys—really fast guys—that are at home on the couch because they can't run routes. They don't have good technique. But there are guys who are not as fast that have good technique that can cut and separate from a defender and go make plays on the ball. So that's what I've always believed, that technique will always get you open before speed. That's the way I was raised in coaching and that's what I continue to coach. Now if you have speed and technique, that's a plus! If I had to give up one or the other, it would be to give up speed to have good technique because there are a lot of really good receivers that play in this league that weren't the fastest guys but had good technique and were able to cut and separate and get open.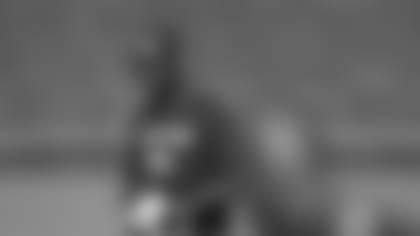 With Cody Latimer's development, do you think he's come into this year with a better understanding of how much is demanded of an NFL receiver?
I think he does, and because he's been here a year and he's watching DT work, he's watching Emmanuel work, he watched Wes Welker last year work — he's watched those guys and he sees that that's not the physical ability you have. You have to put in the work in the film room, put it in on the field with route technique. He's made tremendous strides from last year to this year and we're expecting a lot of good things from Cody this year.
When you think about your career, what themes do you come back to the most?
What I've learned, it's two things: Stay true, as far as in coaching, stay true to what you believe in. I have certain things I really believe in, like technique gets you open before speed, those types of things. Stay true to what you believe in and you've got to get it over to your players, however they learn because everybody doesn't learn the same. How I coach DT may not be the same way I coach Emmanuel; it may not be the same way I coach Cody. So whatever it is that you can get them to understand what it is you're trying to relate to them, then that's what you have to do. So I would say that being able communicate with your players and being able to stay true to what you believe in. And, again, I'm always learning too, so I pick up things all the time that I learn from other people. But my true value, my true core, what I always come back to and stand to my guns for is technique will get you open before speed and you have to make an impact in the run game as a wide receiver. Those two things I tell my guys all the time: You are always the primary receiver on every route, and you are always the primary blocker on every run. So if you keep that mentality, you will be successful.