Aric DiLalla:When FOX got the U.S. Open, you became an essential part of that broadcast crew. What sort of challenge was that for you to transition from football to golf, and what are the differences in terms of how you call the events?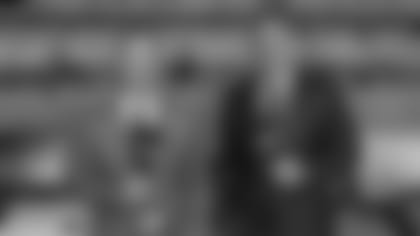 FOX's Joe Buck:It's a different tone of voice. Football's loud. You have to be loud, because there's crowd noise. Obviously if there's crowd noise in golf, that's not good. The crowd noise in golf comes after the shot lands. In the NFL, the noise comes before the play starts. And then, hopefully, if it's your team, [the noise comes] after the pass is caught or whatever it is. The other thing that made it difficult is that when I go to the game on Sunday, I'm sitting in the best seat in the house. I'm right at midfield. I can see everything. If I want to say something, it's coming out of my head. But in golf, I'm not watching all the action. It's sometimes acres away from where I am, and I have to rely on the people that give me the information in my ear to know where we're going next, who's going to be on the screen, what they're putting for, so it's a lot of moving parts. Now we've done it three years, and I feel like we're finally hitting our stride, but it's definitely an adjustment period. Football, for me, it's simpler, because I see it, I say it.
AD: In some of your biggest calls, silence is almost as big a part as what you're saying. What role do you try to let silence play, and how long did it take you to get comfortable with that?
JB:That's a great question. I try to do a game — and I'm sure I don't always accomplish it — I try to do a game the way I'd like to listen to it at home. When announcers are talking wall-to-wall, it just makes my skin crawl. I feel like if you can shut up as the announcer and you can let the natural sound carry it — now sometimes, it won't. If you have a World Series that ends with the visiting team winning, that's the definition of silence. But even in that case, our cameras go right onto the field, you can hear with the microphones on the cameras the way guys are jumping up and down on the center of the diamond. I just think there's nothing I'm going to say that's going to be more exciting than listening to the crowd go nuts. But not everybody takes that tactic, and I'm not saying it's right or wrong. The other part of the question, I think, is the cooler part. It takes a while to have the confidence to know that you don't always have to talk. It's a simple thing, but there's that insecure voice in your head that's going, "Well, if you're not saying something, people at home think you don't know what to say." You have to pick your spots, and I think that's what the ones who want to be good — and I list myself as somebody who wants to be good — can try to get done and enjoy the silence and let the viewer enjoy it, too.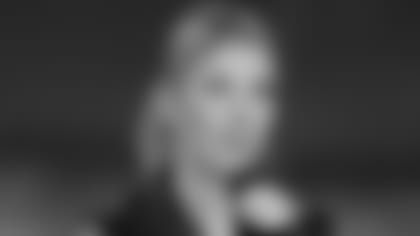 AD: Your wife, Michelle Beisner, is a former Denver Broncos Cheerleader and was recently featured in a Terrell Davis tribute video. From talking to her, what was that like for her and how closely does she still follow the team?
JB:Oh my god. She's so crazy about the Denver Broncos. We went to the Super Bowl two years ago when they won, and we just sat in the seats and watched as fans. Everything's Bronco-centric in our house, because I really don't have a rooting interest in the NFL. That's the woman I married. I guess by definition, by relationship now, I'm a de facto Broncos fan. I'm not an idiot. If she's happy and the Broncos win, then I'm happy.
AD: When you interview a first-time head coach, how does that change what the production meeting is like for you?
JB:Well, I mean you don't know what you're going to get. It's funny you ask that, but we all came out here after our meeting with Vance Joseph, and I actually thanked him. I said, "I hope you know that for somebody in my position, the way you are in a meeting like that, it's golden. It's worth so much to the broadcast." Some of these guys — you know, Bill Belichick's the most successful head coach that I've ever been around, but he doesn't really have any time for the production meetings. And that's fine. I'm not saying he needs to be open and honest and tell us everything, but I think Vance knows he can trust the people in that room, that what he says is going to stay there. And now we've got unbelievable background info to go about doing our job on Sunday. He was awesome, but you just don't know. The Forrest Gump, "Life is a box of chocolates." When they walk in, it doesn't matter who it is, you don't know what you're biting into. And sometimes they don't want to answer anything, and sometimes they go on and on and on, and Vance was awesome.
AD:I know you're friends with Jon Hamm and Paul Rudd. Do you have a favorite movie or TV show that those guys have each done?
JB:It's so sad that I didn't watch a ton of "Mad Men," because I've known Jon longer than I've known Paul. I like Jon's "SNL" stuff. I think he's so good on "Saturday Night Live." He's always been to me a funny guy. Even though on "Mad Men" he's known for being kind of a serious actor, but he's a funny person. He's got a great sense of humor.
And Paul, everything I see him in, he's just one of those guys I think people like on screen, because that's genuinely how he is. He's not changed one bit since we were 18. The first thing I saw him in was "Clueless." The best thing I saw him in was "Antman," because he finally got in shape, and that was impressive, because he did it at the age of 46 or whatever he was. So I was proud of him.
AD:It seems the national media has stopped talking a little bit about the Broncos as the Chiefs and Raiders have taken a step forward. What is it about this team that you saw in Week 1 that suggests they can still be in that race as the season goes on?
JB:I think not just Week 1, but last year. They were a nine-win team, and a couple plays here and there, they were and 11-win team. This is not a team that's down. They won the Super Bowl two years ago. They still have the defense, they still can shut you down. They can shut you out. And every time I've seen Trevor Siemian play — although I just met him for the first time half an hour ago — I've come away impressed. I like those stories: seventh-round draft pick and somebody that wasn't counted on. He's held back Paxton Lynch, and I think he'll play great. The national media is so fickle, and they just want to follow the hot story. To me, Denver's just been a model of consistency and good. You always count on them. As a guy who lives in St. Louis, I think of the Denver Broncos, [and] I think, "Well, they'll be good." And [then] that's not shocking when they are. So they'll be good. And we'll just see [if] the breaks go their way, and they end up on top in the West. It's a good division. All that stuff's cyclical, and the AFC West is pretty darn good right now.