Luke Kellerman always held tightly to his goals.
The one he may have chased the longest was simply to work for his favorite NFL team.
"It meant the world to him," says Katie Kellerman, Luke's wife of nearly 10 years. "From a very young age, his whole dream in life was to work for the Broncos. So the fact that he made that come to life was amazing, a dream come true."
After realizing that dream in 2010, joining the organization's turf staff, a new one came to him. Diagnosed with colorectal cancer in 2015, Luke looked at potentially encouraging the Broncos to expand their cancer awareness campaign. At the time, all NFL teams dedicated October to observing the league's "A Crucial Catch" program, which focused on breast cancer awareness.
Luke could only wonder whether the team could widen spotlight to those like him and any number of people battling other types of cancer.
"Just from the get-go, he put a lot of his energy into it, and he would research, he would look up to see if there were any other campaigns going on at the time that the NFL was doing, and he didn't find anything that was really addressing other kinds of cancer," Katie says. "So he did some research. He talked to me a lot about it, if he thought it was a good idea and what I thought about it. He typed up this whole proposal, and he was so proud of it."
As Luke dealt with chemotherapy and other treatments, the idea served as a guiding light for him.
"It gave him some purpose to be able to help others and to make them more aware, too," Katie says.
A little over a year later, Luke passed away. In the weeks prior, he'd watched as "Fight Like A Bronco" celebrated its second year. Since then, Luke's vision has only grown, continuing a legacy that will have an impact in Denver for years to come.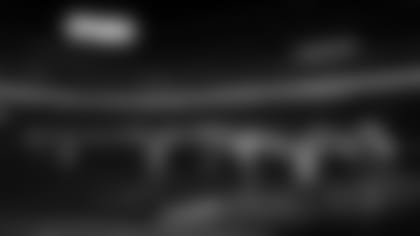 Luke's dream was grand, in a way. No team had done anything like it. The NFL itself was months away from moving in the same direction. But the idea behind it truly was small.
"Hopefully it just reaches people," Luke said in 2017. "That's the only goal. It was nothing selfish or anything having to do with any other alternative motives behind that. For me, my only goal was to just get it out there."
In making the scope larger and more inclusive, the Broncos could make a wider impact on early cancer treatment, helping people catch it earlier than they may have otherwise.
If there's one part of how "Fight Like A Bronco" makes an impact that could be called its most vital, it's just that: encouraging people to get a screening or to take preventative care.
Since 2016, the Broncos have made financial contributions totaling more than $287,000 toward areas of research and prevention. The funding that has gone toward colorectal and breast cancer screenings has meant that nearly 74,000 people have gained access to screenings in Colorado.
"The fact that now there have been 73,000 or more cancer screenings provided, I mean, it's the great joy of my life to see this come so far, and I think that he would just absolutely be thrilled," Katie says.
In addition, the campaign focuses on providing support for those battling cancer through visits (now virtual due to the COVID-19 pandemic) with players, cheerleaders and Miles the mascot; honoring cancer survivors with "Tailgate in a Box" experiences courtesy of the team and the American Cancer Society; remembering loved ones we've lost to cancer with an annual remembrance event; and a game-day celebration at the team's yearly "Fight Like A Bronco" home game. This year, the Broncos are honoring 50 oncology doctors and nurses for their role in the fight against cancer with a special halftime celebration.
"Honestly, it brings tears to my eyes," Katie says. "I'm so proud of him, because … when he first started it and first came up with the idea, he just wanted people to just be more aware of cancers that are not talked about often. So if that was three people that became more aware, great — that would have thrilled him to no end."
Since "Fight Like A Bronco" began, Broncos players have also added their voices to the cause, sharing their stories and urging screenings or other precautionary measures. Many of them, too, witnessed the personal battles that loved ones have gone through. The experience has stayed with them, and it has changed them.
Nearly 15 years after his mother was diagnosed with breast cancer, Teddy Bridgewater remembers his mother losing her hair, her fingernails turning black, how she needed help to get out of bed just to use the bathroom.
His mother survived her fight, and Bridgewater's outlook on life forever changed because of it.
"It really just taught me how to appreciate life and the simple things in life," Bridgewater says. "It taught me to always smile because she was going through all of that, and she was always smiling and giving off all that positive energy. …
"I watched my mom go through something; I've been through something. We all have a story. It's all about how can we spin that story if it's negative and make it a positive. My mom did just that. Every day I walk around and I put my feet on the soil, I'm happy. Life is short. You can't take it for granted."
Just like Bridgewater, Katie Kellerman was similarly changed by Luke's experience and his drive as he battled cancer.
She carries his spirit on by helping "Fight Like A Bronco" and by working with the American Cancer Society. She's also been working with the Denver Fire Department to provide firefighters with early-detection documents and other forms of information or education. In that way, it's helped her grapple with Luke's passing over the past four years and given her a new purpose in life.
"I'm doing better than I was, so that's good," Katie says. "It does impact me every year, obviously, and I remember him every day, every second of every day. … Just anything I can help further Luke's mission along helps me cope and helps me realize that there is still some good coming from the tragedy. Since Luke had such a hand in everything, that some good is coming from it … that makes me feel better."
Just recently, a firefighter that she'd helped reached out to her.
"He texted me that he's crediting me with saving his life, which, in turn, that is because of Luke," Katie says. "So he is still saving lives, through me by proxy. I just think it's incredible. It's mind-blowing to me, how far it's come. And if I can continue, continuing on Luke's work, people are thanking me, but it's really because of Luke. It's just insane how big it's become."
Every year, Katie returns to Empower Field at Mile High for the "Fight Like A Bronco" game. The place where Luke had dreamed of working is still where his dream resides. And while it is understandably painful to make these return trips to a place that Luke loved so dearly, to look for him where he'd have been down on the field, Katie feels connected to him by furthering his work helping people who are fighting cancer or helping others catch it early enough that treatment is much more manageable.
"Hundreds of people, I think, have been saved by Luke," Katie says. "So if anything good can come out of what he's come up with, it's just, it makes me feel better, it makes it a little bit more worth the pain and suffering he had to go through, because hundreds of other people have been saved from it."