As we hear constantly, safety is perhaps the hardest position to evaluate for members of the Pro Football Hall of Fame's selection committee. The criteria is based less on quantifiable numbers that help define most other positions, and instead is built on honors, respect from peers of his time and a general aura of intimidation that forced opponents to rethink their plans.
Those attributes place Steve Atwater in a favorable light. In a career of standout performances, here are five moments that stand out and define just what he meant to the Broncos and how he became one of the players who defined football in the 1990s.
Announcing his presence early
The Broncos made Atwater an immediate starter as a rookie in 1989 after selecting him with their first-round pick, and it only took him three games to show that their choice was wise. 
Denver burst to a 28-0 lead over the Los Angeles Raiders on the strength of a dominant defensive performance that included Atwater's first career interception, a pick of quarterback Jay Schroeder that led to a 30-yard return. It was one of four takeaways by the Broncos in the first half as they built a 28-0 halftime lead.
That edge nearly evaporated in the second half, as the Raiders narrowed the gap to 28-21 and had the football with under five minutes left and a chance to tie. Atwater then ended it, intercepting Schroeder again to set up David Treadwell's game-clinching field goal.
So many of Atwater's biggest moments revolved around hits, but this game showed that he could make game-changing plays on the ball, as well.
Ending the Nigerian Nightmare
If Atwater had not worn an NFL Films microphone when the Broncos faced the Chiefs on a warm September Monday night in 1990, his shivering blast on Kansas City's Christian Okoye might have been just a historical footnote. Instead, it became a touchstone that was not only the defining hit of his career, but a symbol of a different, now-bygone era of pro football.
Okoye entered Denver at the peak of his powers. He led the NFL in rushing one year earlier and had broken 100 rushing yards in half of his previous 16 games. A 260-pound back with speed worthy of a runner 60 pounds lighter, he was a blend of swiftness and power that the NFL had rarely seen before.
Atwater gave up 42 pounds to Okoye. But as Okoye burst through a hole up front, Atwater had momentum, and lowered his right shoulder into Okoye, sending the bulky back to the Mile High Stadium grass as the sellout crowd roared.
Never a notorious trash talker, Atwater couldn't hold back, looking over Okoye and saying, "Yeah, you tried, baby."
The Broncos went on to win, 24-23. Okoye was never quite the same after that. He broke 100 yards just four times in his next 39 games, and his career ended three years later.
To this day, outside of Denver, whenever Atwater's name is mentioned, Okoye's often follows, forever connected by one hit that echoes to this day.
"A lot of places I go, that is the thing they ask me about," he said.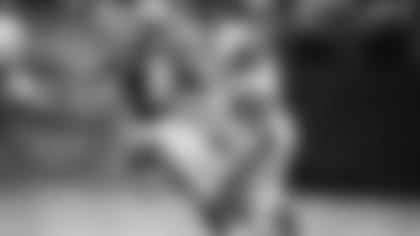 Stopping the Broncos' bleeding 
One of the Broncos' worst all-time starts came in 1994, when they stumbled to an 0-4 September that included three one-score losses, two of which came to the previous year's AFC champion (Buffalo) and that season's eventual AFC winner (San Diego).
Desperate after a bye week to stew over the poor start and seven-game losing streak dating back to the previous December, the Broncos trudged to Seattle, where Atwater single-handledly got the Broncos out of their funk and started a 7-2 run that nearly saved their season.
In the first quarter, Atwater intercepted Seattle quarterback Rick Mirer's third-and-11 pass, stopping a scoring drive and returning it 24 yards to Denver's 33-yard line. The theft ignited the Broncos, who subsequently drove 58 yards in nine plays to a Jason Elam field goal to take an early 3-0 lead.
The Broncos lurched around for the next 15 minutes before Atwater came to the rescue again, recovering a fumble forced by Randy Hilliard at the Denver 13-yard line. Atwater returned it to the Denver 30, and the offense seized the momentum from there, driving to their only touchdown of the day.
Knocking you off your feet
Believe it or not, the usually-hapless Buccaneers were a tough foe for the Broncos in the 1990s, beating them in two of their three meetings. The exception was in 1996, when he broke up two passes and notched seven tackles in a 27-23 win on "Sunday Night Football."
But one jarring hit stands out.
With the Bucs leading 13-10, running back Reggie Brooks plowed up the middle. Atwater raced into the box to the right of Brooks, who appeared to have a clear shot at reaching the second level. But Atwater accelerated and drove his right shoulder squarely into Brooks, knocking him completely off of his feet. 
The Bucs punted, the Broncos went on to win, and a template for a dominant season was established. They won six of their next seven one-score games before dropping a meaningless season-ending game at San Diego, and Atwater's timely hits were frequently a root cause of the Broncos' success. The 1996 season was also Atwater's eighth consecutive campaign with at least 100 total tackles.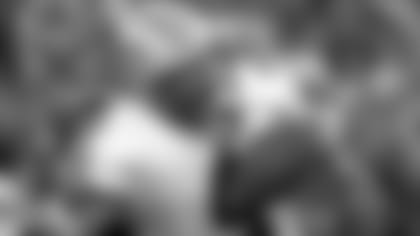 Delivering a Super Bowl triumph
One of the best cases for Atwater as a Hall of Famer is that he was at his best when it mattered the most. In the Broncos' 31-24 Super Bowl XXXII win over the Green Bay Packers, he delivered one of the key defensive plays that made the Broncos' first world championship possible.
Atwater overcame shoulder injuries that plagued him throughout the season to break up two passes, notch six tackles and force a fumble on a sack of Brett Favre that defensive end Neil Smith recovered. One of Atwater's two passes defensed led directly to a punt, as it prevented a completion to Robert Brooks that would have moved Green Bay into field-goal range with the game deadlocked at 24-24.
But the play most remember is the one that saw him knock three players out of the game -- including himself. With the Packers facing third-and-6 and the Broncos clinging to a 31-24 lead, Favre looked for Brooks at the Denver 10-yard line down the left seam. But Atwater lurked and lunged left-shoulder-first at Brooks as the ball arrived.
The pass sailed over the heads of Brooks, Atwater and Hilliard, who flanked Brooks from the other side. However, Brooks' descent toward the grass ensured that Atwater's shoulder plowed over him and into Hilliard's upper chest. With three players injured, both teams were assessed timeouts.
Atwater, Brooks and Hilliard all sat out the fateful, final snap, but after John Mobley deflected Favre's fourth-down attempt to Mark Chmura, Atwater was well enough to celebrate a franchise milestone that might have never happened without his presence.