Fresh off winning gold medals in the 2016 Summer Olympics in Rio de Janeiro, Broncos fans (and NBA stars) Jimmy Butler and Paul George traveled to Denver to take in the season opener against Carolina.** *
Butler, who formed a friendship with wide receiver in the past couple years, previously visited Sports Authority Field at Mile High for the 2015 season opener. It seems the Broncos always deliver in the last minute when Butler's around.
An avid Broncos fan, George took in his first Broncos game Thursday with his dad, Paul George Sr., who became a fan because of a long-standing connection to John Elway. George Sr. had played high school football against Elway, and as a result, felt a connection with the star quarterback. He would follow Elway's career through college and into the NFL, becoming a Broncos fan as Elway led the franchise into its most prosperous years.
In free time before the game in after it, Butler and George, as well as George Sr., were kind enough to share their thoughts on the Broncos and what the season might have in store for them.
---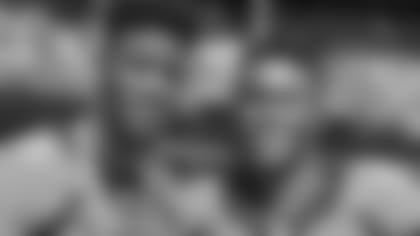 Jimmy Butler
What do you make of the Broncos' chances this year?
Obviously they lost Peyton, but I'm a fan, so I'm not going to sell them short of back-to-back Super Bowls. I'm very optimistic about it. Demaryius, Von — all those guys are really good friends of mine, so I'm looking at them to take it back to the championship and get it.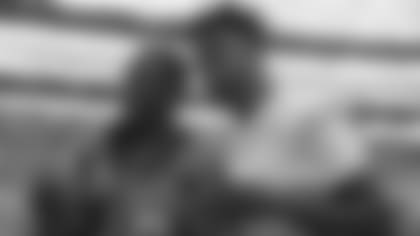 After that kind of opening night, what do you think the Broncos' win over Carolina means about the team?
They started off the season the right way, just like I knew that they would. Like I said earlier, we're going to the Super Bowl again, going to get the dub. 
Being good friends with Demaryius, did you think criticism of his 2015 season was overblown?
Definitely. I want to see other people that complain about it get out there and do what he does on a daily basis. There's more than one way to change a game, just like there is in basketball. In football, you've got to block well, you've got to communicate, and he's great at doing all those little things. He's going to have a big season, I'm sure of it. 
So then, are you still confident you can be a better receiver than DT?
I may get a little bit in over my head, but I talk a big game. I'm not going to say that I can or cannot live up to it on the football field. I guess nobody will ever find out, because I'm never suiting up for an NFL team, but that's the relationship we have.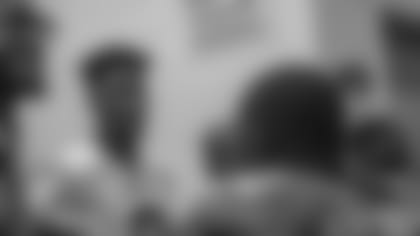 Paul George
How much does that kind of win say about the Broncos' chances this year?
I think it's kind of going to be the temperament this whole year. Defense wins games. That's what this came down to tonight.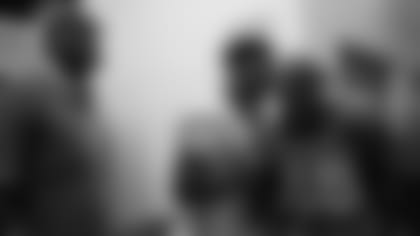 What do you think of how the team's shaping up this year?
I think the Broncos will be pretty good. Like my dad says, it's just wondering how [Trevor Siemian] does. I think it's good that our defense is so great. It's kind of a perfect situation for him, coming into a great defense and kind of get to feel his way out, not too much pressure on him. But I'm excited. I'm excited about this year. 
Your Olympic teammate has said he thinks he could take Demaryius' spot on the Broncos…
Oh, Jimmy? Man, Jimmy, deep down, wants to be a football player. That's just Jimmy being confident, man. We actually played football quite a bit when we was out in Rio. We played on the beach, played in the gym. At one point Coach K [U.S. Olympic men's national basketball head coach] Mike Krzyzewski] had to throw the ball away so we would stop playing football.
Jimmy came clean and told me probably can't play in the NFL, but said he played basketball against DT and said he could score some buckets in the NBA.
I ain't seen DT play basketball, but he's got some size. He's not a little dude. Size-wise, he could hang with us. As far as the game, I don't know if he's got the game to hang with us. He's an athlete, so I wouldn't put nothing past him. 
Paul George Sr.
What do you recall about playing against John Elway in high school?
He was good. He was good back then. He had an arm. He could throw the ball way back then when we was in high school, so I knew he was going to do well. I played against him one time. I was just coming in, so I was a new kid, but I did get a chance to go to the game and then be on the field with him back in high school.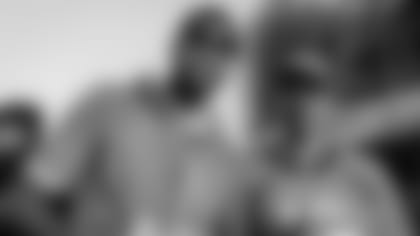 What position did you play?
I was a wide receiver and I played left cornerback. 
And you followed him when he went to college and then to the pros because of it?
I followed him because he was the only one in our group that winded up going somewhere and being a big star. And when he came to Denver, I was always a fan after that, and I've been a fan ever since.
And how many times has Paul heard this story?
Maybe a thousand times, or maybe more. I didn't know him [Elway] at the time when we were in high school, but I've just always liked his style and what he brought to the game. So, I'm always going to be a big fan of Mr. Elway.
What do you think of the team this year?
I'm hearing a lot about the new quarterback — number 13, too — I just hope we can make it back, at least back to the playoffs and then after that, you know, anything could happen. But I know we've got a big uphill because everything's changing on us. But I think we'll still have a pretty good season.