ENGLEWOOD, Colo. —** Denver media selected 12-year veteran linebacker DeMarcus Ware as the winner of the 10th annual Darrent Williams Good Guy Award, which is awarded to players who exhibit enthusiam, honesty and open interaction with media members.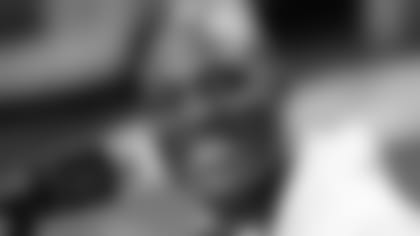 "It's an honor and a privilege," Ware said, "when you get an award and it's unexpected, not because it's something that you do, but it's just because of something that you are. ... You're going to have days where you lose a game and you've got to go and talk about the things you don't want to talk about, but also you have the good games to where they're going to praise you for everything that you do. So I think you've always just got to be the middle man and have that mediocre-type feel throughout whatever you do, and that's how I've been all my life."
"DeMarcus was the clear winner this year," said Jeff Legwold, president of the Pro Football Writers of America and Broncos beat writer for ESPN.com. "Those who named him as the winner cited his willingness not only to take the time, but to discuss a wide range of issues then offer comments of substance. Many of those who voted also noted Ware treated people with the kind of respect that is remembered long after the interviews have concluded."
Created in honor of former Broncos cornerback Darrent Williams, who was shot and killed Jan. 1, 2007, the annual award commends players who exemplify Williams' same qualities that endeared him to the press who cover the team on a daily basis.
"I just want to thank the Denver Broncos," Ware added. "R.I.P. to Darrent Williams. I always be praying for guys that have always changed people. I can tell when he was talking about him, how big he was for this organization. I really take that in and tell everybody thank you."
Previous winners of the Darrent Williams Good Guy Award were Brandon Marshall (2015), Terrance Knighton (2014), Chris Harris Jr. (2013), Wesley Woodyard (2012), Champ Bailey (2011), Mario Haggan (2010), Elvis Dumervil (2009), Ebenezer Ekuban (2008) and John Lynch (2007).
Editor's note: This story has been updated with quotes from Ware's press conference.