The Broncos will take on the Raiders at Empower Field at Mile High on Sunday at 2:25 p.m. MST.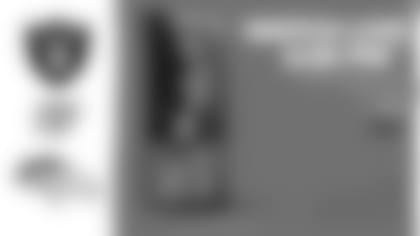 A LOOK AT THE MATCHUP
The Raiders enter Week 17 with playoff aspirations — and the Broncos have hopes of ending those silver-and-black dreams.
The Broncos' young offense will aim to take another step against a division rival, and Drew Lock will continue to try to prove he's the quarterback of the future. Phillip Lindsay, meanwhile, needs just 42 yards to reach 1,000 rushing yards on the season, and Courtland Sutton can add to a career-high touchdown total.
Most importantly, the Broncos will try to avenge a loss to Oakland to start the season. They should have a decent chance to knock off their AFC West rival — and end their slim playoff hopes in the process.
After starting the season 6-4 and then falling to 6-8, the Raiders salvaged their season in Week 16 with a win over the Chargers. If the Steelers and Titans each lose in Week 17, the Raiders could sneak into the playoffs with a win.
The Broncos cannot let that happen, but it won't be easy. With Derek Carr under center and a young talented receiving threat in tight end Darren Waller, the Raiders are still dangerous.
Oakland started the season with a win over Denver, and with a chance to get even, the Broncos know they can't let the Raiders bookend their season with another one.
With a rivalry game to finish the season, there's always more at stake than it seems.
INJURY UPDATE
Only three Broncos were ruled out for the game on Friday's injury report: guard Ron Leary (concussion) and tackles Ja'Wuan James (knee) and Elijah Wilkinson (ankle).
Everyone else on Denver's roster will be available to play on Sunday, though DeMarcus Walker is listed as questionable.
Oakland did not rule out any players on Friday, but starting running back Josh Jacobs was downgraded to out on Saturday. Jacobs, a rookie out of Alabama, rushed for 85 yards and two touchdowns and added 28 receiving yards in the Raiders' first game against the Broncos this season.
Play-by-Play: Andrew Catalon
WATCH ON MOBILE
In-market fans can stream the game on DenverBroncos.com or in the Broncos 365 app via mobile web on iOS on iPhones and iPads and through the Yahoo Sports app. Streaming is available on Android devices on the Yahoo Sports app only.
LISTEN LIVE
LOCAL ENGLISH RADIO (KOA - 850 AM/94.1 FM & The Fox - 103.5 FM)
SPANISH RADIO (KNRV - 1150 AM)
Play-by-Play: Carlos Valdez
Analyst: Salvador Hernandez
SOCIAL MEDIA ACCOUNTS
Follow the Broncos for live game-day updates, videos and behind-the-scenes photos: