ENGLEWOOD, Colo. —** At this point, through 14 weeks of football — four preseason, 10 regular-season — the Broncos' rookie class is happy to get an extended rest in the bye week after a schedule that would be equivalent to a full college season.
Denver's group of rookies has logged significant snaps from top to bottom already, which is particularly notable given their depth at many positions.
The most recent example of the rookies' impact was stunning. Justin Simmons and Will Parks' game-winning PAT block and return earned them the spotlight in New Orleans, but, like many of their rookie teammates, they also have large roles outside of special teams. Simmons (third round, 98th overall) and Parks (sixth round, 219th overall) have played on 15.6 and 23.7 percent of the team's defensive snaps, respectively.
Of course, it's not just the rookie safety tandem that has left its mark. Running back Devontae Booker (fourth round, 136th overall) may now have the most significant role of any of the team's rookies after C.J. Anderson was put on injured reserve. Quarterback Paxton Lynch (first round, 26th overall) has played in two games in Trevor Siemian's stead as he recovered from a shoulder injury. Sixth-round selection fullback Andy Janovich (176th overall) has played in each game, starting four, in spite of a hand injury. Defensive end Adam Gotsis (second round, 63rd overall) has been an important part of the defensive line rotation with Vance Walker on injured reserve and Derek Wolfe recovering from an elbow injury suffered in Week 9 against Oakland. And last, but certainly not least, punter Riley Dixon (seventh round, 228th overall) won the starting job during training camp and currently ranks eighth in net punting average.
Connor McGovern (fifth round, 144th overall) is the only draft pick who hasn't logged a snap yet, but he made the active roster after training camp and has also been learning to play center, Head Coach Gary Kubiak said.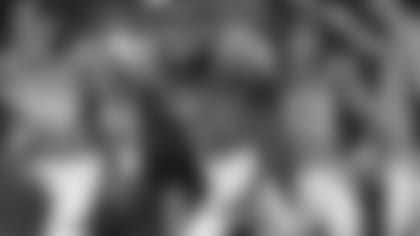 "I guess the coaches did a good job with the draft class. It starts there," Janovich says. "A lot of the guys just go to work every day and they're ready to play. Nobody here comes to work and says, 'Ah, I don't really want to be here.' It's nose to the grindstone every day."
Gotsis adds that the veterans around the room have also created an environment that encourages mentorship and healthy expectations to contribute.
"There's a bunch of guys who come in hungry, a lot of rookies come in hungry, and when you come to a place with good leaders at every position, they're going to motivate you to be better," he says. "They're going to push you, they're going to challenge you. You're going against guys that are going to challenge you every day in practice. This is a Super Bowl team — let's not forget that."
Welcome to the NFL
Andy Janovich's first impression in the NFL would be hard to beat. On third-and-1 in the season opener against the defending NFC champions, Janovich bounced outside the pile up the middle and eluded the safety for a 28-yard score on his first carry of his career.
Devontae Booker's first impression, on the other hand, was one he'd like to forget. On Booker's first carry of his career, Panthers DE Charles Johnson tackled Booker at the line of scrimmage and ripped the ball out for a fumble.
"I guess that was a 'Welcome to the NFL' moment for me, just to realize that it's more than just a game," Booker says. "I just had to protect the ball."
While rookie seasons can be defined by immediate success, so too can they be determined by responding to challenges at this new level.
"I just come here continue to work every day and get better each week so I can go out and perform," Booker says. "We [Booker and Running Backs Coach Eric Studesville] talk about everything pretty much every day — just me adjusting to the NFL, the offensive system. Really, me just going there and talking to him, getting his words of advice and stuff like that helps me a lot on the field."
Rookies can naturally lean upon their position coaches probably more than anyone else in their transition for college to the pros, but veterans in the locker room are also happy to offer advice.
"There's not one person that you can say, 'That person's really just like everything you base everything on,'" Gotsis says. "I could pick something up from [Jared] Crick, from Wolfe, from Sly [Sylvester Williams], from Billy [Winn], from [Darius] Kilgo — from everyone in the room, you know. And then the guys outside of that room — there's D-Ware, Von [Miller], those guys. There's always something you can learn. Even the secondary guys, they can help you out. They can let you know what type of passes are coming because they know. The whole defense, as a whole, you can pick something up from everyone."
Ready for the bye, but ready to return, too
Many players use the bye week to go home. Denver's central location in the lower 48 states often makes for easier trips for players who come from all corners of the country. But for Gotsis, an Australia native, the trip home is much too far for the bye-week break.
Still, Gotsis has been able to see some of his family by going back to Atlanta, which is home to his alma mater. His sisters were also in town to see their friends, so he got to reunite with at least some of his family during a brief break in a busy year.
The break is much appreciated by the rookies, who recognize that this point in previous years would mark the end of their season. Instead, they must use the break as a time to refocus after they unwind.
"We pretty much would be done in a college season, especially if you're not going to a bowl game," Simmons says. "Your body's just been used to the same schedule for four years, and now it's about adjusting and finding a way to overcome it and make sure you push yourself."
Most players may relish the time away from the UCHealth Training Center, but there's at least one who will miss the daily grind.
"I love being here," Dixon says. "I enjoy kicking more than anything. It's kind of a bummer you have to go home, but a little break never hurts. I'm looking forward to coming back and getting right back to work, but it will be good to see family. … You can always keep your focus but it's good to see family as well, take a week off and have a little bit of a refresher."