"I know it was just very, very special for him to be a part of [this]. He knew he was on a good football team. And he just knew that [if he was] going to go out there and do his part, this team had a chance to win a championship. I'm just so proud of him and what he did to make his way back and what he meant to this group." [Feb. 7, 2016]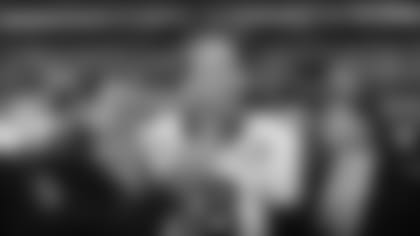 "Peyton has been successful throughout the course of his career and everything he has done. He's been success as a player, as a person; he's a tremendous person. It was tough for him. We came in new and he had been running the system for a while. We had some things we believe in; we tried to mash the two things together, so I know that was tough on him, but he was great with us. Then we go through this situation during the course of the season where we lose him for a period of time and we change a little bit there and now we're back again.
"I've been fortunate in this league. I got to coach John [Elway] for a period of time, I got to coach Steve Young for a time in San Francisco, and now I get a chance to spend a year with Peyton. Those great players, they challenge you as coaches. They're so bright and they understand the game, they understand how to attack things. They challenge you when you walk in that meeting room. To be honest with you, from a coaching standpoint, that's what you want to be around because that's how you grow as a coach. If you go in there every day and they've got guys that say, 'Okay, what do you want me to do?' you don't really grow. I've enjoyed it. Peyton is brilliant in his approach and getting ready to play, but he's also a tremendous leader and a teammate. Nobody has more fun with his teammates than he does. It's been a joy." [Feb. 4, 2016]
Executive Vice President of Football Operations/General Manager John Elway
"Since he's been in Denver for four years, he's been a tremendous person in the community, as well as on the football field for our team. He's a guy that we've won a lot of football games with. The leadership that he's provided, all those types of things that we'll miss." [Feb. 1, 2016]
Quarterbacks Coach/Passing Game Coordinator Greg Knapp
[on how he prepared to coach Manning] "I made sure to do my homework before we ever sat down and talked to one another. So I watched tape on him, I talked to coaches that had been around him, and kind of assessed okay, where can I help improve his game. In assessing that information, I felt like if I could get him to understand the importance of lower body mechanics, not change his throwing motion, but emphasize how important it is to get his body into his throws, then that's one way I could help his game. There's a distinct difference from earlier in his career when he'd drop back and stand and kind of pad his feet in position. Now there's a little more rhythmic movement, first hit first read, second his second read and so forth. He's always gotten rid of the ball pretty quick anyways, but now I like to feel like I've helped him get that body weight transfer going into his throws." [Feb. 4, 2016]
Outside linebacker DeMarcus Ware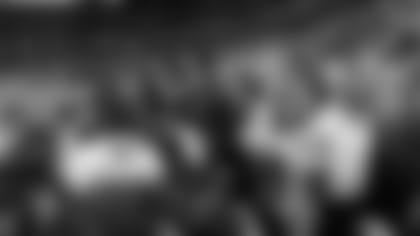 "It's awesome, with Peyton getting his second ring. He's been playing 17, 18 years. It's a hard-fought battle. This is my 11th year. We both predicate our careers on consistency. It's hard getting here, but it takes a team. The team really wanted it. We really wanted it." [Feb. 7, 2016]
"When I first got in, he was that leader that's been consistent throughout his whole career, and the guy that motivates us in the way that he plays, the way that he prepares and just that leadership that he brings to the team. People call him 'The Sheriff' and he always has his guns out, no matter what. It's just really enjoyable to be a part of that. It sort of teaches the young guys and me, myself, just the fire that you have to bring to the game every week." [Feb. 3, 2016]
Wide receiver Demaryius Thomas
"I feel grateful — if he depends on finishing the season this year. He'll go out on top. I think he deserves it with the stuff that he's been through this past year being hurt and the naysayers saying stuff about him. […] I never know what he'll do, but I'm proud for him. [Feb. 7, 2016]
Wide receiver Emmanuel Sanders
"It's a lot of exclamation points to a great career and even crazier season. Just dealing with the ups and downs with that one incident coming out, losing the starting spot so to speak, he handled his business and stayed true to his character, stayed true to the person that he is, and it all paid off and now he's a Super Bowl champ."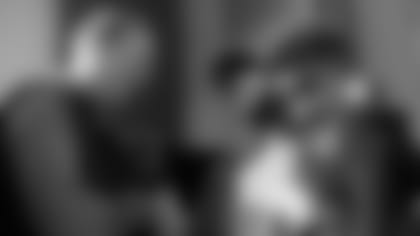 On what he will tell his son when he is older and asks what it was like to play with Peyton Manning: "I'm going to tell him it was amazing. Everything that you see from him, that's what he is. All the commercials, how he carries himself on camera – that's him. He's genuine. It's a blessing to have played with a guy like that." [Feb. 7, 2016]
On what he would take away from his time with Manning: "That with hard work, anything is possible. You just see how he goes about his business, he is like clockwork with his business, and if it is his last game, I am always going to take away the memories of not just him being Peyton, but knowing him personally, the laughs that we had. Man, Peyton is funny, you see his commercials, a lot of people don't understand that he is funny. Even with his commercials they laugh a little bit, but that is him. He has a unique personality, he is definitely one of the great ones." [Feb. 4, 2016]
"I remember before I got here I never really took notes. But Peyton (Manning) has made me a better player because I sit right behind him. I used to watch him, and he would take notes about everything the coach said. So I'm like, I'm about to pull out my notebook.
"I remember training camp; he invited me into his room because he wanted to teach me the playbook. This was last year. I saw how he had his whole room set up. You know most hotel rooms have desks and he would put his playbook on his desk, so I started putting my playbook on the desk and I started having success because I started studying. The way that he prepares, man, is like none other. He knows the game really well and that's because he studies.
"If you apply yourself to anything you're going to get great results out of it. That's one thing I learned from him: Just apply yourself, take the game serious, know your job, because it's more than physical. Peyton shows that." [Feb. 2, 2016]
Quarterback Brock Osweiler
"What haven't I learned is probably the easier way to say it. Peyton is the ultimate teammate and the ultimate quarterback. Over the course of the past four years my eyes and ears have been locked on him, and I have pulled so much away from him that I will truly carry with me throughout my entire career." [Feb. 1, 2016]
Running back C.J. Anderson
"I couldn't start my career better off than with 18. I'm so happy for him. We worked so hard. He worked so hard. Seeing him since I was 9 and working with him, seeing how he comes to work every day — he's just a true competitor and a true pro on and off the field. You know, we have never seen him go through the things he went through this season. For him to come back on top... and if you leave on top, thank God.
"Everybody over here has seen what 18 did in the last 18 years. Everybody over here has seen Peyton going through the things that he [never] had to go through, never seen him have to play behind somebody, working so hard to get back, getting away from the team because he didn't want to cause media attention so we could still do what we wanted to do – become the No. 1 seed and control home-field advantage throughout the playoffs. We have never, ever seen 18 do that, and he overcame. He showed us he is a true pro on and off the field through adversity. I've never known 18 to have any adversity other than the playoff struggles they like to say on him. But other than that, he had some true adversity, and he overcame it." [Feb. 7, 2016]
Outside linebacker Von Miller
"When you hang around Peyton Manning for four years, there's a lot of stuff that's picked up – a lot of stuff leadership-wise, and the way he handles guys. I've watched him, and he's consistent every single day. He's the same Peyton Manning. He handles the guys very, very well. That's one of the things I would like to do when I get up there (to) that level." [Feb. 3, 2016]
Inside linebacker Brandon Marshall
"A lot of people don't know, but Peyton is the reason I'm here. When I got picked up on the practice squad, I was playing my tail off at practice. He was one of the ones that noticed me. He would ask the coaches, 'Who is this guy? Who is this guy Brandon Marshall? We have to get him up.' So he noticed me, and a lot of the offensive guys started talking about me, and that allowed me to get my chance. So I love Peyton. I have a different appreciation for him. I feel like he had a hand in me getting off the practice squad and onto that roster. I told Peyton before the game, I said, 'Man, I want to win this for you.' I've been feeling that way all year." [Feb. 7, 2016]
"One of my favorite stories about Peyton was when I first got to Denver on the practice squad. Coach [John] Fox introduced me and said, 'We have a new practice squad player, Brandon Marshall.' After the meeting, Peyton came up to me and shook my hand and he said, 'How are you doing? I'm Peyton Manning.' He introduced himself to me and to me that was big because everybody knows who Peyton is. It was big to me because that lets me know that this guy was humble. He's a humble individual. He works hard. He's a good guy, man. I've always been a Peyton fan, but ever since then it's kind of went through the roof." [Feb. 1, 2016]
Offensive guard Louis Vasquez
"It was one hell of an experience. It was an honor. It was a privilege. One of the greats — what more can you say?" [Feb. 7, 2016]
Offensive tackle Ryan Harris
"When I first went out on the field with him and you see the 'Manning' on the back of the jersey you're like, 'What am I doing here?' Over the season you see he's just like the rest of us. We all want to win and he's a professional and a great teammate. I'm really having the time of my life being on this team and him being one of my teammates is definitely a part of it."
"It's just great to be in the huddle with him and on the field. If you don't know how to be a professional, he teaches you how to be a professional real quick by the way he conducts himself and the questions he asks you. It's really been a great experience playing with Peyton and being a part of this team." [Feb. 3, 2016]
"Peyton Manning has been terrific. He is not only a great player, but he is also a great person. That is what I am more interested in. Who is he as a person? Getting to know him as a person has been amazing." [Feb. 3, 2016]
Offensive guard Evan Mathis
"[It is] a tremendous honor, if it is his last game, to cap it off his legacy like this. It doesn't get any better than this. To be a part of that, it is truly special." [Feb. 7, 2016]
"What better way to end than with a ring, another ring. I'm just happy I had the opportunity to play with him." [Feb. 7, 2016]
Defensive end Derek Wolfe "I'm just happy for him. He deserves it. He deserves everything. He deserves all the glory in this because he keeps the team together you know. He's an ultimate professional. Anybody who wants to play the game should model it after him." [Feb. 7, 2016]