DENVER — The four people in classroom A at the Denver Police Academy was unlike any other group that technician Tyrone Campbell had taught before.
Broncos offensive lineman Garett Bolles, tight end Andrew Beck, cornerback Isaac Yiadom and running back Khalfani Muhammad had braved icy roads to be in this room on Monday morning to learn a little bit about what it takes to be a police officer. What brought them there varied from person to person — some had an interest in law enforcement as a potential future career, some wanted a better understanding of the day-to-day life of an officer.
That was a big reason for Beck. Both his grandfather and his soon-to-be father-in-law were officers in police departments in Baltimore and Houston, respectively.
"The amount of respect I have for police officers and what they do is one reason that I wanted to come out and just get a small, small inkling of what they do on a daily basis, from training to [a] ride with an officer around Denver," Beck said.
The day began with a conversation. Campbell and the four players sat in a circle in the classroom, and Campbell briefed the men on what they do to teach officers, how they use the different instructional methods and practices to best prepare civilians to become officers of the law.
"I wanted to sit down before we begin any sort of training and ask what it is they're looking for, what it is that they're trying to get out of it, what their questions are, what their hesitations are," Campbell said. "A lot of times people forget that not every member of our community has had a positive experience or a negative experience. So I like to at least gauge who we're dealing with and ask them what their concerns are so we can address some of those before we can go into it."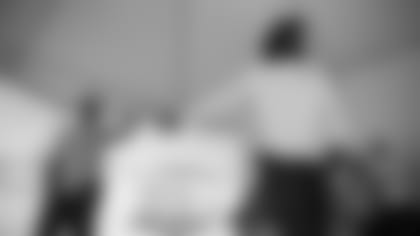 Following the discussion, Campbell gave them a tour of the airplane-hangar-turned-police-academy, finishing at the VirTra V-300 use-of-force simulator. The simulator features five projection screens to create a 300-degree view for trainees of numerous scenarios that they could encounter as an officer. The simulator allows instructors to assess decision-making and marksmanship, as it also includes training firearms that can be detected on the screens.
The situations run in the simulator were intense and realistic, ranging from inter-personal conflicts to active-shooter and hostage situations. Because of that, each scenario was immersive and carried more weight than just playing a video game.
"Number one, it's a whole-body experience," Campbell said. "You are moving, you are talking and you have to orient to 300 degrees. Unlike a video game where you're actually sitting on the couch and you're [looking at] a single screen that's right in front of you, our goal is to intentionally increase their heart rate."
The players naturally found the simulator to be a very engaging part of the day, but it was more than what they expected in some regards.
"It's a lot more hands-on than what you expect," Muhammad said. "You have to be in communication, have to be a more personable person to talk to people and assess the situation and go from there. It was a little more hands-on than I actually thought it would be, because obviously their job is more preventing than creating cases. … The simulator was pretty realistic and kind of showed what they have to go through. They gave you many different situations that you can encounter, so the simulation was great for new officers coming in to be exposed to that type of stuff before they obviously get in the field."
Campbell was impressed with how the players performed in the simulator, particularly with how quickly they could assess situations and then react to what they saw.
"One of the things I didn't really take into consideration is how fast the players have to make decisions," Campbell said. "When we train with our community groups, one of the things that we see is the problem with decision-making, because a lot of people don't make quick decisions, but players have to make quick decisions. They have to make decisions based on movements and based on schemes and based on lineups and all the things that go into it. … It was really impressive."