When the Broncos compiled their new coaching staff earlier this year, they added an offensive coordinator who has roots in the offensive system that led the Broncos to all three of their Super Bowl championships. Rich Scangarello, former San Francisco quarterbacks coach, had never before called plays at the NFL level, but his potential and experience at other levels led Head Coach Vic Fangio to hire him. Now paired with Joe Flacco, Scangarello will aim to revive the Broncos' offense. Before a recent practice, we caught up with him about his career, how he plans to help Flacco succeed and how Drew Lock can adjust to the NFL.
When you started out coaching at Oakmont High School, your alma mater, did you know you wanted to become a professional football coach?
"No. Honestly, I just think I was planning on going in a business route, and when I went back, I knew in my heart I was always a teacher. I could have saw myself as a high school algebra teacher or something along those lines. So when I went back, I was thinking, 'Yeah, I could be the head coach at my old high school, or a high school, and teach and have a great life.' Then things — circumstances, opportunities, some luck, some things on my own doing — led me down a different path. And once I was in it, I was never going to look back."
With your business degree, what happened when you told your parents, "Actually, I'm going to give this coaching thing a shot"?
"Actually, they're the ones that pushed me that direction, probably. I've been very fortunate. I have a great family and great support from my parents. They had always guided me to chase my passion and the things I enjoy to do. And they know that I was probably meant to coach and teach, and so they knew I'd be really good at it, I thought, in their heart — and so they encouraged me to do it."
How did you fall in love with football?
"I started playing Pop Warner when I was 7 years old, and my dad was around as a coach and just really I always loved the game, the discipline that goes with it, the strategy. I would have loved to be a little bigger and a little faster, but I absolutely loved it and it's something that I've always been passionate about and been fortunate enough to take the career path that I have."
Are there things you can take from coaching high school and apply to what you do now at the highest level?
"I think so. I think more than anything, it doesn't matter what level you're at, and that's the great thing about working for Coach Fangio, and I think it's what's important in his coaches: There are people that are put on this planet to play the game and can do it at a very high level, and then, I believe, there's others who are put on this planet to coach and teach at a high level. I think it takes ability to connect with people, to help them improve their weaknesses and then feel confident as a player, and it's your job to bring that out of them. I just feel like that's something I've been able to do at every level, and I think that's where I've continued to grow and gain confidence as my knowledge of coaching at this level of the game has grown."
At the University of California at Davis, you became an offensive coordinator for the first time when you were named co-offensive coordinator for the Aggies. Who mentored you during that transition and helped you prepare for that new challenge?
"Well, my first opportunity was really at UC-Davis when I was the QB assistant. That was my title; it was a graduate-assistant-type position at Davis. I just happened to be very fortunate to work with the head coach, Bob Biggs, who might be the best quarterback developer [and] evaluator that I've ever met at any level. He had a great deal of success there. We had a lot of very talented quarterbacks I was able to work with at a young age as a coach. It just really helped me grow and to see how he developed players, how he evaluated them. And then his mind, offensively, he was ahead of his time. Even though they were Division II at that point, they hadn't had a losing season in over 20 years and were perennial contenders in Division II before they went I-AA. I just had a real great experience and Bob Biggs had a huge impact on me."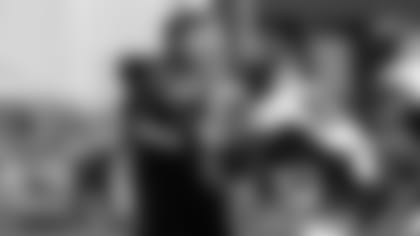 With you coordinating the offense and Fangio leading the defense, how much friendly competition is there between the two of you at practice?
"Vic is very competitive. He likes to take some jabs at you that are fun and friendly, but he likes to let you know when he gets the best of you. That stuff doesn't bother me. I'm very competitive inside, but my whole thing is always trying to stay level-headed and stay focused in the present, the one-play-at-a-time kind of mentality and see the big picture and not letting that stuff get to me, knowing he'll bring out the best in me every day just because of his ability to coach and his defensive style and players they have."
How does having a guy like Offensive Line Coach Mike Munchak, who has so much experience, help you on a day-to-day basis?
"It's a wealth of knowledge and experience that I'm very, very fortunate to have and be a part of and to be around. I just can't say enough good things about Mike in his ability to coach and as a person and what he gets out of his players. He's a huge asset to the organization and myself."
People have made a lot of your connection to Kyle Shanahan and his offense, but how do you make an offense yours and put your touches on it?
"In a sense, it is our offense. It evolves in our own way, and now it's the Denver Broncos offense. … Some of the pass-game roots go back to Bill Walsh, and some of the run-game roots go back to Mike Shanahan and Alex Gibbs and how things have evolved over time. But my experience most recently with Kyle and the success he's had, you identify with it, but in the end, it's our offense and now as we move forward, it's time to make it our own with our own identity. You look at what Sean McVay's done in his own way, and it's his offense. That's our goal here, to do the same thing."
After the Broncos acquired Joe Flacco, President of Football Operations/General Manager John Elway said he thinks Flacco is entering his prime. At this stage in his career, how can Flacco find that level of success?
"I think it's just a matter of being himself. You don't make anything up, you just be you. And you go about your business and you be the best version you can be, both physically and mentally. And you've got to get lucky; we've got to stay healthy as a team and guys have to evolve and guys have got to play well, and we've got to put guys in the position to be successful. And if we do those things, I think he can have a great year. But what does that look like? I don't think anyone knows and really can speculate that. It's more of you just do your best and add it all up and we'll see where we're at."
For Drew Lock, who is expected to be Flacco's backup for the season, what can he do to best take advantage of his time and his position during the year?
"The life of a backup quarterback in the NFL is once the season starts, you don't get reps. You get to work on the scout team, and you can help your craft, but the reality of it is you're watching. You have to be creative in developing your abilities to move forward as a player and not regress. What momentum you've gained and what knowledge you've gained, you maintain that and you move forward. You don't regress. It takes a lot of work and it's why to be great quarterback in this league, you've got to be definitely one of the hardest workers in the building. And if you're not, it'll eat you up. But if you are, it'll continue to get better and take yourself to where you want to go."