The best part about the Broncos' ferocious pass rush is this: They don't need to rely on the blitz to get to the opposing quarterback.
Last week, the Broncos hit San Diego's Philip Rivers 11 times over the course of their 17-3 win -- six times in the first half, five in the second. Of those hits, nine came via four-man rushes, with just two requiring any kind of blitz.
"That's what we try to do," Defensive Coordinator Wade Phillips said. "You want to be able to rush four to give them pressure and then you've got seven to cover with. It's just numbers rather than rushing six and having five to cover with or five and covering with six."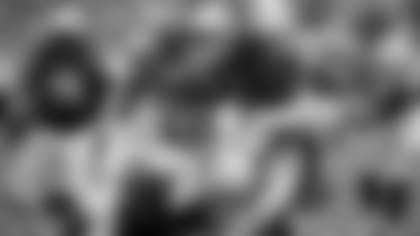 And when the Broncos do rush five men, it becomes more effective. Danny Trevathan's pick-six came after a five-man rush that saw Malik Jackson get to Rivers.
"We get good pressure rushing four, so whenever we go five, it's effective for us," OLB Von Miller said.
Three of the Broncos' four pick-sixes this year came after blitzes, with Aqib Talib's Week 1 touchdown and Chris Harris Jr.'s Week 5 score coming as a result of six-man rushes.
"It's all about having more people back there and still get the kind of pressure you want, but that's not always the case," Phillips said.
"We run a lot of five-man rush where we feel like we get one-on-ones well. We play one-on-one in the secondary well and we've got one-on-one pass rushers that can beat people sometimes. That's more our philosophy because that fits more of what our players do well."
But just the threat of a blitz can also discombobulate a foe. Talib's pick-six at Cleveland in Week 6 saw only a four-man rush, with Sylvester Williams dropping into short-area coverage off the snap.
The depth of the Broncos' front seven allows them to rotate their entire complement of defensive linemen and linebackers into pass-rushing situations. Von Miller got to Rivers four times -- two for sacks and two for hits -- and Malik Jackson hit Rivers three times, including on the pick-six.
Phillips' defenses have always been effective at generating a pass rush, but this is unusually dominant.
"We had some good years there in Houston," said defensive end Antonio Smith, who played under Phillips from 2011-13, "but this is by far the best as far as the four-man rush."