ENGLEWOOD, Colo. --What Peyton Manning does before the snap is at least as valuable to the Broncos as what he does with the football, and was part of the reason why he sparked the offense when he entered in the third quarter of the Jan. 3 win over San Diego.
It's something that doesn't make it onto the stat sheet, but is noticed by players -- even those watching at home.
One player who observed Manning's work was Browns Pro Bowl right tackle Mitchell Schwartz, who noted how Manning's pre-snap work set up what would have been a 35-yard run by C.J. Anderson in the fourth quarter had it not been called back for a holding penalty:
William Gay crept forward as though he was going to execute a corner blitz, and then after Manning gestured and re-set everyone, he pulled back before creeping close to the line just before the snap.
Manning's abilities in this area were honed in 290 starts over 18 seasons. It is unreasonable to expect a quarterback with only a handful of starts to match Manning's proficiency in this regard, and as Brock Osweiler grows into his future as a pro starting quarterback, he will learn how to make reads well.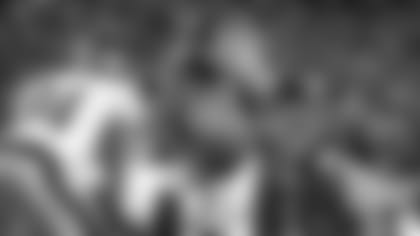 But this is what Manning does best, and a significant part of why he's Hall-of-Fame-bound, no matter what happens on Sunday, or perhaps beyond.
Another key play Manning helped set up was later on that drive, when he found Emmanuel Sanders for a 7-yard catch-and-run that moved the Broncos into the red zone. Manning sees the Steelers' two cornerbacks laying off the line of scrimmage, so the Broncos run a quick swing pass to Emmanuel Sanders, who has enough separation and space to get to the line to gain and keep the offense chugging.
Other notes from the game:
... Propelled by Anderson's 34-yard run that was set up by Evan Mathis and Matt Paradis, the Broncos averaged 7.88 yards per carry running to the left side on Sunday, but just 1.82 yards running to the right side.
That sort of efficiency imbalance went against the trend of the regular season, when the Broncos averaged 4.47 yards per carry running to the left side, 4.28 to the right and 4.35 up the middle.
... Miscommunication in the secondary was an issue as the Broncos allowed three pass plays of more than 35 yards. Those plays came on the heels of Philip Rivers' 80-yard touchdown pass at the Broncos' expense in Week 17. The Broncos permitted just four pass plays of 35 or more yards in their first 15 games before being gashed the last two games ...
... OLB DeMarcus Ware had one of his best games -- and one of his busiest, as well. Having fully recovered from knee and back issues, Ware played 47 snaps Sunday, his highest total since he played 48 snaps against Minnesota in Week 4, one week before he injured his back at Oakland.