ENGLEWOOD, Colo. --Only one player around the league has posted at least a half-sack in four consecutive games.
It's not Von Miller or DeMarcus Ware, but three-technique defensive end Malik Jackson, who belongs in the conversation with the Broncos' edge-rushing Pro Bowlers as one of the key components to their pass rush.
What helps the front seven generate pressure is its versatility: its components are all strong enough to rush inside, but fast enough to work off the edge.
"We have us outside guys that can go inside and power," OLB Shaquil Barrett said. "Just being able to switch it up keeps the offensive line guessing and opens up other pass rushing moves for us."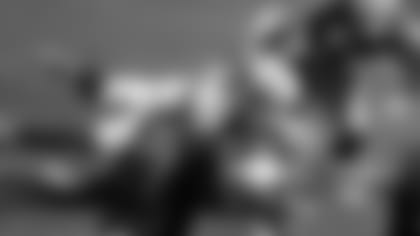 Take Jackson's first-quarter sack of Derek Carr that forced the Raiders to settle for a field-goal attempt. It's a simple stunt: Von Miller goes inside and Jackson veers outside. The speed he builds up as he starts his rush is more than enough to leave Austin Howard flat-footed.
By the time Howard is in position to try and guide Jackson behind Carr, Jackson already has momentum and eventually brings him down from the backside.
"It's great that we're able to do stuff like that," Barrett said. "We've got guys that are inside but have the speed and finesse to come outside."
Barrett's sack at the end of the third quarter was also set up by an interior rusher, when Vance Walker sprinted inside without being blocked as the Broncos overloaded the left flank of Oakland's offensive line. Walker obstructs Carr, who can only wait as Barrett wins his one-on-one matchup on the edge and engulfs Carr for the sack.
It's not just that the Broncos' pass rushers have the ability to win their matchups; it's that they communicate before the snap to help set each other up for pressure.
"We just talk to them," Barrett said of the defensive ends. "Pretty much whenever we want to do something, they're ready to do it with us. It's great and we appreciate that a lot from the inside guys, as well as in the run game whenever we're willing to."
... The Broncos continued to emphasize the pistol formation, using variations of it on 23 of their 55 snaps, with 24 in the shotgun and eight from under center. Ten of the pistol alignments included two tight ends; 10 had three wide receivers, and one had four. The Broncos passed on all 24 shotgun snaps ...
In the past three games, the Broncos have run 82 snaps from the pistol, 71 in the shotgun and 17 under center (three of which were kneeldowns).
... Of the Broncos' eight plays under center, six saw guard Max Garcia used as an extra tight end in a jumbo package similar to the ones often run by the Broncos in 2011 and late in the 2014 season. All of those were runs, and the Broncos gained just seven yards (1.17 yards per carry). The Broncos' opening two plays after halftime were in this formation, and they mustered six yards out of them.
"We tried to go back and do some three-tight end stuff and run the ball. You saw us come out [of halftime with it]. It wasn't very effective," Kubiak said.