That Malik Jackson did not make the Pro Bowl roster isn't a surprise; the competition is tough and the scales are usually tilted toward 4-3 defensive ends over their 3-4 three-technique brethren who work inside, especially since those 4-3 ends tend to be edge rushers who pile up the kind of sack statistics that get noticed in the voting.
You have to put up spectacular numbers from the 3-technique spot, as Houston's J.J. Watt does, to get noticed. Jackson's sack production isn't at that level. There are latent biases in the voting that work against certain skill sets and use of players; Jackson was a victim of it.
"With Malik, the problem is that most of the teams are 3-4 teams and they're picking the team by [a] 4-3 [alignment]," Defensive Coordinator Wade Phillips said. "Therefore, the outside 'backers are the pass rushers. They get Von [Miller] and those guys. They're really 3-4 outside 'backer rushers. They get the recognition for that, but then they go play 4-3 in the Pro Bowl and they have to drop [into pass coverage] on every pass.
"It's the same thing with the defensive linemen. In the 3-4 we call them defensive ends. Well, the 4-3 defensive ends are the guys rushing up the field all the time, so they're going to get more sacks and they're going to get more recognition that way."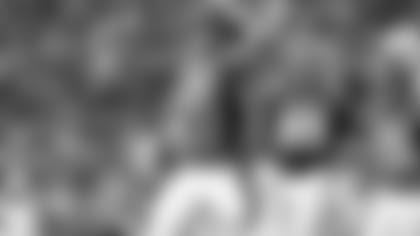 Jackson isn't happy about the circumstance, but he isn't losing any sleep over it -- not that he could spare a moment of sleep, anyway, seeing that he is a new father.
"I'm not going to sit here and bash the Pro Bowl selection just because I didn't get in," he said "It's one of those things that it sucks, but you're just got to keep working. It is what it is."
But by knowing how to get his hands up and deflect passes, he is just as disruptive as his 4-3 edge-rushing brethren.
A pass batted down is almost as effective as a sack; although it doesn't create a loss of yardage or the possibility of a takeaway via a forced fumble, it is a negative play for the offense -- and often a reason why the defense has been so effective at getting off the field on third downs.
"If you can't get to [the opposing quarterback], get your hands up and get him frustrated," Jackson said.
No front seven player in the NFL has more passes batted down this season than Jackson, who is credited with seven by ProFootballFocus.com. That's a career high, but he was adept at that in 2013, his first season of extensive action after playing intermittently as a rookie.
"It's just practice and coaching," Jackson said. "I've been good at it, but this year I think I really started paying attention to it more, because you kind of get away from it if people don't tell you what to do."
Indeed, Jackson's season-long totals saw a dip last year -- to just three after he had five in 2013. But Defensive Line Coach Bill Kollar emphasizes getting hands up to obstruct passes, and Jackson took to his teaching.
"When Bill came in here, he preached it and practiced it," Jackson said. "That's just kudos to him helping me out and telling me what to do."
It won't get him to the Pro Bowl, at least not yet. But it's made him one of the league's best defensive linemen, and a crucial component of the league's No. 1 defense.