ENGLEWOOD, Colo. --For the past year, the defense has delivered one "ultimate performance" after another, so let's start there: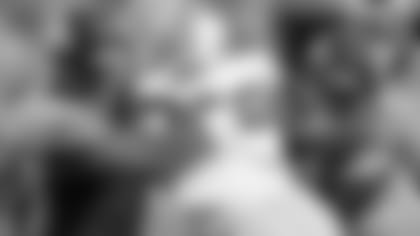 DOMINANT D:It's hard to quibble with that the No. 1 defense has accomplished in two quarters of work so far this preseason.
Using a mix of pressures -- including some delayed rushes from the inside linebackers and safeties -- and strong coverage from the cornerbacks even without Aqib Talib seeing any game-time repetitions, the Broncos' full No. 1. defense has held the Bears and 49ers to just 47 yards on 18 plays and three first downs.
The full first unit has conceded just 1.57 yards per rush and 3.6 yards per pass play. And when a Broncos first-team tackler arrives, that's usually the end of the proceedings; just 14 of the 47 yards gained by opponents has come after contact.
GREEN MEANS GO: **Only Cody Latimer has more yards from scrimmage on the Broncos' offense this preseason than TE Virgil Green, and his ability to rack up yardage after the reception is a big reason why.
Forty-nine of Green's 83 yards this month have come after the catch -- an average of 7.0 yards per reception, and 59.0 percent of his total receiving yardage. Both are well above recent league averages; last year tight ends averaged 4.57 yards after the catch, with 41.79 percent of their total yardage coming after the reception.
But this is actually nothing new for Green. Although his opportunities were limited in his first five seasons, he still demonstrated a knack for turning short receptions into solid gains, with 59.90 percent of his yardage coming after the catch.
They've seen Green's proficiency with the football in limited doses. Now he has the chance to show it more often, and through his play this summer, he seems poised to deliver it.
ANDERSON IMPRESSING: **Two forced fumbles provided the punctuation on a solid summer for Zaire Anderson, who spent his rookie season on the practice squad.
On his first forced fumble, when he strips Mike Davis of the football, he manages to get his right arm to Davis first, and immediately has it on Davis' arm, which is where the takeaway starts.
Anderson's straight-line speed to Davis allows him to use his momentum to force the turnover; even though he is falling away from Davis after initial contact, he's going in one direction and Davis the opposite. This jars loose the football for Billy Winn to recover.
LYNCH'S PROGRESS:One thing QB Paxton Lynch is already doing well is anticipating the breaks of his receivers and trusting his ability to get the ball to a precise spot through a narrow window.
His 12-yard pass to Durron Neal just before the two-minute warning Saturday is one example of this. Seeing the 49ers guarding the area around the line to gain (the San Francisco 8-yard line), he instead looks to Neal, whose route is going to take him on a quick slant. With Cleveland Wallace monitoring Kalif Raymond short and underneath, Neal has one-on-one coverage.
Seeing the coverage, Lynch commits early to Neal. He prepares to throw before Neal has begun cutting back toward the middle of the field, and whips the football past Wallace, who reacts too late to throw, and in front of 49ers cornerback Prince Charles Iworah.