DeMarcus Ware was back at outside linebacker, and it was like he never left.
It had been three years since Ware was at his natural position, since the Dallas Cowboys converted to a 4-3 alignment in his final season with them. That forced him to begin playing more snaps with his hand in the dirt, and while he was effective, his effectiveness had not returned to its previous dominance.
That appears set to change after a performance in which he sacked Baltimore quarterback once, hit him three times and pressured him on seven others.
ProFootballFocus.com's Week 1 rankings placed DeMarcus Ware not only atop the league's outside linebackers, but second highest among all players, period, trailing only St. Louis Rams defensive tackle Aaron Donald.
Ware's rushes set up his fellow front-seven pass rushers. Vance Walker, Antonio Smith and Darius Kilgo all recorded pressures on Flacco in part because of the increased attention the Ravens had to give to the Broncos' edge rushers.
Defensive Coordinator Wade Phillips understands Ware's performance and potential better than anyone, having coached him in Dallas from 2007 through 2010. He knows that Ware sets up the rest of the defense for big plays -- and wants to find ways to make them happen more often.
Phillips is more than willing to judiciously attack -- even when the game is on the line. On the Ravens' last drive, he sent at least four pass rushers on every pass play, and twice brought five players. On the first blitz, Flacco's incompletion was nullified by David Bruton Jr.'s pass-interference penalty. On the second, Flacco lofted up the pass for TE Crockett Gilmore that Darian Stewart intercepted.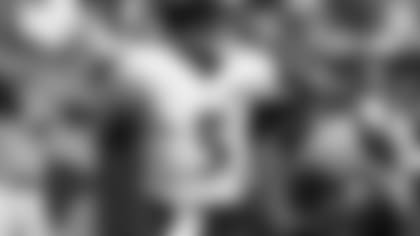 Phillips didn't blitz as often late as he did early in the game, but it got results -- and inspired confidence in his players.
"When they do call it, it's about us being aggressive and not sitting back and letting the offense think too much and being able to have time to make plays." ILB Danny Trevathan said. "When he does that, it's all full-go, green light.
"You've got the green light to go out there and blitz, run them over, get past them and make the plays. He does a good job putting us in there with the opportunities to make plays."
And a close-and-late situation isn't going to be a license to pull back.
"There aren't too many Wade Phillips out there, that's all I can say," Trevathan said, smiling. "He's old school, and he's real. Our defense is an image of him and his attitude."
... The Broncos made heavy use of three-wide receiver sets, running 44 plays Sunday with at least three wide receivers on the field. (Forty had exactly three wideouts; four saw four-wide personnel groupings.)
... Denver had a bit more success running to the left than the right, but still wasn't effective in that direction, averaging 2.57 yards going to the left side compared with 1.90 yards to the right. The Broncos succeeded going up the middle, however, averaging 5.17 yards on six attempts. Thirty-one of their 70 rushing yards (not counting the end-game kneeldown) came up the middle.
... The Broncos held Joe Flacco to 1-of-5 passing for 11 yards and an interception on intermediate or long-yardage passes, good for a 1.7 quarterback rating in that scenario.