ENGLEWOOD, Colo. --One game, it's Ronnie Hillman going over 100 yards. The next, it's C.J. Anderson.
Twice in the Broncos' last six games, that's been the pattern. It's not a matter of who's starting, although when you factor in Hillman's 103-yard performance in the Week 4 win over the Minnesota Vikings, three of the five 100-yard performances by Broncos running backs have come from the backup among the duo.
Hillman will start Sunday, but that doesn't really matter; Head Coach Gary Kubiak has indicated that he will ride the "hot hand" as each game progresses.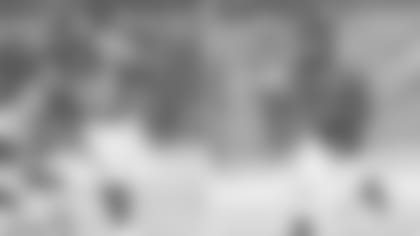 But neither back is bothered by the other starting.
"They're both unselfish," Head Coach Gary Kubiak said. "I think they understand exactly how we're going to play and they're going to both play. On any given day, they could be the most important guy back there.
"I think they understand that. They compete. They push each other in practice. They're doing a lot of things. We have to get them ready to play special teams, as well as play offense. I think it's been a good situation and they're both becoming better pros."
And pros celebrate each other's accomplishments, as well as sharing tips on the sideline.
"With him getting the first couple of runs, I'm just looking at the pictures [taken from the cameras above the sideline and end zone]," Anderson said. "We're talking about it; there are some mistakes, some busts here and there.
"But we're saying, 'Hey, man, this is what we can probably do,' and I went in there and did it, and then I come to him and go, 'Hey, man, it's confirmed.'
"We just really listen to each other. We know each other's games.
Hillman's touchdown against New England -- a 19-yard second-quarter jaunt to the outside -- came on a series that began with three Anderson runs for 12 yards before Hillman gained 32 yards on his four carries. Eight of the 10 plays on that 77-yard march came on the ground.
"It's funny, after he got the first touchdown, he just came to me and said, 'Thank you for wearing them down,'" Anderson said. "It's just being around each other for three years now, we've seen each other's games, we've seen each other's growth. He understands what I like to do, and I understand what he likes to do."
That bears itself out on other days, as well.
"Through the week of practice, they're always talking about what they see and what they feel," added Offensive Coordinator Rick Dennison. "[Running Backs Coach] Eric [Studesville] does a great job with the backs. I think they've got a good competition amongst themselves, but it's all for the good of the team."
But the other key to the running game is persistence. Last Sunday, the Broncos ran nine times in the fourth quarter and overtime for 87 yards and two scores.
That ground work began when the Broncos were down 21-7. After going three-and-out on the series that preceded Shaquil Barrett's fumble recovery of a muffed Chris Harper punt that was aided by Cody Latimer's arrival, the Broncos kept it on the ground for two of their next four snaps -- which accounted for 19 yards and Anderson's first touchdown of the game.
"You've got to give it up to Kubiak and Rico [Dennison] and our offensive staff on that," Anderson said. "I mean, we're down 14 in the fourth quarter and they go, 'Hey, man, we're going to run it.'
"That's not ideal, and I know the Patriots are saying, 'Man, are they really doing this?' For them, they're so used to being up that teams have got to be one-dimensional against them. We just kept balanced. We just kept doing what we're doing."
The Broncos have something with Anderson and Hillman working together behind an offensive line that is improving in its run blocking from week to week. Finally, the Broncos' offense is developing the identity it wants.
"At the end of the day, we're going to run the ball," Anderson said.