OAKLAND, Calif. —** When wide receiver Bennie Fowler had his breakthrough four-catch, 40-yard game against the Lions in Week 3, he said had no butterflies in his stomach. With about two dozen of his closest friends and family in tow, he was at ease in his hometown.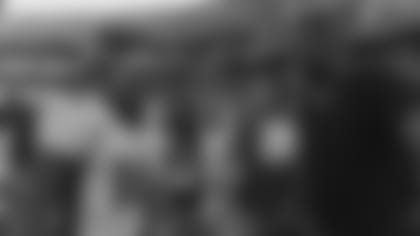 Two weeks later, with Draymond Green—whom Fowler considers family—in attendance, he looked comfortable again, making two catches for 46 yards, including a slippery 41-yard gain.
Literally and metaphorically, the two are a long way from when they sparked a friendship back in Bloomfield Hills, Mich., as AAU teammates. After years facing one another on the hardwood in high school, Green enrolled at Michigan State and Fowler did the same a year later, though he had transitioned his focus from basketball to football. After college, Green headed to the professional ranks when the Golden State Warriors drafted him in 2012 while Fowler headed to Denver as an undrafted college free agent in 2013.
Fowler had gone to support Green during his first season when the Warriors came to Detroit, and now Green was able to do the same.
"I've came out here to plenty of his games and for him to come out here and take my jersey, it was just a surreal moment," Fowler said.
It's been in the works for a while for Green to come to one of Fowler's games, but because the NFL season tends to overlap with the NBA's training-camp schedules and the first few months of regular-season play, they had to wait until the Broncos came to Green's doorstep in Oakland.
But the wait was well worth it. Fowler had put in the offseason work to get to the point where he's a trusted weapon in the offense, and with his elusive catch-and-run, he showed a little bit of the athleticism that Green recognized from their days on the hardwood together.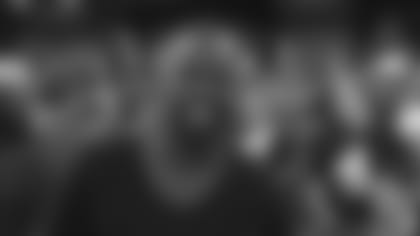 "Bennie was real athletic," Green said. "He kind of picked up football late but when he picked it up, he took right off. So to see him out here, for me, is like a dream come true.
"He's one of my best friends and out here living his dream is amazing. He got a couple plays today, great catch-and-run and he dived on them at the end. I liked that."
Green got a championship ring with the Warriors in June as he helped them become one of the best NBA teams in recent history, and now he wants to see one of his closest friends get his own.
"Definitely want to see him get a ring," Green said. "And the way those guys are playing right now, they've got a possibility, especially when they've got number 18 [Peyton Manning] in the backfield. There's always a possibility."
Earning a bigger role on offense, Fowler has reaped just the beginning of the rewards of the work he put in through the offseason and the previous year on the practice squad.
"Playing on a team like this with the receiving corps that we have and then also playing with Peyton, it's a dream come true, catching multiple passes from him in a game, him trusting me like that," Fowler said after the Broncos defeated the Lions.
"It's been a fair road. Undrafted, I was on the practice squad last year, learned a lot from great receivers and that carried over to the preseason and now it's carrying over to the regular season."