ENGLEWOOD, Colo. —** After a breakout season in his second year in the NFL, Adam Gotsis feels he'll be able to play even better in 2018, when he'll finally have an offseason in which he can concentrate on fine-tuning his football skills rather than simply preparing his body as he had in his first two offseasons.
"Just health-wise, going through the offseason, I'm going to have more time to really focus on football rather than rehabbing my body or doing something like that," Gotsis said as he cleaned out his locker on Jan. 1. "I'm looking forward to having a big offseason and coming to see what we can do next year with this team."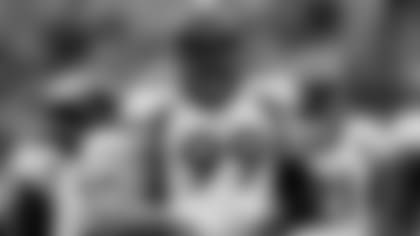 Gotsis' first two offseasons revolved around getting his body fully recovered from a torn ACL he suffered in November of his final season at Georgia Tech. After the Broncos drafted Gotsis in 2016, the rookie spent his first offseason working off to the side during OTAs before beginning full-contact practices when training camp began at the end of July. In his first season, Gotsis played sparingly, appearing in 14 games but recording just 14 total tackles.
In his second offseason, he was able to move further beyond his 2015 knee injury, and the results were evident in his production. Gotsis had 41 total tackles, two sacks and four passes defensed.
"Personally, I think I had a better year," Gotsis said. "Obviously, I can still improve — things I can do better and things I need to still work on. Nothing is ever perfect. No game is ever perfect. I'm just looking forward to getting into the offseason and improving my game and coming back stronger and faster and better to help this team get back to where we need to be."
Instead, the focal point for his offseason will be refining his pass-rush prowess.
"I definitely want to improve my pass rush and transition pass rush," Gotsis said. "I felt like that was probably one of the weak points in my game this year. I felt I was pretty solid in the run. I can always still improve dramatically, but definitely just getting off a block once I recognize pass and things like that. Just getting better at pass rush. You can never learn enough. I think that's going to be a big point of emphasis this year."
However, being able to shift his focus doesn't mean Gotsis won't still provide the necessary attention to get his body ready for training-camp grind and the regular season.
"Getting yourself feeling good is a big thing before you start running and lifting and doing all that," Gotsis said. "[I'm] definitely going to take a little time to obviously repair the body and feel good before I start smashing it. But it's been a long year, so hopefully I'll take a little time off and hopefully feel good and just come back bigger and better next year."
If his work bears the fruit he envisions, Gotsis will be a more complete player, and that will achieve his individual goal for the upcoming season.
"I'm coming in here trying to start again next year," Gotsis said. "I think that is the mentality everyone in the locker room should have. No one wants to come here and play backup or not play. I think everyone's mentality is to come here and put in the work this offseason and come in and be competitive."
As he prepared to leave the locker room for a few months, Gotsis expressed his disappointment with the team's end result but noted that with that mindset, they could be in a much different position in a year.
"The improvement never stops," Gotsis said. "You can be in Year 10 and it never stops. I've got things I want to work on. Obviously, you go back and watch all the film and do things like that to find things that you can improve in areas. It's going to be a busy offseason, but I'm looking forward to getting into it and then coming back and hopefully turning this thing around."