DENVER — You may not be able to find Elijah Wilkinson at UCHealth Training Center these days, but you can still find him at work.
While the novel coronavirus pandemic has kept the Broncos' football operations largely to a virtual format with Zoom video conference meetings for players and coaches, Wilkinson's other line of work has cautiously reopened.
The fourth-year tackle co-owns and operates All-Star Barbershop along with his business partner and barber, Freddy Soto, and even in spite of all the uncertainty that a wild 2020 has carried, the venture is going strong.
"It's been going great," Wilkinson said Tuesday. "Despite COVID, it's been a pleasure, honestly, to be able to do something and put my whole heart into something that can turn out to help other people as well as be in business for myself."
The idea to open the shop did not emerge because Wilkinson has a passion for cutting hair himself, but because he was thinking about life after playing in the NFL and how he could create a business that also has a role in fostering a sense of community.
"It came about in my kitchen, actually," Wilkinson said. "Me and my barber, Freddy — Alfredo Soto — who's my partner in this, we kind of just were brainstorming one day while I was getting a haircut in my kitchen. And it came from an idea into all of this you see now behind me. … It was just brainstorming ideas, figuring out what we can do to make a difference and also make some money for ourselves in a business venture on the way."
After discussions with his financial advisor, Wilkinson decided with that with the fiscal flexibility afforded by an NFL contract, he wanted to proceed with the plan with Soto. The two opened the barbershop in October of 2019.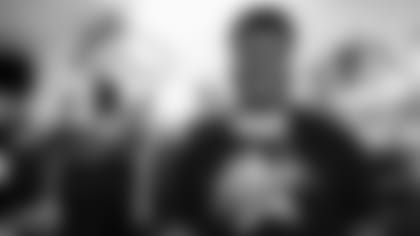 "I'm glad that we did," Wilkinson said, "that we created this spot for everybody to come and be able to get a clean cut, be able to have some food on a day like today and just hang out."
A large part of Wilkinson's goal in creating the shop was the idea that it could be a pillar in the community.
"A huge one at that — not only such a safe space and a place to come and talk," Wilkinson said. "… It's just a place where you can channel all that, all your problems, channel all that out, come relax. It's relaxing for me, at least, to come get a haircut, a shave, relax. Close your eyes a little bit. Next time you get a haircut, close your eyes and tell me it's not relaxing and you don't feel comfortable in that space that you're in. That was my whole idea of inventing this barbershop, inventing the whole community aspect of the barbershop and tying it all together."
To that end, Wilkinson and Soto started a weekly promotion at the shop. Wilkinson sets up a basketball hoop in the parking lot, puts hotdogs on the grill and offers free haircuts for kids from 4 to 6 p.m. on Tuesdays. His teammates Jake Butt and Phillip Lindsay each visited at the two most recent All-Star Hoops days.
"It's very cool, actually," Lindsay said. "I'm excited that Eli decided to do this. I'm proud of him and it's something giving back to our community — my community, at that. I'm excited to see the kids, honestly. That's what it's really about."
The plan is to keep it going every Tuesday until Wilkinson is back in training camp, he said.
"It's in my means and my barber's means to be able to do it, and [it's] for two hours out of the week, free haircuts as much as they can do, so I felt that it was a good idea," Wilkinson said. "It's something that we could both bend on and that we could both do within our means, so why not?"
In the meantime, Wilkinson seems as comfortable at the grill as he is at Empower Field at Mile High.