ENGLEWOOD, Colo. –Linebacker Wesley Woodyard can be seen all over the field making plays. He can also be seen all over the city of Denver making a difference in the community.
On Wednesday, the Broncos announced that the club has selected Woodyard as its 2013 Walter Payton NFL Man of the Year Award recipient.
The prestigious award historically recognizes a player for outstanding leadership both on the field and in the community.
Woodyard has earned the team's nomination for the honor in three of the last four years – 2010-11, '13.
A six-time team captain, Woodyard's nonprofit, the 16Ways Foundation, has an enormous impact on at-risk youth and hosts a variety of events throughout the year, including an MVP Dinner, multiple youth football camps and Touchdowns for Tomorrow Trivia Night.
16Ways Foundation is also scheduled to host its annual toy drive in December to benefit local charities, including the Tennyson Center for abused and neglected children.
In addition to his own charitable efforts, Woodyard is a regular participant in team community events. He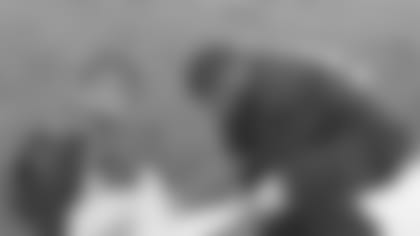 has volunteered his time for Shop with a Bronco, Hometown Huddle, Habitat for Humanity Metro Denver and the Denver Broncos Holiday Party for the Denver Rescue Mission.
In April, Woodyard joined Denver Mayor Michael Hancock on the steps of the Colorado State Capitol Building to kick off Child Abuse Prevention Month and teamed up with the Mayor to unveil the My Denver Card initiative, which allows all Denver Public School students who apply to the program admission into Denver's 26 recreations centers and 29 pools free of charge.
Woodyard's selection as the Broncos' Walter Payton NFL Man of the Year award recipient will be recognized during Denver's home game against Tennessee on Dec. 8, and the Broncos will make a $10,000 donation to the 16Ways Foundation.
Woodyard's name will be submitted to the NFL for consideration as the national award winner, which is announced during Super Bowl week. That individual will receive a $25,000 donation to the organization of his choice courtesy of NFL Charities.
Previous Broncos nominees for the Walter Payton NFL Man of the Year award include guard Zane Beadles (2012), Woodyard (2010-11), cornerback Champ Bailey (2008-09), cornerback Domonique Foxworth (2007), wide receiver Rod Smith (2004, '06), safety John Lynch (2005), linebacker Ian Gold (2003) and wide receiver Ed McCaffrey (2002).
Quarterback John Elway (1992) is the only Broncos player to win the national award, which was first given in 1970 and renamed after the Chicago Bears' Pro Football Hall of Fame running back in 1999.
Also on Wednesday, the club recognized five players as Denver Broncos Community Ambassadors: safety Mike Adams, safety David Bruton, guard Ben Garland, tight end Virgil Green and linebacker Steven Johnson.