DENVER – With the help of several of his teammates along with Broncos alumni, the Denver Broncos Walter Payton Man of the Year Award winner Wesley Woodyard spread some Holiday spirit Monday night at the Downtown Aquarium.
Woodyard and his 16Ways Foundation hosted their fourth annual toy drive collecting Christmas presents for the Give Denver Adopt A Family Holiday Drive and the Tennyson Center for Children.
"It's all about the kids this year," Woodyard said. "That's something that I couldn't imagine, waking up on Christmas day and not having a toy to open up and this is a great way to reach out and help a lot of kids throughout Colorado."
There were several current Broncos on hand, all of whom brought toys to donate. Many of Woodyard's defensive teammates including fellow linebackers Nate Irving and Steven Johnson as well as defensive backs Dominique Rodgers-Cromartie, Duke Ihenacho, Champ Bailey and Mike Adams were in attendance.
In addition to a handful of offensive teammates, Broncos alumni and Denver Broncos Cheerleaders were also at the event.
"Anytime I have my teammates show up in support in great numbers it means a lot to me, and most importantly they're here for the same cause and that's making sure that we can help out as many kids as we can," Woodyard said.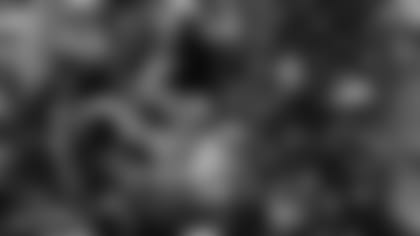 All of the players signed autographs for those in attendance, many of which also donated toys to the drive.
The event also featured a silent auction with several different items ranging from signed helmets and jerseys to gift packages up for bids. All of the proceeds from the event went to benefit Woodyards' 16Ways foundation as well as the Give Denver Adopt A Family Holiday Drive and the Tennyson Center for Children.
The 16Ways foundation recognizes the emotional needs of at-risk youth and works to benefit those youth through mentorship, providing educational and professional development and building self-esteem and self-awareness as well as other methods.
"We've been doing this for four years and this year we had a great committee to put this thing together so you know they got it up and running," Woodyard said. "It took a lot of hard work and determination to get it to turn out the way it's turned out."
But Monday night was less about Woodyard's charity and more about the children as evidenced by the large amount of toys donated.
"I think the importance is that everybody here, we're here for the same cause and the importance of Christmastime – being a family and supporting the community and making sure that we can help when we can. (It) Puts a smile on their faces and mine too."