When Karl Mecklenburg was drafted in the 12th round in 1983, he was such an afterthought that I can remember no members of the media even wishing to ask him a question.
Despite being the 310th player selected in the draft, he made an immediate positive impression in training camp, and it is now impossible to think of "Meck" as anything less than a part of the fabric of the Mile High City.
It was very early in his first camp when the young man from Minnesota made his mark. Broncos coach Dan Reeves was trying to put in his offense, lining them up and running plays against the very end of the defensive depth chart, which included Mecklenburg — except Meck was playing like a guy who would not be spending very long at the end of the rotation.
After three or four straight plays in which Mecklenburg seemed to reach the quarterback with ease, Reeves called defensive coordinator Joe Collier over and joked, "Can you do something about that kid? I'm trying to put my offense in, and every play he keeps coming in and touching the quarterback like, 'Tag, you're it.'"
He became one of the most outstanding defensive players in franchise history during his 12-year career from 1983-94.
Meck once told me, "I'm a lousy football watcher. I like to play." Indeed he did.
Noted for his versatility, he played all seven defensive line and linebacker spots but became a starter at linebacker by his third season and went on to start 141 games for the Broncos. His 180 career games played with Denver still put him in the top 10 in franchise history.
Mecklenburg was voted to play in six Pro Bowls, tied for the fifth-highest total by any player in team history.
He was named All-AFC and All-NFL four times and was tabbed as the 1986 AFC Player of the Year by Football News.
Mecklenburg helped Denver to seven postseason appearances (1983-84, '86-87, '89, '91, '93), five division titles (1984, '86-87, '89 and '91) and three Super Bowl berths (XXI, XXII and XXIV).
The soft-spoken and gentlemanly star finished his career with 1,145 tackles as well as a franchise-record 79 sacks. He had 11 multiple sack games and is the only player in team annals to records four sacks in a game twice in a career.
Mecklenburg was selected to the Denver Broncos Ring of Fame in 2001.
He remained in Denver after his playing career ended, having found a great match in climate, lifestyle and comfort level.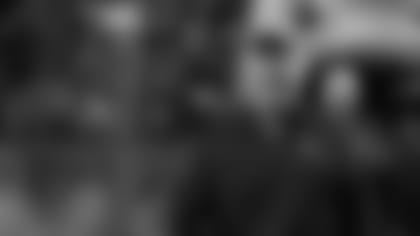 "I took a lot from pro football for my future — the challenges of preparation, playing injured, going beyond where you thought you could go or where anyone else thought you could go, physically, mentally and emotionally," Mecklenburg said.
He now runs his own motivational-speaking business in the Denver area and finds that there are challenges similar to football.
So instead of rushing the passer before 75,000 screaming fans, Mecklenburg now meets 500 to 1,000 members of the public at a time.
"I get the same rush from this as I did before a game against the Raiders. I love it," he told me.
His talks focus on several themes: Teamwork, courage, dedication, constant learning and refusing to quit.
Mecklenburg has worked with a number of corporate clients for his speeches, and he occasionally has served as a spokesman for some local firms.
"The thing I miss the most about football is the adrenaline rush that the competition provides," he said, "and once I learned how to transfer that to the motivational speaking world, it was a tremendous help to me.
"I don't know why some guys make it so hard. They don't understand that when they retire from the game, their resume is basically the goodwill they developed in the community."
He had class, perspective and balance as a player, and Mecklenburg still has that today even outside of football.
"There is such a value in making a commitment to the community, it is not a burden in any way," Mecklenburg said. "I encourage all players to take advantage of it as much as they can."