Ed, before we get to the football, I found some of your tennis scores from your days at Longmont High School. You beat Buzz Voss of Poudre High School 6-1, 6-1 in 1977. I thought you might like to know.**
"A lot of people went down 6-1, 6-1 or worse. We had a really good team. We actually finished fifth in state, and my senior year, I made the state semifinals over in Boulder. That's where we played. So I didn't get meals and lodging for my state appearance, but I made the state semifinals and then I lost to some silver-spooner from Cherry Creek, like we all do."
As a Longmont High alumnus, class of 1978, what memories of the Broncos' first Super Bowl run do you have from your high-school days?
"Living in Longmont from the time I was in eighth grade, I was certainly captivated by the NFL, even at that age, and the Broncos were obviously the local team and they were always competing with the Raiders to try to get to win the division and go to the playoffs every year. So yeah, I remember Matt Robinson, I remember Craig Morton. Dave Preston was kind of the star running back at the time. I obviously knew Floyd Little. So we were very interested when they went to their first Super Bowl, which didn't go so well. I remember later asking Craig Morton what he remembered about that game in the Superdome and he said, 'The ceiling.'
"But I remember Jon Keyworth's 'Make Those Miracles Happen.' I remember Rob Lytle's touchdown in the playoff game. I remember Tom Jackson and running an interception back down the Raiders' sideline and telling John Madden, 'It's all over, fat man.' I remember all of those things."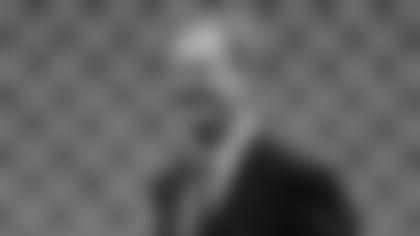 After high school and college, how did the Broncos become your first pro sports beat?
"I graduated from Northern Colorado and early in my career I got a job replacing — well, not replacing — but I took the spot of Rick Reilly at the Boulder Daily Camera. So the Broncos were the first team I covered on a daily basis. And Dan Reeves was the head coach, and our circulation didn't really justify Dan Reeves treating me like he did the reporters from the Denver Post and the Rocky Mountain News at the time, but he did. And I've never forgotten that about Dan. And obviously I was very fortunate to be there at that time because Dan created a number of future NFL head coaches there that would ultimately become an important part of my coverage of the NFL, and having them as contacts and having access to them and their insights. And so I actually missed my brother's wedding. I have one brother and two sisters and I missed my brother's wedding because it was the Super Bowl that John Elway started for the first time as an NFL players. People always ask me, 'What's the greatest moment of your career as far as what you've covered?' And I've always said that it was that championship game in 1986 when John Elway led The Drive from his one-and-a-half yard line against the Cleveland Browns and put the Broncos in the Super  Bowl. And my brother had the misfortune of having his wedding on Super Bowl weekend and that was the first time I was getting to be assigned to cover a Super Bowl."
What have you been doing with your time as you've been waiting to make your return to the field?
"We have a lot of family in Colorado and I guess about two months after the ESPN layoffs, we went ahead and followed through with purchasing a house here as kind of second home because we have a lot of family here, including our only grandchild; little Henry is two months old and lives up in Fort Collins. We've spent a lot of time here. We're from here. We love the mountains and the outdoor kind of mentality that exists here. In Dallas, everybody plays golf and does that sort of thing, and here it's more people are riding their bikes and hiking and kayaking and white-water rafting and we've done some of or many of those things and have just sort of gotten re-acclimated here. And ultimately we may choose between whether we live in Colorado again or [Dallas]. We'll keep our home in Dallas, but I always thought we would retire to Colorado; I just didn't expect it to be this soon.
"I've spent a lot of time trying to figure out what I'm going to do next. I have two years left on my ESPN contract and so they're obligated to honor that. At the same time, they've made us aware we also have obligations and so getting another full-time position has been difficult because anything I try to do, it has to be approved by them, including this handful of games I'm going to do on a freelance basis for Westwood One this year, starting with the Monday night game, Chargers-Broncos."
Turning toward the game, have you gotten a chance to talk with the coaches on both sides?
"Yeah, I didn't talk to Vance [Joseph] yet, but I suspect I'll see him on the field pregame. I did get some time with [Offensive Coordinator] Mike McCoy and [Defensive Coordinator] Joe Woods. I've known Mike for quite a few years. Joe I don't know so well. But one of the things I like to do as a reporter, and Kurt Warner — he's doing the game with me — he sort of admonished me, playfully saying, 'You don't need to be studying up on all this material like you used to do. I just need you down on the sidelines to tell us what's going on in the game.' But I like to go in with a sense of what the coaches think, what they prioritized, how they think they have to win the game, and I think that allows me to put whatever happens that I report on the sideline into a better context."
With this being the debut game for two first-time head coaches, what kind of impressions have you gotten of Vance Joseph and Anthony Lynn?
"I know that Vance Joseph was really a very highly regarded guy throughout the league. If I'm not mistaken, the Broncos have been trying to get him since he was an assistant in Cincinnati. I'm not surprised that when Gary Kubiak decided to retire that that's the direction that John Elway went. And then Anthony Lynn, he's a Bill Parcells disciple. He believes in a physical style of football. He wants to run the ball, as a former running back. He probably could have had the job in Buffalo, but he chose instead to go to San Diego, feeling like it was a better fit for him. I think it's going to be challenging because Philip Rivers is sort of at the end of his career and this team's enduring a move, franchise relocation, and they're playing in a very intimate setting, shall we say. So I think he's got — he's up against an awful lot. Vance obviously enjoys the stability of a franchise in Denver with a lot of people in place that he's very well familiar with."
For the Broncos, what kind of expectations do you have?
"I've covered a couple games that Trevor Siemian played in last year, so maybe I have a little more — I don't know — respect for him as a quarterback than maybe some people who haven't seen him play quite as often. He is somebody, to me, who's in a position where he's much better able to fully execute the offense that the Broncos want to run.
"I think it was no small achievement that he won the starting job because, quite honestly, I expected that Paxton Lynch would be the starting quarterback for a couple of reasons, one of which was I know Kubiak had a really strong belief in Trevor. And to lose him was a significant setback for Trevor, in terms of how the franchise viewed the quarterback position. He had to essentially, as Coach Joseph said, he had to start all over. So he didn't theoretically get credit for what he did last year, which included playing through a shoulder injury that he kept quiet. And then to know that you're starting all over and you're competing against a guy who the team's invested a first-round pick in, that he was John Elway's first-round pick — I really felt like all Paxton Lynch had to do was make it close, and it's to the credit of Trevor Siemian that it wasn't close and they were able to determine that Trevor won the job even before Paxton hurt his shoulder.
"I think people always look to the quarterback to decide if a team has a realistic chance or not, but with them, it's not inconceivable that Trevor Siemian could play at the level Peyton Manning did when the Broncos won their most recent Super Bowl because they had a good run game and a great defense. And if they can recreate those two things this year, then I think Trevor Siemian is fully capable of delivering at his position. I think he's a guy who doesn't make a lot of mistakes. He's not going to put the team in a lot of bad positions, and I would expect him to be significantly better player in his second year as a starter than he was in his first. That's the expectation for every young quarterback. They make their biggest improvement from Year 1 to Year 2, so I think that should pertain to him as well."
Next year the Pro Football Hall of Fame's Contributors Committee will have two people it can nominate as finalists. Does it feel like Pat Bowlen is a virtual lock for taking that next step at this point?
"We saw Jerry Jones go in this year, and I think a lot of that was because the Cowboys are such a visible team and Jerry has been very influential from a business point of view in creating new revenue opportunities and showing the league what the value is of new stadiums and practice facilities and all that he's done. But I think Pat Bowlen, from everything I understand, and I talked to people at FOX, like David Hill, when I was at the Hall of Fame ceremony this year, and he told me Pat Bowlen had just as much to do with that TV deal in 1993 that changed the game for the NFL from a financial point of view as Jerry Jones did, even though it seems Jerry gets all of the credit for that achievement. And if you look at [what] the performance of the franchises have been like on the football field, certainly during most recent years, the Broncos have far surpassed what the Cowboys have achieved on the field. So I think it's an inevitability and it's something that when it does happen, it'll be long overdue."