The Denver Broncos have played their greatest number of games against the Los Angeles (and of course, for a long time, San Diego) Chargers.
Of all its opponents, Denver has the most victories against this franchise, and they have had some fabulous games.
Of the nearly one thousand Broncos games I have seen in person, the one that stands out between these two teams was the one played at Mile High Stadium on Nov. 17, 1985.
It remains the only game ever played in which literally the first and last touches of the ball went for touchdowns, but I am a bit ahead of myself.
This game was a classic in every way, from start to finish.
The Chargers had the great Dan Fouts at quarterback, throwing to the likes of wide receivers Wes Chandler and Charlie Joiner, as well as to tight end Kellen Winslow.
For the Broncos, 18 of our starters that day went on to be named earlier this season to our all-time Top 100 Team, including 10 members of that day's starting defense and of course future Hall of Fame quarterback John Elway.
There is an old adage that says a player is really great if you cannot write the game's history without mention of him. And it often seems that one cannot write any story about the Broncos without Elway being front and center.
The Broncos won that game by a 30-24 score in overtime, and it began with the first bookmark of that aforementioned touchdown stat, as Chargers running back Gary Anderson returned the opening kickoff 98 yards for a touchdown, putting the Broncos behind with just 17 seconds elapsed in the contest.
The two teams of stars battled back and forth, with Elway throwing a 4-yard scoring pass to wide receiver Steve Watson to tie the score and Fouts responding with a scoring pass of his own to give San Diego a 14-7 halftime lead.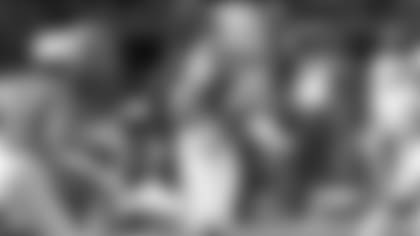 The third quarter was scoreless, but Mile High was always most magical in the fourth quarter and overtime, and on this day it hosted a classic.
Denver running back Gene Lang scored twice in the fourth quarter to put Denver ahead, but the Chargers answered with a score of their own to take the lead with just over one minute remaining.
But Elway made his living tormenting opponents from the AFC West, and he did so again, leading the Broncos on a seven-play, 48-yard drive that culminated with kicker Rich Karlis tying the game with a 34-yard field goal.
After a Fouts kneeldown with four seconds remaining, the game was headed for overtime and the history books.
San Diego won the coin toss for overtime and elected to receive.
The Broncos never ran a play in overtime, but they won the game.
Fouts passed seven times and handed off the others on a 13-play drive that ended with fourth down at the Denver 23.
When Bob Thomas trotted onto the field for what appeared to be the game-winning 40-yard field goal, it seemed like Denver's fate was sealed, but in fact one of the greatest moments in Broncos history was about to happen.
The field goal attempt by Thomas was blocked by the great Dennis Smith (DS49 forever, to Broncos fans), but defensive captain Mike Harden had called for a timeout just before the snap.
Thus, Thomas got a reprieve. A second chance. What kicker ever misses this kick twice, I and every other fan and official thought.
But in the Denver huddle, Smith exuded the maximum confidence that only the great ones have when he said, "I think I can block it again."
In fact, Smith had blocked a 47-yard attempt by Thomas early in the game, so he was going for the trifecta now.
Sure enough, in one of the most stunning plays old Mile High ever saw, Smith did indeed block the kick and this time it bounced perfectly on one hop to Louis Wright, and the onetime San Jose State sprinting star certainly was not going to be caught.
Wright raced untouched to the end zone to a chorus of "Louie, Louie," and because it was an overtime touchdown, there was no extra point.
Thus, the first and last touches of the game were touchdowns, for what remains the only time in NFL history.
In a game filled with stars on both sides of the field, the final play was made by two future Ring of Famers, Smith and Wright, and a moment of greatness was forever etched into the memory bank marked Broncos vs. Chargers in Denver.