In two years with the Broncos, Wide Receivers Coach Zach Azzanni has been a key part of the Broncos offense's youth movement. When he arrived, he coached a group led by two veterans in Demaryius Thomas and Emmanuel Sanders. Now, Courtland Sutton, Tim Patrick and DaeSean Hamilton are the players with the most NFL experience in his room — and they've just wrapped up their second NFL seasons. Before the 2019 season concluded, we talked with Azzanni to hear his perspective on Sutton's big year, the fun personalities in his meeting room and more.
Your two starting receivers are both tall for their position, and most teams go with one big receiver alongside a smaller wideout. How does their combination of size come into play for this offense?
"I think it's huge. I mean, if you ever talk to defensive coaches, they don't like to face big wide receivers. We're pretty lucky; we have two guys where, not only are they big, but they can also run. They're good both in and out of a break — that's rare, and that's hard to find. Those contested catches, blocking those safeties running the alley, you feel good when you have two 6-4 guys that weigh over 210 pounds doing those jobs. It's a problem for defenses, too, and they'll tell you that. We're lucky and fortunate. And they play big, that's important too."
Courtland's had a really special season. Looking back to when he first got here, when did you realize that he could be a Pro Bowl-caliber player?
"I kind of realized it just watching him through college, through that last year, as far as talent-wise. I know his position coach in college very well, and he was just verifying his personality for me and what he'll be like when he gets here and what he could grow into, just being around him in college. He's got the right make-up, and that's a big attribute you need to have to take your talent to the next level. There's a ton of talented guys in this league. Not everyone's made up of the same things. Courtland's made up of the right stuff. Now we've just got to keep him on track, keep him humble, keep him hungry, and he hasn't scratched the surface yet. There's a lot more to be done. He's a different player than he was a year ago, and hopefully we can take that to the next level this next offseason, too."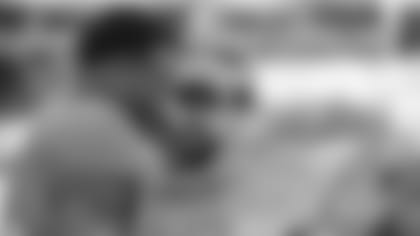 How can Courtland get to the next level?
"We're going to go through that film. There's a lot of little details that he can still get much better at in his game — route technique, releases, just knowing all the different intricacies of an NFL defense that he still may not know all the way yet. So, a lot of things. I'm excited to get going with him in the offseason and get rolling and getting him better."
Some of the receivers you have — particularly Sutton, Tim Patrick and Diontae Spencer — have big, fun personalities. What's it like in the meeting room with those guys?
"It's a fun room to coach. It's a good group of guys. They've all got good hearts. There's not big egos in that room. They'll do whatever it takes to win. But we have fun here, too. We have a lot of fun, and sometimes the first five minutes of our meeting, I'll just let those guys joke around, bust each other's chops a little bit."
What kind of role can Spencer carve out, not just on special teams, but on offense?
"We use him on offense for different little things. He's our speed-sweep guy, screen guy, he can take the top off, go deep for us. He can do a lot of things. He's like a little Swiss Army knife for us. He's a good little piece to have."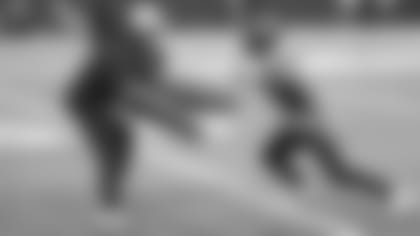 If Drew Lock is the long-term answer at quarterback, what kind of work can the wide receivers do in the offseason to make sure they're building the connection they need to have with a quarterback?
"I think in any great offense out there in the NFL, you see that in the offseason — you see those guys getting together and working on different things. I think Courtland will help Drew get that rolling. That's not something we can mandate. That's something that they have to do. That's another difference between college and pros — these are grown men. If they want to get better and take it to the next level, then they'll find a way to get together and work on those little things in the summer."
With your background coaching at the collegiate level, how does the challenge change when coaching NFL players?
"The only different challenge is the age difference between players sometimes can be spread out, whereas in college they're 18 to 22. They're all at the same point in their life. In the pro level, you could have a 30-year-old and a 22-year-old. They're at different spots in their lives and have different experiences and have played a lot longer, whereas in college they're all kind of the same mold. That's the biggest challenge. Other than that, people are who they are. Some guys have some egos and some guys don't; that's no different than college."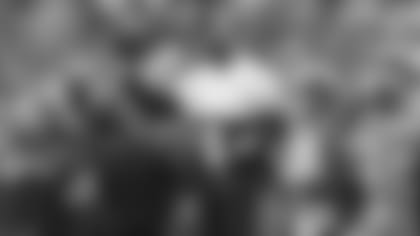 Getting guys to buy in is a big part of your job. What's something you like to do to bring them together for one vision?
"We pride ourselves in our room on building culture in our room and a certain standard, getting those guys to buy in. We do a variety of things. I try to make it fun for the guys, like we are in college, like they are in little-league football still. I reward them with different things that money can't buy, different incentives that we have that make it fun for us, whether it's practice or a game. And they buy in and have fun with that. It takes a guy like a Courtland Sutton and some of those guys to buy in, and when they do, then the rest of the group will as well. And then they hold each other accountable and they make sure they do. We do a lot of things, but I have a good room with good personalities, so the buy-in is a little bit easier. But you have to be relentless on your message every day. As a coach, you can't waver. It's got to be every day, every day, every day — consistency in your approach, and then they'll buy in."
You appear to be the only position coach who helps out coaching special teams. What's the extent of your role there?
"I coach the returners — punt return and kickoff return. I've worked with special teams my whole life. … I've been in charge of every unit except the field-goal unit in college. I enjoy it. I enjoy the way Coach 'Mac' [Special Teams Coordinator Tom McMahon] approaches it, so I'm willing to help and I love to help out, too."