As the Broncos' new special teams coordinator, Tom McMahon has been tasked with overhauling the unit to be more fundamentally sound and also more explosive. With a punt return for a touchdown in the preseason opener and top-10 rankings in yardage allowed per punt and kick return, it appears he's already off to a good start. Before the season began, we sat down with McMahon to learn about what kind of teacher he tries to be and how he thinks the Broncos can be successful on special teams in 2018.
BS: As a new coach, what have you come to really enjoy about the organization?
TM: "The biggest thing I enjoy is the expectation to win, to be honest with you. It's nice to come in and know you're expected to win. You have everything you need to win, and that's the best thing about it. The city of Denver expects you to win, so not only here but out in the community. I'd rather have that than hope. Hope's tough to go with. I'd rather have the expectations."
BS: When you moved and moved your office, what's one thing you needed to have in your new office?
TM: "The biggest thing I need to have, is I need to have that disc that has all my stuff on it — video so I can teach. We're teachers — that's the number one thing — so if you don't have the stuff that you can teach your system off of, it makes it really, really hard."
BS: When it comes to the return game, what do you like about the group of guys you have here?
TM: "The thing I like is, well, number one, they know how to run a track; number two, they've got good burst, they've got some ability to make the first [tackler] miss; and then the biggest thing you look for in a returner that I think most of these guys have is they have the ability to create their own return. Great returners are going to have to, once or twice a game, create something out of nothing. It's just part of it. There's good football players covering, so I think all these guys have the ability to create, and that will give us plus yards."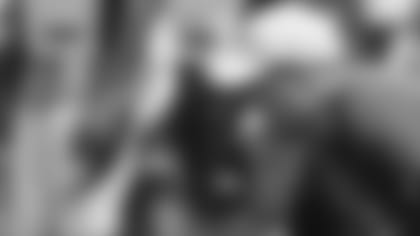 BS: Though it may seem like a simple thing, why is catching and securing a punt so difficult, especially in the game, as compared to practice?
TM: "I think the biggest thing is it's like life. You've got to focus to focus on the task, rather than the situation. There's a lot of situations in football — the wind or this, that and the other — so the number one thing is you've got to focus on the task. And the task of catching a football is simple: It's catching with your eyes. So you'll hear us out on the field a lot/ When we catch a ball, you hear the players say words or 'blank.' What they're doing when they go to tuck it, catching all the way down through it with their eyes, if they see 'Wilson' on it, they say words. If they just see the leather on it, they say, 'blank.' So, it's just that. And the other thing is we call it, 'squeezing grapes,' getting your elbows in. I tell them there's a grape between each armpit. Get those elbows in, and if you get your elbows wide, the ball's going to drop through. Those are the two biggest fundamentals. At the end of the day, focus on the task. Some of these guys get caught up in the big world. You don't need to do that."
BS: What kind of talent is Marquette King?
TM: "He's a great talent. He's very, very talented. I love the way he works. He didn't pooch the ball great last week — two touchbacks — but he comes out and works to fix it. He wants to fix it — very, very competitive. He's got a very fast leg. Like, super fast. It's one of those [situations] where the potential's there and he's just got to keep working."
BS: Personality-wise, what's it like to work with him?
TM: "Awesome. Very professional. The biggest thing is, in this building, he knows I know the most important thing is our production. We owe it to this football team. Those guys are the quarterbacks when we walk into the special teams room — him, Brandon and Casey. So he's very, very professional, knows what we've got to do each day. We field punt one day, we pooch the next day. He goes in there every day and gets 50 holds before we do any type of field goal work. So, I love the way he works."
BS: For you, what do you find to be key to creating successful returns like the one you had in the preseason opener?
TM: "Just focus on their eyes. When our eyes are wrong, when the returner's eyes are wrong, we're in trouble because we're going to drop the ball. When our eyes are wrong, we're going to lose the hip, and if we stay on that hip, we call it, 'hand the baton.' If we never lose that hand on the hip of our opponents, we've got a chance. It's all eyes."
BS: Is there a coach you'd describe as the most influential in your development as a coach?
TM: "Yeah, coach Petrino — coach Bob Petrino Sr. — was my head coach in college at Carroll College, and he got me my start there at Carroll. He got me a chance to go to Utah State and be a GA [graduate assistant], and then I went to Louisville with his son, Bobby. So that Petrino family really kind of got me started. But every single head coach, every single assistant I've worked with in my career have been really, really good to me."
BS: I've seen how hands-on you are as an instructor. What do you really value about that part of being a teacher?
TM: "I think the biggest thing is, for me, the word 'believe' is not really a great word. I like the word 'conceive.' So I think when a player can see — because the word 'see' is there — if they can conceive it, they can visually see what you want, they'll do it. There's a difference between, 'Coach, I believe in what you're saying. I'll do it,' but if they can't see it, they can't execute it. So that's why I want to be hands on. I want them to see exactly what I want them to do, because these guys are such great players. They'll do what you want as long as they see it. If they don't have an understanding of it, they can't do it."
This interview originally appeared in the Broncos' Gameday Magazine for their Week 1 game against Seattle. It has been edited and condensed for length and clarity.