Based on the early impact rookies Phillip Lindsay and Royce Freeman have made so far, it seems Running Backs Coach Curtis Modkins has helped return the Broncos to their standard of having a dominant rushing attack. After a recent practice, we sat down with Modkins to find out how his position group has found early success, how they work together and to learn about his heyday as a running back at TCU and his connection to Demaryius Thomas, which goes back 15 years.
Ben Swanson: When you were first hired here, what was your goal and how did you set about achieving it?
Curtis Modkins: "My goal was to come in and fit within Coach Joseph's overall plan for our team and fit in with Coach Musgrave's overall plan for our offense, and make sure our guys are prepared each and every Sunday."
BS: Without disclosing too much, what is the plan for how the running backs fit in the offense?
CM: "We had to develop what the Broncos offense would be for this season. Things were a little bit new; we had new guys on the staff, Billy was taking over full time [as offensive coordinator]. We had to develop what our goals would be and we had to go through the draft process, where we got new players and we had to go through a process of finding out what they can and can't do, and what they do well and what they don't do so well. We've tried to go through that process, but my goal has always been to do whatever we can, as a position group, to help our team be successful. Some weeks, that may be running it a certain amount of times and some weeks it might be catching it or blocking. I think it varies, but our ultimate goal is for us to win games, and our position, I want them to be a beacon of light for our team, as far as how we play and what we do on Sundays."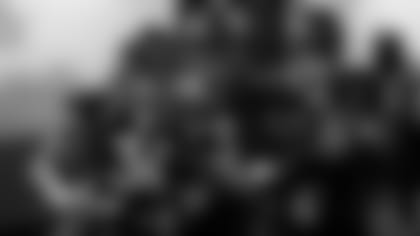 BS: You mentioned that your room is very young. How does that affect how you coach them, with two rookies having such significant roles in the offense?
CM: "I think young is good. I don't think young matters. I think young in this league is good. [My coaching style] wouldn't change. The way I coach is the way I coach. There's a standard set, and the standard is not ever lowered. So it doesn't matter if you're a five-year veteran, a 10-year veteran or a rookie — there's a standard of how I expect them to play, and that standard never changes."
BS: A lot of people talk about how the running styles of Royce Freeman and Phillip Lindsay complement one another, but how exactly does having two effective guys with different running styles affect a defense?
CM: "I think football, at this level, a lot of it is about matchups. I think both guys can pose different matchups for a defense. Royce is a bigger, stronger guy who's really hard to tackle. Phillip comes in, and Phillip's strong but Phillip's also got a little bit more juice. Judging his speed and Royce's speed might be a little different. Royce can run, but he's also a more physical guy. Phillip can change the pace a little bit. So I do think they complement each other well."
BS: Your group has had a lot of close competition among the three guys, going back through training camp and into the offseason. How do you foster that competition without it turning into any tension between the players?
CM: "I think first and foremost, that speaks to the kind of young men they are. They are all good, young men. They're professional and they all are about the team first. When you have guys who are about the team, any selfish individual goals don't play a part in it. So I think it speaks to the kind of people they are."
BS: During your playing career, you finished your time at TCU as the third-leading rusher in school history. How would you characterize your rushing career there?
CM: "I was very fortunate to have gotten a lot of opportunities. When I went there, we were more of a one-back team. When I finished my last year, we were turning more into a two-back team. So I got a chance to be exposed to different systems, different run angles, different run schemes, and I think those benefited me over the course of my four years there."
BS: I've seen some clips from your TCU days. How would you compare running back Curtis Modkins to a modern-day rusher?
CM: "I was probably more like Phillip than any of the other guys. I was smaller — much smaller than I am now — but I was probably more like in Phillip's mold than anybody else."
BS: When you were a coach at Georgia Tech, you had a year in 2007 when you overlapped with Demaryius Thomas. Do you remember him?
CM: "Absolutely. I [didn't] know him as 'D.T.' I knew him as 'Bay-Bay' back then, and he'll always be 'Bay-Bay' to me. He was a great young man. I was on the staff that recruited him. We all were involved with it. We all kind of know where he comes from, and I have a lot of respect and admiration for where he came, from the time I knew him when he was 16, 17 years old to his ninth or 10th year in the league. I have a lot of respect for him for where he came from. Because I knew where he's come from."
This interview first appeared in the Broncos' Gameday Magazine for the team's Nov. 4 game against the Texans.