After a four-year stint in San Diego as the head coach of the Chargers, Mike McCoy returned to Denver this offseason to bring a jolt to the Broncos' offense. In the early weeks of the season, he's done just that. As he took a break from implementing another successful offensive game plan, we caught up with him about his return to Denver, his college quarterbacking career and his impressions of Head Coach Vance Joseph.
Aric DiLalla: What's something about Trevor that people outside the building may not appreciate that you've come to appreciate as you've spent a lot of time with him? Mike McCoy:Well I think he did a great job during the offseason program, during all the training camp, going through a competition and never flinching. Him and Paxton both deserve credit for the way they handled the situation. We've had success up to this point in time because they worked together. Trevor didn't worry about any of the noise on the outside, and that's something we sat down [about]. So I think everyone really should appreciate the way he's handled the situation, especially after playing as much as he did last year. At the time, too, he showed a lot of toughness by playing hurt. He was a pro during the whole entire time, and when Paxton was in there, he was trying to help him and do everything he could and showed his leadership, and I think that's one of the big reasons why everyone voted him as a team captain. Trevor's also done a great job of picking up a new offense quickly. That's not easy to do.
AD: In 1994, in the last Freedom Bowl, you led a game-winning drive. I think Utah then finished with its highest-ever ranking, what are your memories from that season and that game?
MM: We had a great group of players and coaches. With the leadership of [former coach] Ron McBride at the University of Utah, it was a special year and day for everybody. We didn't have much success as an offense that day, but that's why you play four quarters of football. Fortunately, Cal Beck had a big return for us, and I saw Kevin Dyson on the back end line and got it to him. The 1994 season helped lay the foundation for the University of Utah football program.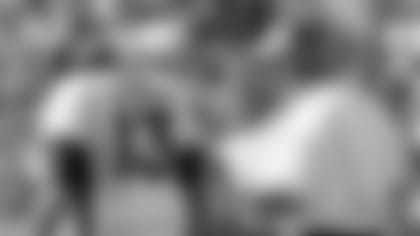 AD: You've coached a lot of different quarterbacks. Which of the guys that you've coached reminds you most of the way you played?
MM: They were all a lot better than I was. Everybody's different. It's really hard to say just one of them. I was kind of chasing the dream, and all the guys I coached have had very successful careers, so it's hard to say just one. I'm very fortunate, though. I'll say this about all the guys that I've worked with: [They're] not only great players, but even better people. I'm a better coach today because of all of them.
AD: I know you spent some time with Terrell Davis when you were at Long Beach State, when did you realize he could be special?
MM: We were there for our redshirt year and then for our freshman year playing, so we were there for two seasons playing together. [During] our freshman game, Harvey Hyde, our running backs coach, he called all the plays for the little freshman game, and I think everything was designed to go to T.D. After about six or seven plays, I said, 'Can we throw the ball like a normal offense instead of just handing it to T.D. or throwing him the ball?' And he said, 'He's the best player on the field, he should get it.' And I think once we came together in '95 [in Denver] for training camp, you could see [his talent] when we went overseas and the way he played in the kicking game and what he did the few times when he carried the ball and the production he had. You saw that on the field every day. It's great to see a Long Beach State 49er have the career he did and go to the Hall of Fame. I'm very happy for him.
AD: What went into your decision to come back to Denver?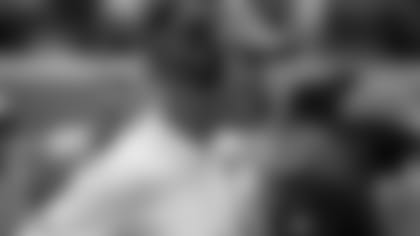 It's an unbelievable organization from top, down. From Mr. B [Owner Pat Bowlen], all the way down. I was very fortunate to be hired by the Spanos family to go to San Diego for four years and to have an opportunity to come back. My family and I absolutely love Denver. My family is still living in San Diego, but the friends that we've made here, working for a great organization, it's a special place. And until you're here, you don't really understand that. Going away and then coming back, it was a very easy decision for my family and I to make to come back here and say let's work for Mr. Bowlen and the Denver Broncos again. What John Elway's done here, having the opportunity to work for V.J. [Vance Joseph] when I talked to him about coming here, getting back with D.T. [Demaryius Thomas]. Him and Virg[il Green] are the only two still here on the offensive side of the ball. Just knowing what this organization's all about and the expectations of the organization, it was easy to come back.
AD: How different of a challenge is it this time around?
MM: Well, it's a new challenge every year. Every team changes from year to year. I was in Carolina for nine years, here for four years, then for four. You come back. Every team's different, so it's a great challenge every year. The turnover now-a-days, it changes all the time. So it's a great challenge, and I think that's one thing that I always like to do, is take advantage of what our players do best and put our players in a position to succeed. I've been very fortunate to be around some great players and some great organizations.
AD: What's impressed you most about working with Coach Joseph and how he's handled the early part of the season?
MM:He's done a great job of running the team. And when I say that, there's so many things that come up as a head coach, and he's only been doing it for a couple months, but I just think his composure and the way he's handled all the situations. There's a lot of tough things that come across your desk, but he's the same guy every day. I think the players love the way he's set up the schedule. He's always looking at the best interest of the players, but he's also brutally honest with them, too, and lets them know, 'Hey, this is the standard we have here. This is the way we want to get things done.' And that's what the players really want to do. He's done a great job.