ENGLEWOOD, Colo. — As the Broncos look for their offense to take a jump this season, it's also critical that their defense maintains its standard. Tasked with that mission is Ejiro Evero, who joins the Broncos from the Los Angeles Rams and steps into his role as a first-time defensive coordinator. In the early days of training camp, Evero seems poised to lead another strong unit, and his leadership abilities have been praised by coaches and players alike. We spoke to Evero about two of his key players, his defensive philosophy, what he wants Broncos Country to know about him and more.
Aric DiLalla: What's impressed you most about Justin Simmons in your short time with him so far?
Ejiro Evero: "He's just an extreme professional. All of the physical traits are very obvious and he's a smart guy, but it's the consistency day in and day out. He's professional. He knows how to prepare. He does the work off the field, in the classroom, taking care of his body. Just a true professional. When you have the marriage between that and his athletic ability and high character, it really shows up."
AD: How much of Pat Surtain II had you seen before getting here? How much did you notice him coming out of the draft?
EE: "Definitely studied him coming out and had a lot of love for him. Thought he was going to be a good player. I didn't think he was going to be this good, though. It's been pretty cool to watch him, and I truly believe he could be a top-flight guy."
AD: You've been around Aqib Talib, you've been around Jalen Ramsey. Does he have that sort of potential to be a guy in that class?
EE: "Yeah, he does. He does. But the biggest thing for him is just to continue to work day in and day out and continue to get better and let those things fall out the way they do."
AD: This defense last year was third in scoring defense, but there were some times when it was 'bend but don't break'. What's the key to getting the quick stops — the three-and-outs — and getting the ball back for the offense?
EE: "I think we've just got to make sure we're doing a good job of working in concert with the offense. We're not going to be worried too much about stats, but it's about affecting the game in terms of turnovers and affecting the quarterback and doing the things we need to do to win each game. Each game's going to be different. There's going to be some games where we need to hold the offense down. There's going to be some games where, hey, we're just going to have to give up one less point. We're not going to worry about numbers and just worry about, 'Hey, how can we affect the game, and how can we work with the offense and special teams to win these games?'"
AD: You talked when you first got here about your philosophy in regards to bringing pressure. What is your philosophy, and does it vary a little bit from other people who run a similar scheme?
EE: "No, not really. So much of that is, one, you've got to look at it from the standpoint of the quarterback is the most important position on the field. If you want to be successful as a defense and you want to be successful in any given game, you've got to affect the quarterback. We're lucky that we have some guys that are blessed and are good players and can rush the quarterback individually, but at any cost, whatever you have to do to affect the quarterback, because most of the guys in this league, if you don't get pressure and you give them the time, they're going to have success. That's going to be our focal point."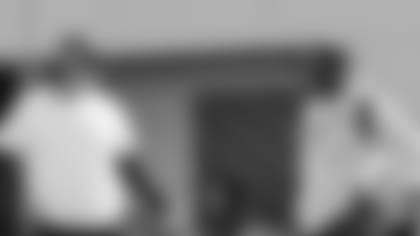 AD: As a former undrafted player in this league, do you have a soft spot for those guys on this team and hope they're able to get that chance?
EE: "You have an appreciation for how difficult it is, because the guys that are drafted and some of the veterans are going to get a lot of reps. These guys are going to have to do it with less reps, which is very, very difficult. That's why I feel like the guys that make teams as undrafted players or low-round draft picks, they're really special, because they have to get so much learning done above the neck without getting those physical reps. I do have a soft spot for them, but that's just the nature of the beast."
AD: Turning the focus toward you, what's something you'd want Broncos fans to know about you away from the field or who you are as a person?
EE: "Family first. I know [Head] Coach [Nathaniel] Hackett preaches it, but that's really true to who I am. My wife, Natalie, my son Flint [and] my son Pierce are the most important people to me. A lot of my really good friends, I consider them family. That's the most important thing. I like to do football and spend time with my loved ones."
AD: I read you were born over in Colchester, England. Have you been back over to the London area since then?
EE: "I've actually played there — this is going to be my sixth time this year. I've been back quite a bit. I went a couple other times just traveling. [I] went one time to Colchester to the hospital I was born at, so that was cool."
AD: You and Coach Hackett are very close. How did you and Nathaniel develop that friendship that started in college?
EE: "We lived together for three years and we got really close, and then we just played football together [at UC Davis]. We had a lot of similar interests. We're very different personality-wise, but a lot of our core beliefs are very similar. We've just always stayed in touch. He's just someone I have — even beyond the football stuff — a lot of respect for. Just the human being he is. He's just an admirable person and a person people should look up to. That's what I've always respected about him."
AD: Was he a good roommate?
EE: "Oh, yeah. He would probably say I wasn't."
AD: Would you have believed back then you'd be coaching together and leading an NFL team?
EE: "No, not necessarily. But I always believed that we would be very close and we would always spend a lot of time together. Even when we've lived on opposite sides of the country, we've always visited each other and spent time together and gotten to know each other's kids. It's been cool."