There's perhaps no team with as talented a running back room as the Broncos' group, led by Javonte Williams, Melvin Gordon III and Mike Boone. Guiding the group this year is a new face in Running Backs Coach Tyrone Wheatley. A former NFL running back himself, Wheatley is able to rely on his experience as a coach, as he shared with us in a recent conversation after practice.
BS: In Javonte and Melvin, you've got two starter-caliber running backs. What's your approach in keeping a balance there?
TW: "They had great synergy before I arrived, and right now it's just continuing that synergy and having them understand, as [Head] Coach [Nathaniel] Hackett says, team first. That's a great thing right now, because the culture in the room was basically set before I got here. They know it's team first and it's running back by committee, and everything we do is to do it by the team. So when you say what is it I have to do, I have to do nothing. My job is pretty simple right now. It's basically now develop the little things they both need to become better backs in certain situations. But in terms of culture, who gets it, I don't have to worry about any of that, because it's great. Now you talk about the older back in Mel and the younger back in Javonte. Mel has done a great job — I'm talking about an absolutely wonderful job — of being that older guy and being able to say, 'Hey, listen. You can look at this and you can look at that.' … And I'll tell you what, he's a very astute player. He has his own routine in keeping his body in shape, he's very smart. … And then for Javonte, he's a huge sponge. He's soaking it up, he's learning. I have a good room. I love the synergy, I love the energy. And the great thing about it is it's not forced; it's all organic. It just happens naturally."
From your experience playing in the NFL, what does it do to a defense to have two guys like Melvin and Javonte who have some different skills?
"Here's what you're going to get the same in both of them: You're going to get downhill power. Now, all of a sudden, one's a little more of a slasher, the other's going to continue downhill power. Here's the next thing of it: Both of them have really good hands out of the backfield. So when you say, 'What does that do to a defense?' it does keep them off balance in terms of, 'Hey, it's third-and-short and we don't know who's in.' Either one of them could be in. Now all of a sudden, we can get them out of the backfield. … So you talk about keeping them off balance, there's an unbalance in terms of I could put Mel in certain situations, I could put Javonte in certain situations, and the defense has no idea. But at the same time, you know you better damn well bring your big-boy shoulder pads when both of those guys are in the game. Both can pass pro, both can protect out the backfield. So when you talk about the difference, Javonte has a little more burst, a little more scat to him, but at the end of the day, what they both bring is that intensity and downhill, physical ball."
We saw a little bit of Mike Boone last year, and he was effective in his limited spots. What could his role be?
"The great thing about him is he's a guy that has an immense talent pool, skill set. Right now, what I'm kind of saying is just develop it. Just developing what he is and really buying in to who he is. I'm the type of coach, I really don't care too much about your weaknesses; I want to know who you are. We all have something we can't do. I want to know what you can do, and I should see that every day, and he's bringing that out. I think when you get a young guy like that who's been in rooms where you have quote-unquote 'The Guy,' you're trying to find your spot — and sometimes trying to find your spot when you have not only one guy, you got two guys — I'm just telling him, 'Hey, listen. Be you.' And by him being who he is, I'm starting to see his burst, I'm starting to see his ability to catch the ball out the backfield, I'm starting to see his great ability to run routes. And now all of a sudden, he's grown into a heck of a pass protector. So now he's growing, and when you grow, you grow and now you can sort of create your own niche. Kind of, I told him, like me. I wasn't a guy who could run fast, so guys would say, 'Are you a fullback?' No. I created my niche. The quote-unquote 'power back.' That's who I was. I'm not Napoleon Kaufman, I'm not Charlie Brown, I'm not Tiki Barber. This is my niche. Hell, I'm not Jerome Bettis, I'm not Eddie George — when we're talking about the larger backs. I'm me. This is my niche. So now he's created his niche, and he's growing his own. I like his progress."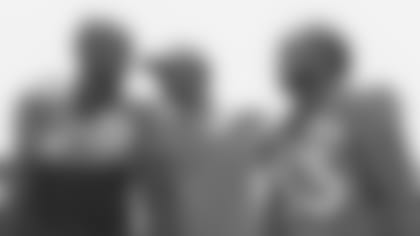 Looking at your career as a running back, you have a unique perspective on the Broncos' rivalry with the Raiders because you played in it. What memories do you have from your time as a Raider playing in the division?
"Oh, yeah. This is [the home] of the 'Orange Crush,' Mile High. … The rivalry, this is what makes sports great, right? The rivalry. Now being on this side, it's crazy because now I'm inside the walls. You get to hear what this side thinks about the opponents in the outside world. So you're kind of like, 'Hm, we thought the same way.' But the West is returning back to what it used to be. Whoever wins the West has a pretty good chance of making it to that final destination of the Super Bowl. It's an incredible deal, because now you go to Arrowhead — I would just say this, I haven't played in Allegiant Stadium … [but] I know being a Raider. At the Coliseum, the Crush used to walk in there and it was rowdy. Going to Arrowhead, you couldn't hear anything, and I loved 'And the home of the Chiefs' [at the end of the national anthem]. Each place has its own symbolic [traditions], and it's just incredible. Now I get a chance to be on the sideline of the opposing team, and it's incredible. The guys understand what this means, because every game is a rivalry game."
In the first week of the preseason, your son Tyrone Wheatley Jr. became the second in your family to play for the Raiders. How cool was that for you?
"Oh, man. I'm sorry. That's special. That's special. Not because it's the father's dream to have his son play professional football or play for the same team he used to play for; it's special for the simple fact that he manifested it. For me to watch his progress and to watch his lows turn into highs, that's incredible. Watched him go through COVID to where he had teams looking at him as a tight end and some teams wanted to work him out as a tackle, and all of a sudden COVID hits and the workouts ceased. And him making that decision on his own to go to tackle when he was 260, 270 pounds and now putting on 50 pounds to play offensive tackle — watching that process in the garage, in the basement, watching him work and eating when he didn't feel like eating anymore, drinking protein shakes when he's in there about to puke. But watching that process and watching it all come to fruition, to me that's the special part of it. In our house we don't ever say you deserve anything, but in this case, he's worked for it, and now all of a sudden he just has to seize that moment."
What's it been like working with Coach Hackett so far?
"You're going to get a guy who really cares about the players. You're going to get a guy who, he's going to be him. … You're going to know who this guy is. It's not going to change. He's going to be consistent day in and day out. Day in and day out, he is going to be consistent. Can't say that about a lot of head coaches, [but] this guy, he's going to be consistent. And I think for me, it gives a calm and settled sense for not only the players, but as the coaching staff. Because as the guy that you're looking towards, he's consistent, you know where he's going to be, you know what he's going to do [and] he's going to echo the same sentiment every day. He's not going to change. He's not trying to be anybody else — he's going to be Nathaniel Hackett. He is going to be Nathaniel Hackett, and if you love it, you love it. If you don't, at least you know what you get. And so for me, it's a fun deal to see a man like him, kind of like my son: Work, go through some highs, go through his lows and raise back up. Now to get this, get an opportunity to be a head coach, hell, I feel like I got the job. … I'm happy, and I'm proud of him because I've seen the grind, I've seen the work, I've seen the behind-the-scenes, and the crazy part about it? It goes back to this: It's really not about him. That's the way he looks at it. When he got the job, he wanted to change the world, from social injustice in the NFL to social injustice out in the world, to bringing minorities in to put them in positions to now become coordinators, but he's still a hell of a ball coach. That's who he is. If it's in your DNA, it happens organically, so yes, he can handle it and yes, he's doing a great job."
Another of your Broncos ties is that you played the first two years of your career for Broncos Ring of Fame coach Dan Reeves, who was coaching the Giants at the time. What did you learn from him?
"I'll tell you, Dan was another guy who you knew what you were going to get. A little bit on more of the harsher side, but toughness. He and I had a conversation — it was really funny from the standpoint of playing tailback. I knew he played running back, but I just … I went back and I did some homework, and I was like, 'Ooh, OK.' And I actually questioned, I said, 'Why do you never really talk running back play?' Like, I'm really interested. And you know what he said? He said, 'Because I don't have the talent you guys have. It's hard for me to talk to you.' He said, 'My thing was, I had to know football and I was just tough.' And so when you think about him, all he ever preaches is what? Toughness. And he wanted a tough team, he wanted a physical team, because he wanted the team to embody him, his traits."
Going back to your college days, you played for one of the premier programs at the University of Michigan and later coached there. Prior to coming here, you were the head coach at Morgan State. What was it like coaching there and seeing the difference in resources for a HBCU?
"It's hard to articulate. At some points it was almost like high school, if that makes sense. Hell, some of the high schools in Texas were better [funded] than Morgan State. But I felt for me, it was a need. To go in and to bring some fresh air, and also the know-how — how to build a program, help the administration to set their sights on [its needs] — 'You chose to be a Division-I program, and this is what you need to have. If not, then get rid of the program.' Getting new equipment in, just bringing stuff up to standard, bringing stuff up to modern day … it was rough, but it was fun."
NFL teams don't draft from HBCUs as much as they used to — but the talent's still got to be there. Do you believe there's NFL talent there going underrecruited or underscouted?
"There is talent there that's under[scouted]. It really is. But being on this level, when you are recruiting or scouting a player at that level, he has to have a redeeming quality that outshines the level of competition. If I'm playing level competition, then once I get to the NFL, is it too big for them? The linebacker at the Colts who came from [South Carolina State], [Shaquille Leonard] … all those guys have redeeming qualities that are just, 'OK, he can play.' But at the same time, a lot of those players have the qualities, but they just need to be developed — and do you have time to develop that? The new NFL, with the way the offseason works now … really, these guys, you can't call them, you can't do much with them. So the developmental aspect of NFL football has shrunk so much that you don't have time, really, to develop those guys. And sometimes it's easier to go get a guy from a bigger college because they're recruiting size and they're recruiting speed. If you're going to miss on a guy, miss big and miss fast. But to bring a guy in and all of a sudden say, 'He's from a smaller school, he's not that big, he's not that fast,' and if you miss on that guy, hell, somebody's losing their job. And that's just my opinion on why a lot of HBCU players are getting overlooked. But is there dang talent there? Yes, there is. There's some talent in the HBCUs."
Note: This interview has been lightly edited for length and clarity.