Coming into the season, there was probably no position group on the Broncos' defense with as much potential as the outside linebackers. On one end, they're counting on a bounce-back season from former Pro Bowler Bradley Chubb, and on the other, they're hopeful that free-agent addition Randy Gregory can be a dynamic bookend to create a furious pass rush. New Outside Linebackers Coach Bert Watts is at the center of it all, helping guide the whole group, and we recently sat down with him to hear his thoughts on his two stars and the depth they have.
Ben Swanson: What do you like about your room?
Bert Watts: "I love the attitude that those guys bring every day. There's no egos in there, which you love [at] this level, that you could have a bunch of guys in there that are just humble and hard-working and want to get better. That's my favorite part of it. You go in there and everybody's trying to improve and everybody's backing each other up on that mindset."
BS: After injuries derailed his 2021 season, Chubb had two sacks to start his 2022 campaign. Is that kind of performance what you saw from him this offseason and training camp?
BW: "Yeah. He's been a guy that we've been so excited to see him just let it loose. You see what he's done, all the way going back to voluntary workouts and the flashes that you see — you can't see it all get put together until you get in that live situation. So it was no surprise to us. We know he's put the work in, he's been incredibly dedicated this offseason. He's really become a pro, as far as taking care of his body and doing what he needs to do to stay healthy, and it showed up."
BS: What is it about him that makes him such a hard player to block?
BW: "He has deceptive speed for as big as he is. When you see him, you think that there's no way a guy at his size can move like he does. Both those rushes he had were off the edge, and I think that surprises people. They're anticipating him not necessarily having that ability to bend the corner, but he does."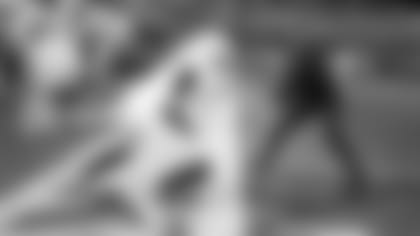 BS: You were hired in February, and about a month later they got a big free agent in Randy Gregory for your position group. How excited were you?
BW: "Oh, man. I mean, Randy was my guy. As we were going through and evaluating a lot of these guys, he was the guy I was hoping we'd have the opportunity to get. As soon as I heard the deal was done, I was ecstatic because I knew we had a guy that was really an unbelievably high-effort player. Obviously, he's worked really hard to create his technique at the level that it is. It really makes it hard on tackles, but you just love how hard he plays. You were able to get flashes of that on Monday night [in Week 1], just how hard he plays. He made that play on the perimeter on the forced fumble. It's just a testament to that guy — every single time he's out there, he going to give it all."
BS: His body type seems rare for that position. How does he use it to his advantage?
BW: "Well, for a guy that's as tall as he is, he's extremely strong. His ability to create power by dipping and sinking is rare. He doesn't seem like he'd be a powerful guy because he looks like a big basketball player, but he can bend. So when he's able to bend, he's able to load that front leg and just drive through contact."
BS: For Baron Browning, I imagine changing positions is not the easiest thing. How's he been able to successfully go from inside linebacker to the outside?
BW: "Baron is an extremely hard worker, and he's, from Day 1, been great about asking questions, taking detailed notes, really absorbing everything he can about the position and the differences in the position. The nice thing about that transition is that playing inside, you've really got to kind of know the whole defense. So when it goes to transferring schemes or playing that outside 'backer position, that hybrid between a defensive end and a linebacker, it's easy for him to kind of understand the concepts. And that has allowed him to move quickly in his understanding is that he can focus on his technique. And that's the big step that he's made this offseason, is just continuing to grow that edge technique to where he can be effective in the run and pass."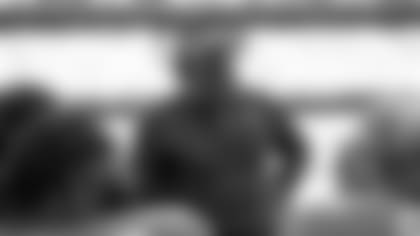 BS: You were with the Broncos in 2012, when the Broncos added another future Pro Football Hall of Famer in Peyton Manning. They didn't get off to a hot start and went 2-3 to start the year but finished 13-3. What did you learn from that experience?
BW: "There's a lot of things that flashed me back to that year. I think any time you have a transition like this, there's going to be some growing pains, there's going to be some adjustment. You have a new staff, you've got a new quarterback — there's going to be adjustments that the whole team has to make to find our groove. And the nice thing was is once we found our groove that year, we won 11 straight games. So I think you see that with this team. It's a great group of guys. They're all hard-working, humble guys and you can see that on the horizon, if we do the things necessary to do it."
BS: What was your role that season with the team?
BW: "I was basically doing quality control and got pulled [in] from scouting. I was an intern in scouting and got pulled as quality control because they just needed more hands on deck to help out with the needs on offense. Got pulled into a lot of those QC duties and was able to give a helping hand to the guys who were here — Brian Callahan, Adam Gase and Mike McCoy. It was an awesome experience to be able to be in that room and learn from those guys as well as Peyton and the rest of the crew."
BS: Scouting, coaching — which side did you envision your career going in at that time?
BW: "Well, that was my first few weeks in scouting, period. I had been a coach my whole career before that. It was one of those things where I got into it and was only just in the beginnings of the scouting world when I got pulled back into football. That was more of my comfort zone, so I was happy about it."
BS: Did you always think you'd be involved in football as a career even when you were younger?
BW: "Yeah. I mean, my family's a football family. My nephew plays for the Panthers now, my brother-in-law played in the NFL. We're going to play my nephew this year. My father played college ball, my grandfather played college ball. My other nephew's playing college ball right now. And I've got another young nephew who's going to play college ball. He's a high school player right now. It's just part of us. I grew up [watching] every 'Monday Night Football' [game] in the back room of our basement, playing tackle goal-line stands with my brother. So this has always been in my DNA. And going through school, I always knew this was where I wanted to be."