ENGLEWOOD, Colo. --The more you can do -- and the tougher you are while doing it -- the better your chances of finding a home on the Broncos' offensive line.
Granted, left tackle Ryan Clady is set at his spot, having earned four Pro Bowl selections and two first-team All-Pro nods there. His tenacity and skills are proven. And right guard Louis Vasquez is back at right guard after a nine-game stint at right tackle last year; the Broncos hope he's there to stay at the position where he became the only first-team All-Pro guard in team history. He, too, is a known commodity.
But most of the Broncos' offensive linemen have multiple potential spots at which Head Coach Gary Kubiak, Offensive Coordinator Rick Dennison and Offensive Line Coach Clancy Barone will study and test them.
March pickup Shelley Smith can work at guard or center. Ben Garland is also an option at both spots, Kubiak noted in March. Chris Clark is working at right tackle, and started at left tackle two years ago.
Last year's third-round pick, Michael Schofield, has a background at right tackle and left guard -- and worked at left tackle during the recent voluntary veteran minicamp behind Clady, Head Coach Gary Kubiak noted.
"Right now, he's on the left side. We're settling him down right there," Kubiak said. "There will be days we'll flip him over to the right. Whoever wins the job on the right, somebody has to be the swing guy."
Both offensive linemen the Broncos drafted this week started at multiple positions. Second-round tackle Ty Sambrailo worked at every position up front but center. Fourth-rounder Max Garcia started last season at center, but had previous experience at left guard and right guard.
Kubiak wants his offensive linemen to be versatile -- and to possess that quality from the start. He doesn't want them to master one position before learning another; he hopes they have that flexibility from the beginning.
"In this business, you have to be versatile," Kubiak said. "It's up to us coaches this is what you do best. Making your way in this business, you have to be a swing tackle. Schofield kind of tried to do that last year. Now he's battling to possibly be a starter.
"To play inside in this league, a guy like Garcia comes in, you have to be able to play a lot of spots. You suit seven guys on game, some suit six, if you don't have players that can move around, it makes it very difficult. I think that's very important."
In the opening practices, Sambrailo will work at right tackle behind Chris Clark, competing with Schofield.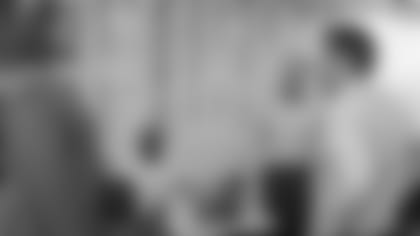 "Between he and Schofield, we've got to figure it out," Kubiak said. "We've got to see who's our next guy. We'll give them all an opportunity to do it."
Garcia will begin by lining up at right guard behind Vasquez.
"That's what we'll do with him right now," Kubiak said. "Then we pick our days at center, now (we've) got Gino (Gradkowski) and (Matt) Paradis.
"There will be days when we say, 'OK, Gino, you're going to guard for this practice.' Because those guys will have to swing. Whoever wins the job up front, those other guys will have to be swing players."
And with so many versatile linemen, the Broncos have an abundance of potential "swing players," Garcia included.
"It's a competitive situation, but Max will be involved in all of it," Kubiak said. "I think he's got to come in here and prove he can handle a bunch. That's one of the reasons we drafted him. We think he can handle a lot at those spots."
And the expectation is that Garcia, Sambrailo and every other lineman can handle a competition, which will bring the players' toughness to the surface.
That's the quality that Kubiak and Executive Vice President/General Manager John Elway want to see from their newest additions. Through the competition to come, they'll learn right away about whether their toughness translates from college to the NFL.