ENGLEWOOD, Colo. — When the Broncos take the field on Sunday night, fans may notice that their cleats will be quite different from the designs that players normally wear to match their uniforms.
For a fifth consecutive season, the NFL has permitted players to showcase causes and nonprofit organizations close to their hearts for the annual My Cause My Cleats campaign, and this week, players across the league will don custom-designed cleats.
 On Wednesday, wide receiver Tim Patrick and tight end Noah Fant showed off their cleats during their video conference with media members.
Patrick chose to represent the Sarcoma Foundation of America to raise awareness of the disease, which his father had.
"My dad passed away from it two years ago," Patrick said. "… It's pretty much just a rare form of cancer."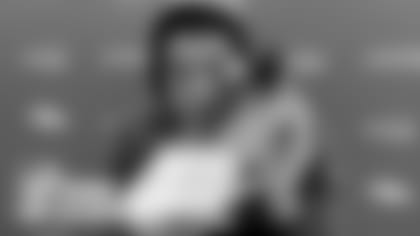 That tragedy changed Patrick's life, he said.
"It changed me in multiple ways," Patrick said. "I feel like I'm pretty much — I wouldn't say [the] leader — but I had to take over the role that my dad did for our whole family. So, making sure my mom's good, my brothers and sisters, my cousins, uncles, aunts. My dad was a guy that brought a smile to everybody's face and brought that positivity.
"I felt like he prepared me for it, so when it happened, I already knew what he wanted for me and that's to always keep family first and make sure our family is good no matter what."
Fant, meanwhile, chose the Open Door Mission in his hometown of Omaha, Nebraska.
"It's a homeless shelter and basically I want to raise money for kids that I worked with back home to have sports equipment and stuff for sports that they want to play and things like that," Fant said. "So, hopefully I can raise a lot of money."