DENVER --For 244 days, the Broncos built toward this moment.
The coaching staff was overhauled. The offense was tweaked to incorporate new concepts with those that have worked in recent years. The defense features a 3-4 base alignment for the first time since 2010.
Seventeen new players were added to the 53-man roster. The offensive line was rebuilt -- in some ways by choice, in one way by cruel chance, in the form of Ryan Clady's torn ACL on the first day of organized team activities.
The projected starting lineup features eight players who were not with the team last season, including six on offense, two of whom have never taken a regular-season snap before (Ty Sambrailo and Matt Paradis).
Although many of the faces are familiar to Broncos fans -- especially with Gary Kubiak, Joe DeCamillis, Rick Dennison, Wade Phillips guiding the team -- there's enough newcomers, new ideas and changes to bring a sense of mystery to Week 1 -- a rare condition for a team coming off a 38-10 run over three seasons.
So after pointing to this date for so long, what are the keys to success against the perennially powerful Baltimore Ravens?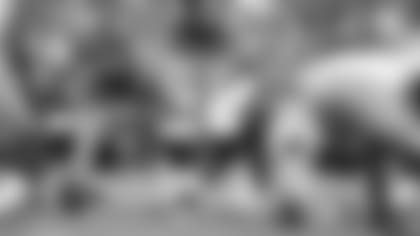 1. PROTECT PEYTON MANNING.
A valid question would be to wonder when this is not a key to the Broncos' efforts. But with two first-time starters, it's a focal point.
The scheme will be as important to keeping Peyton upright as the blockers themselves. The advantage of a zone-blocking based scheme is that runs and passes often look the same off the snap, preventing the opposing defense from making a quick read. That extra half-second of hesitation could be exactly what the Broncos need to minimize the pressure under which Manning operates.
But the blockers still matter. And the addition of two-time Pro Bowl left guard Evan Mathis to bolster the line matters.
"I think that there's a stabilization going on," Dennison said. "He has a lot of local knowledge. He's crafty and knows what he's doing. I think that has done wonders for the guys next to him."
And certainly with Mathis up to speed and Sambrailo and Paradis learning from him, the Broncos feel much better about their ability to create a pristine pocket.
KEEP THE RAVENS OFF-BALANCE.**
On offense, this entails cobbling together enough effective runs, screen passes and play-action work to prevent Baltimore from attacking Manning with impunity. The more the Broncos make Suggs and Dumervil focus on matters other than their pass rush, the more effective the Broncos' offense can be.
Defensively, the Broncos must continue to generate the same kind of offensive confusion that they did in the preseason. Despite the defense being simpler for its players, the looks and movement create so many different looks that it appears more complex to the opponent.
The suspension of T.J. Ward makes this task more difficult, given the multi-faceted nature of his role that developed during the preseason. David Bruton Jr. will start, but the work of the safety -- or safeties -- who fill in for Ward will be tailored to their talents.
"Whatever a player can do, we try to analyze that and fit it into our defense," Phillips said. "There will be a few things that are different. Overall, our schemes are certainly similar. It's how you play the techniques as really involved is the way we individualize every player."
The Broncos will begin DE Derek Wolfe's suspension without Kenny Anunike, whose pass-rushing prowess helped him earn a roster spot despite being limited to one preseason game after undergoing an Aug. 20 knee scope. Without Wolfe, Antonio Smith is expected to start, but Vance Walker will play a major role, as well. Smith's pass-rushing prowess as a 3-4 defensive end in recent years has helped extend his career; if he and Walker can also hold up against the run, the line should be able to absorb its two losses with minimal disruption.
... As in, the inside linebackers must shake off the interior linemen they'll have to deal with in the new scheme in order to make their stops.
Stopping the run for Brandon Marshall and Danny Trevathan will not be the same search-and-destroy mission it was when they were weakside linebackers in the 4-3 defense the Broncos used from 2011-14. Complicating matters is the presence of Kelechi Osemele and Marshal Yanda, perhaps the best guard tandem in the league.
"They're two of the best at it," Trevathan said.
But that's where the Broncos' recent work will come in handy. Throughout training camp, Trevathan and Marshall had to contend with Louis Vasquez getting upfield. In the last two weeks of practice, Mathis has taken that up a notch. The challenge against their own pair of guards is greater than almost any Marshall and Trevathan will see on Sundays.
"They (the Ravens) have got two of the best; we've got two of the best. They're aggressive," Trevathan said.
"This defense is designed for me to take on blocks a little bit more sometimes, and that's something I can do. A lot of people look at my size and the last two years. But this year I'm feeling right, and my size is right, and I'm feeling as strong as ever. If I've got to take them on, I'll take them on.
"That's basically what this defense is: head-butt and get off a block. Just being that guy that creates chaos on this defense, not standing down and letting people push you around."
These five matchups lead our keys to watch against the Ravens for the Broncos' 2015 season opener.