DENVER --Head Coach Gary Kubiak had never seen a collection of injured players quite like the all-star cast that landed on the injury report this week.
The list contained 22 players -- 15 of whome are starters and two more who are starting in place of injured first teamers. It included the entire No. 1 offensive line and each of the Broncos' top four safeties -- one of whom is the team's primary kickoff and punt returner (Omar Bolden).
And all this is on top of an injured-reserve list that includes two starters (Ryan Clady and Ty Sambrailo).
Most of the players on the injury report will play Sunday against the Raiders. But some could be on play counts, such OLB DeMarcus Ware, who is expected to play for the first time since he re-injured his back at Indianapolis on Nov. 8.
The words "next man up" are uttered so often in the NFL that they are barely noticeable anymore; they're just a part of the background hum. But eventually you run out of "next men," which is how the Broncos ended up with two new safeties in the last two weeks.
Still, the Broncos' depth has come through all season, with contributors such as QB Brock Osweiler, OLB Shaquil Barrett, safety David Bruton Jr., DL Vance Walker, OT Michael Schofield and guard Max Garcia -- who could see time at both guard spots in relief of Louis Vasquez and Evan Mathis, both of whom are battling injuries.
"We've probably got one of the deepest teams in the league," Marshall said. "I think we have one of the most talented rosters in the league, and you can see that, because our backups come in and we don't miss a beat."
This week, it's Todd Davis' turn. He'll start at the middle linebacker spot, while Marshall moves to the "mo" linebacker position vacated by Danny Trevathan, who will sit out this week because of a concussion.
Davis started late last year when Marshall and Trevathan were both injured, so he can lean on that experience. He can also rely upon the extensive work he and other backups received throughout the offseason and during training camp as first-teamers were given off-days en masse.
That philosophy has paid dividends all season.
"[This year's coaching staff] definitely did it differently than last year's staff," Marshall said. "All throughout OTAs and training camp, sometimes they would sit players and then give the backup players more time, more reps and stuff like that, or give the young guys more reps, because usually the depth is tested in every NFL season.
"I think they're very smart about that, whereas the other [staff] -- I'm not saying they weren't smart, just that the approach is different, you know what I mean?"
The willingness to give extra repetitions to reserves accelerated their development, which helped them contribute and allowed the defense to sustain its league-leading pace through 12 games. It also helped the offense find balance through an improved ground game and fewer turnovers in the last three weeks.
Are the battered Broncos at a breaking point? We'll know more late Sunday afternoon. But what we do know already is that they've passed the injury test so far this season to still have the league's second-best record.
"It's a lot of bruises, nicks and knacks," Marshall said. "This season has taken everybody to win and complete the season."
For the Broncos that do play Sunday, here are three keys to Sunday's game: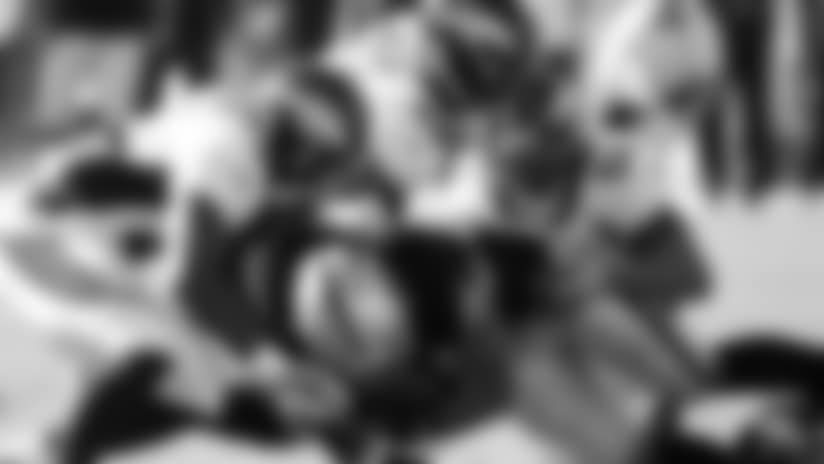 1. Make the Raiders one-dimensional.
Oakland's offense is capable of balance between the Latavius Murray-powered ground game and Derek Carr's ability to force opposing defenses into pick-your-poison mode with wide receivers Amari Cooper and Michael Crabtree.
When Murray is able to get rolling, Oakland's offense becomes potent. In the five games in which the Raiders averaged at least 4.5 yards per carry, they averaged 34 points per game and never scored fewer than 27. When they averaged fewer than 4.5 yards per carry, they averaged 16.3 points per game and never surpassed 24 points.
In Week 5, the Broncos were able to clamp down on Oakland's ground game, limiting it to 2.6 yards per carry, its second-lowest average of the season. Derek Carr was still able to pass for 249 yards -- with 26 yards lost on four sacks -- but that was an equation that held the Raiders to a season-low 10 points.
Mack's near-sacks in his rookie year have become actual sacks in his second season, as Jack Del Rio has used him in a similar manner to Von Miller during his three years as Broncos defensive coordinator.
Del Rio likes to move Mack around, from his role as a strong-side linebacker in the base package to lining up over both offensive tackles, and occasionally as a pass rusher up the middle. Del Rio will try and force favorable matchups for Mack, who will have to be monitored at all times.
In the six games the Broncos played from Weeks 4-10, they had a league-leading 15 giveaways. In the last three weeks, only the Lions and Seahawks have fewer giveaways than the Broncos, with just two, a mark that is tied with six other teams.
The Broncos' improvement at protecting the football comes at a fortuitous time, given that the Raiders have a league-leading eight games in which they've forced multiple takeaways -- including a two-interception game against the Broncos in Week 5.
That said, the Broncos know they need to become more efficient at capitalizing on their scoring chances. A third-quarter end-zone interception off Osweiler helped keep the Chargers within two scores, extending the competitive phase of the game into the fourth quarter.
"That's what we're talking about: clean those up, and make sure when we get a chance to strike, strike big," RB C.J. Anderson said.
From ILB Brandon Marshall battling with RB Latavius Murray to WR Emmanuel Sanders gainst CB T.J. Carrie, these are five of the top matchups between the Broncos and Raiders.