DENVER — An hour before kickoff for Thursday's game between the Broncos and the Kansas City Chiefs, Jacob Barnor weaved his way through the crowd at Empower Field at Mile High with thousands of other fans.
He had spent the afternoon tailgating with the Broncos faithful, was given a Broncos T-shirt and even won a raffle to claim a framed photo of Emmanuel Sanders.
But Barnor wasn't clad in Broncos Country's traditional orange and blue.
Instead, he wore a black T-shirt with a red map of the United States. A pair of sunglasses were tucked into his collar, but they didn't obscure the block-writing that read: "The Football Wanderer. 32 games. 84 days. 1 world record."
So far, Barnor has worn the shirt to 17 different NFL stadiums over the course of 43 days. He has packed it into his carry-on for each trip and will continue to do so as he travels across the U.S. and attempts to break the Guinness World Record for attending home games for all 32 NFL teams in the shortest amount of time.
"There was a lot of stadiums I had already wanted to go to, and every time [my friends] went to a new stadium, my list got longer and longer," Barnor said. "I looked at it and was like, 'It'd be cool if I were able to go through them all over the course of a lifetime.'"
A year ago, at his home in Leeds in northern England, Barnor began searching for people who had been to all 31 stadiums, and he came across the man who has the current world record.
"I looked at that and was like, 'If I could do that, if the schedule allows it, I would love to do it,'" Barnor said.
In April, when the 2019 NFL schedule was announced, Barnor started running travel combinations for Thursday, Sunday and Monday night games. He figured he has to be at every Thursday night game, almost every Monday night and he had to pick a Sunday game that was close to wherever he was traveling for Monday's game, so to minimize travel and room for error.
He realized he could break the previous record (86 days, 10 hours and 20-something minutes) by attending home games for every NFL team in 84 days and approximately three hours. After starting at Soldier Field on opening night, Barnor will finish at Mercedes-Benz Stadium on Thanksgiving.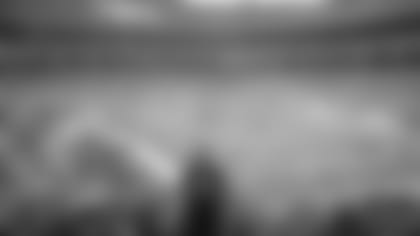 Guinness World Records stipulated that he has to film the opening kickoff, the final play of the game, carry a GPS tracker and have a team employee sign a form at each stadium.
Barnor's plan grew from his love of football, which was born eight years ago when he started playing as a defensive end, before moving to inside linebacker. When he suffered a hip injury, he started coaching local teams and his love for the sport only grew.
The 24-year-old now works at a sports betting company in the UK and coaches voluntarily on the side, saving enough money to be able to spontaneously plan this journey in April.
"I had saved for a couple years and I was always like, 'If I hit a certain number, that was going to be a down payment on a house.' Then I hit that number and I was like, 'I don't know if I want to buy a house, that seems very grown-up,'" Barnor said with a laugh. "I wasn't very grown-up yet, so I had that money, and that's when I came up with this idea and was like, 'That's what I'll use it for instead. I'll buy a house another time. If I don't do this now, I'll never do it.'"
Barnor bought 32 NFL tickets, 27 plane tickets and made hotel and rental car reservations. He reached out to a friend who knew of a fan network that plans tailgates at every stadium.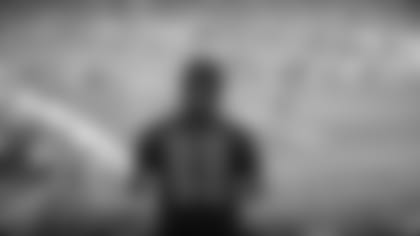 Four hours before kickoff, Barnor arrived at stop No. 17, Empower Field at Mile High, and began to mingle and tailgate with Broncos fans.
"They're very good fans," Barnor said. "The tailgate was a lot of fun. I'm looking forward to [the game]. I heard it was a good atmosphere, so I'm really looking forward to seeing how they turn up on a Thursday night game."
Though he's traditionally a San Francisco 49ers fan, Barnor made a point to plan his trip around experiencing game day with the home team's fans, no matter which team that may be.
"The point of this trip is to see how each team does their whole game day," Barnor said. "And, if I was a road fan, I wouldn't be fully invested in that. Hence why I try to avoid 49ers games, despite being a 49ers fan. I've learned about how each team does their tailgate and their game-day experience."
For some games, Barnor has been joined by his family and friends, but he's mostly made a point to spend the day with the home crowd and talk to as many football fans as he can.
"The best thing about the trip has been the people," Barnor said. "Everyone has been so welcoming, so nice. That's the best thing."
When asked if he had anything else to say about his travels, Banor paused, smiled and said, "Go Broncos," before turning and disappearing into the throng of Broncos fans to become one for the night.