ENGLEWOOD, Colo. --Eleven times this season, opposing quarterbacks have dropped back to pass, only to wind up on the ground with the football bouncing on the turf next to them.
Strip-sacks have been the Broncos' specialty this season, led by the pass-rushing force of Von Miller and Elvis Dumervil, who have combined for 10 of the game-changing plays this season.
When a defensive player breaks into the backfield, his main objective is to get the quarterback down for a sack.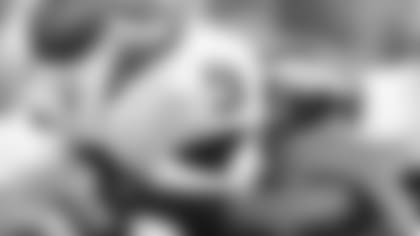 The Broncos have made it a point to go a step further and work to force a turnover as well.
"There was a point when I would just try to bring the guy down," said Dumvervil, who leads the club with six strip-sacks this season. "But it's double impact when you get that ball out."
Dumervil's teammates on the defensive line know how hard it is to get a sack, let alone to also knock the ball out.
"He is one of the best at it," defensive tackle Mitch Unrein said. "I had one opportunity this year against Tampa, coming around, and I didn't even think about it. That's something that he does all the time. It's pretty impressive. To be that conscious of knowing where the quarterback is holding the ball and just to go for the ball, because that's a way bigger play than getting just a sack."
Miller is emerging as just as big of a threat to jar the ball loose from quarterbacks in recent weeks. He ranks second on the club with four strip-sacks, all of which have come in the past four games.
It's a skill that Miller has credited Dumervil with helping him hone.
"It just has to be cerebral," Miller said. "It's muscle memory. Every time Elvis gets there, he is going after the ball. That's what makes him so good. It's cerebral with him. He doesn't really have to think about it. It just happens."
Ripping the ball loose from a quarterback's grip takes focus and self-control that not many players have when they're running full-steam at the opposing signal caller.
Just to get an opportunity at a sack often requires them to beat multiple offensive linemen, possibly a running back kept in the backfield for protection and the quarterback himself.
"(Dumervil) has a nose for the ball," Unrein said. "You have to almost control your emotions when you're getting close to the quarterback like that, and you have to have the awareness to know where the quarterback is holding the ball and go for it."
The strip-sacking skill didn't just come overnight.
Dumervil said it is something that he has worked at since his college career at Louisville.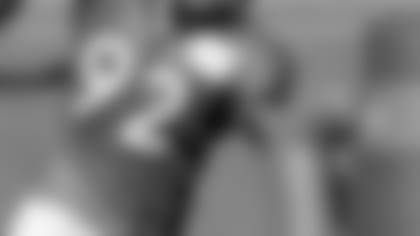 "You just have to make a conscious effort every time – even in practice," the seventh-year defensive end said. "That's one thing I learned in college."
Throughout OTAs, minicamps, training camp and even into the season, Broncos defensive players go through a practice drill where they come around the edge and swipe at a rubber football attached to the arm of a tackling pad.
"You have to practice it and practice it," Dumervil said. "You can't hit our quarterback but you can practice swinging that arm, hitting an imaginary quarterback."
Every defensive player practices that skill, not just the defensive linemen.
The practice-field simulation has transferred to gameday, where every player – whether it be a lineman, linebacker or even a blitzing defensive back – has it engrained in their mind to go after both the sack and the strip.
"I think there is an emphasis placed on it every day in practice," Defensive Line Coach Jay Rodgers said. "We do drills and we practice that. I think what you have to do is put them in a position that they know what to do every time they get that opportunity."
Defensive tackle Justin Bannan is in his 11th season in the league and knows just how rare Dumervil's combination of physical and mental control is.
"It's extremely hard to do," Bannan said. "He knows how to operate his body, which is great, and it's great at his position. He has crafted it over the years. It's not something that just comes over night. It comes down to timing. He understands when it gets to a certain point, when to rip that ball out. He has a great knack for that."
As with most aspects of football, players rely on instinct when the ball is snapped.
For Dumervil, finding the ball as he closes in on quarterbacks is second nature.
"Once you get the feel of it, it slows down," Dumervil said. "It's to the point when I get to the quarterback, it's like when I wake up and brush my teeth. I go for that ball."
The Broncos' propensity for knocking the ball loose in the backfield has garnered the attention of opposing teams in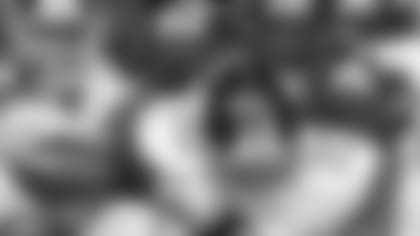 "They get their hands on the ball," Ravens quarterback Joe Flacco said. "They have a good knack for doing it … We're definitely going to have to be aware of it."
This week, avoiding a strip-sack has been a point of emphasis for Flacco and the Ravens, who have surrendered a strip-sack in each of their four losses this year.
Opposing defenses have strip-sacked Flacco in each of the team's past three games.
"Well, turnovers hurt us," Flacco said. "Anytime you lose the ball in the pocket, you look at yourself and see what you have to do. Those guys made good plays, but you have to hold onto the ball."
Baltimore is 8-0 this season when Flacco is not strip-sacked, 1-4 when he is.
Ravens Head Coach John Harbaugh has watched the Broncos on tape and knows how dangerous their pass-rush duo is, especially as of late.
"They have game-wreckers on both ends," Harbaugh said. "(Miller) and Elvis are just great players off the edge, run and pass. They can turn the game around at any point in time and you have to know where they're at and what they're doing at all times."
'ONE OF THE BIGGEST PLAYS IN FOOTBALL'
After not registering a single sack-fumble in the first three weeks of the season, Denver has averaged one per game since Week 4. Not coincidentally, the Broncos are 8-1 since then.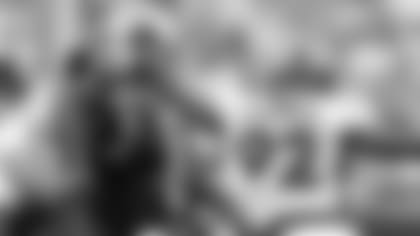 "Guys who get sacks are different than guys are getting forced fumble sacks," Dumervil said. "It's big. It's huge. Von is learning that as well and doing a great job with it. Week in and week out, we both try to get the ball out. If we can both create sacked forced fumbles, it just helps the team."
Of the team's 11 strip-sacks, the Broncos have recovered four of the loose balls. One was returned for a touchdown, two resulted in touchdowns on the subsequent possession and one allowed the team to take a knee to end the game.
"Every time you get to the quarterback, you want to make a point to not only just bring him down, but maybe force a fumble, get a turnover and a short field for the offense, allow the offense to score points," Dumervil said. "It just helps the game. That's what I try to accomplish."
Even when Denver hasn't recovered the fumble, four have come on third or fourth down to end a drive.
"I think the sack, caused fumble and the defense recovering the ball is probably one of the biggest plays in football," Miller said.
Sam Davis contributed to this report