ENGLEWOOD, Colo. — In the midst of Peyton Manning's difficult rookie season, Vic Fangio added one final bad memory to the then-Colts quarterback's opening campaign.
The Colts headed into the last week of the 1998 season at 3-12, and the Fangio-led Carolina Panthers defense ensured Manning would end the year with another loss.
"I don't remember how much time was left in the game, but I feel we might have still had a chance to get back in it," Manning said Thursday in an interview with several local writers. "I was actually trying to throw the ball away and I didn't throw it high enough and [former defensive back] Eric Davis intercepted it. It was just a fitting ending to a miserable season."
But the next year, Fangio joined Manning in Indianapolis. Fangio led the team's defense and Manning led the offense as the Colts improved to 13-3 in 1999. In practice, though, Manning and Fangio had their share of battles — including one that ended with Fangio leaving Manning a gift.
"He tried to win every practice and they would have the upper hand a lot at practice," Manning said. "And he really could be irritating. I can't remember what I did. But it seems like they held a lot during one practice. We didn't have refs at practice back then but I was probably complaining about them holding our receivers and Vic put a plate of wine and cheese in my locker. He didn't say it was him but I knew it was him. Only he had access to it."
Even then, Manning realized that Fangio wasn't easy to impress.
"If you get a compliment from Vic Fangio, you've done something special, because he does not roll them out there very much," Manning said. "But it was competitive and I think it helped me a lot."
Manning joked that their battles in practice must have stayed with him during the years that followed. In 16 career games against Fangio, Manning never lost to the defensive coordinator again. The 1998 game against Carolina remains the only blemish on Manning's 15-1 record against the Broncos' new head coach.
"I don't remember him bothering me that much, but I guess I kept it with me," Manning joked. "But I'm happy for him getting his opportunity to be a head coach. He has certainly paid his dues. He is all football. He is a grinder. And I think he'll do a great job. I think he will."
Though Fangio is now in the head coach's office, the former Broncos quarterback and Super Bowl 50 champion doesn't expect the 60-year-old coaching veteran to change.
"I think Vic earned John [Elway]'s respect and impressed him in that interview," Manning said. "I'd say he impressed him by being who he is. He probably wore that same gray sweatsuit that he had out there in practice. I think he owns a couple of ties and a couple of suits and [says], 'Just get me into my coaching gear and a headset and a whistle and let's go.' He hasn't changed one bit since 1999 in Indianapolis. I think that's what John saw: 'This guy's a football coach. We need to get back to playing solid, fundamental football around here.'
"That's what wins games. That's kind of been the core of what the Denver Broncos have been about, and I think Vic will bring that to Denver."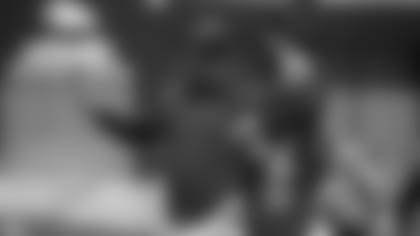 EVALUATING THE QUARTERBACKS
Manning knows both Joe Flacco and Drew Lock, albeit in different ways.
Manning accrued a 6-1 record against Flacco-led teams, with the only loss coming in the 2012 divisional round.
"It was great to see Joe," Manning said. "We played against each other a number of times and he and I have texted since we've been here and good to see him. He sounds good. And I think he'll have a great year. It sounds like there's some carry-over between some of the systems that was in Baltimore with Kubiak.
"… It's a fresh start. I think he handled it well last year, but he wanted to be out there and was a pro and tried to do the best he could for the team but had a chance to be in a new place and have a chance to be the starter and I know he'll probably be hungrier than he has been in a while to go out there."
Lock, meanwhile, attended the Manning Passing Academy in 2018.
"I've known Drew," Manning said. "He came to our football camp, and we kind of stay in touch with those quarterbacks. It kind of becomes a little bit of a fraternity and I'm happy for him getting drafted and it's a great opportunity for him to learn from Joe and maybe not have to play right away and I think that'll be a benefit to him. He's certainly going to have some things to learn, huddling for the first time and terminology and whatnot, but he certainly has a lot of ability and he's certainly got a good future here."
When Owner Pat Bowlen and former cornerback Champ Bailey are enshrined into the Pro Football Hall of Fame in August, Manning will be in Canton to celebrate the pair.
"I'm excited about that," Manning said. "[I] played against Champ in college, played against Champ when he was with the Redskins, played against him in Denver. And played with him here — what an unbelievable career.
"And then a huge reason that I came to Denver was I knew Mr. Bowlen was all about winning. And I knew that I was on the clock and wasn't going to be able to play 12 more years. I knew the Broncos were about winning — and winning now."
Manning said he hasn't looked ahead to his own likely induction in the Hall of Fame or Broncos Ring of Fame.
"I've cherished the relationships and all that comes with that, but I don't look ahead or assume anything," Manning said. "I'm looking forward to being there in Canton this summer for Champ and Mr. Bowlen."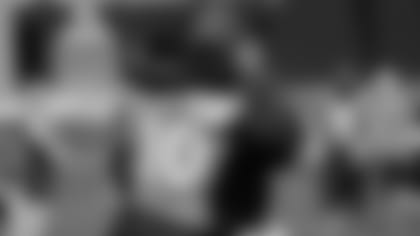 MISSING THE LITTLE THINGS
Manning got the chance Thursday to visit with former teammate Emmanuel Sanders. The former quarterback said he misses the near-constant interaction with his teammates.
"You miss your teammates and your guys," Manning said. "I saw Emmanuel out there today. So you miss the guys and you think about those times, but most of the players that I played with are retired. So you still get to connect and keep up. I'll do a group text with some old Colts. I'll text some old Broncos — I kept in touch with C.J. [Anderson] and [Aqib] Talib last year and I always stay in touch with Emmanuel and D.T. [Demaryius Thomas]. You just keep up with players.
"I miss my teammates because you don't see them every day. That's the greatest thing about football. You were around the guys every single day. Huddle. Plane rides. Cafeteria. The off-the-field things. Patrick [Smyth] said Von took a group to the Rockies game the other day. I loved doing that, organizing that. You still get to do it, but it's on rare occasions."
Manning wouldn't rule out that he would eventually work in the NFL, but he's not at that point right now.
He said the New York Jets did not contact him about their vacant general manager position, and he also said "it wasn't the right time" to take a job this year with "Monday Night Football."
"I still stay connected," Manning said. "I can't look into a glass and say what I am going to be wanting to do this year, next year or five years from now. I do know I want to stay close to it, connected to it. I do know I will go to a lot of games this year. I go to all the Broncos games and get into the locker room beforehand, and maybe talk to the visiting coach. If and when, maybe so. I guess if I say absolutely not, then you will say I changed my mind. I don't have an answer for you."