Terrell Davis knows how to win. And he knows what winners look like.
His trophy case includes two Super Bowl rings, a Super Bowl Most Valuable Player award and NFL MVP and Offensive Player of the Year awards. He is the Broncos' all-time leading rusher with 7,607 yards and is a member of the Ring of Fame.
But when he thinks back to his years as a Bronco and all the success he was a part of, when he thinks about what the fans and the organization mean to him, he remembers December 27, 1998.
It was the final game of the regular season. The opponent was Seattle, and the number was 170.
Davis needed 170 yards to become the fourth running back in NFL history to eclipse the 2,000-yard rushing mark in a single season.
It was a goal that seemed to fade in the Broncos' 31-21 loss to the Miami Dolphins the previous week, when Davis was held to 29 yards on 16 carries.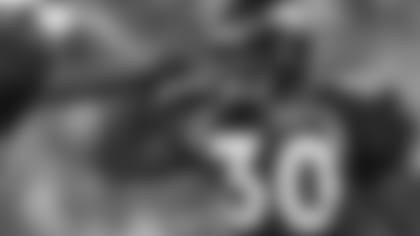 Six days later, in the regular-season finale, he ran towards that Hall of Fame-worthy number while time ticked quickly off the clock in the fourth quarter. With every yard he gained, he was propelled by a Mile High Stadium crowd 74,057 strong and teammates that had one focus: helping Davis write his name in history.
"How the game unfolded and then that last part of the game -- I remember when we were getting close to 2,000 yards," he says. "I just remember the crowd just chanting, 'T.D. T.D. T.D.'
"Every time I think about that, I kind of get goosebumps."
On second-and-6 from the Seattle 48-yard-line, quarterback John Elway handed off to Davis, who was seven yards shy of the mark. In typical T.D. fashion, he ran left, eluded the clutches of future Hall of Fame defensive tackle Cortez Kennedy, broke four tackles and surged ahead for a 15-yard gain.
The milestone was his: 2,008 yards in 16 games. Broncos history had been made.
Before Davis could lift himself from the ground, he was swarmed by his teammates and coaches. The crowd erupted. His dropped his head as the helmet slaps were delivered in abundance. And then he ran to midfield, lifted his hand to the crowd and returned to the sidelines for the final time before the Bronco's Broncos began their second consecutive run to a Lombardi Trophy.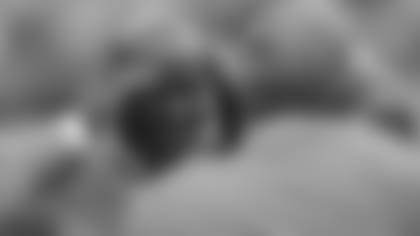 "That is my favorite personal memory in Mile High," Davis says, "It feels good to go back and know that you're going back to a place where you had a positive impact on something. You helped the city, you helped the franchise, you helped a lot. You were a part of something special."
Davis, along with the many members of the Super Bowl XXXII-winning team, will return to Sports Authority Field at Mile High on November 1 as the Broncos host the Packers. It will be a rematch of the game in which Davis ran for 157 yards and three touchdowns to give the Broncos the world title and Davis the MVP trophy.
Owner Pat Bowlen will join Davis in the Ring of Fame. The Broncos will even wear the uniforms they wore that magical night in San Diego: blue jerseys and white pants, a combination they haven't donned in nearly four years.
Next weekend's homecoming will be a time for memories, stories and reflection. The halftime celebration of Bowlen and the Broncos' first championship team will stir emotions from field level to the highest rows of the stadium.
However, the eagerly-anticipated showdown between two undefeated teams will bracket the festivities. And that's when the focus will turn to the future -- and the current Broncos' chances of bringing a Super Bowl title back to Denver.
"It feels good to go back and know that we helped bring two titles to that city. Now we will go back and try to root on a team that hopefully will get back to win another one," he says.
Davis is now an analyst for the NFL Network. He observes and discusses what all teams across the league are doing well and how they are struggling.
"With the Broncos, I see what most people see. You see a team that's built differently," he says. "Obviously, the strength of that team is on the defense right now. They are trying to construct an offense that is built to last throughout not only the regular season, but the post season, as well, and trying to rest the quarterback up.
"What I'm seeing is they're struggling offensively right now. They don't look like they're in sync. They're still trying to figure things out on how to best utilize [QB Peyton] Manning's skills with what [Head Coach Gary] Kubiak has and what his vision is. Those are things that they're working through."
The 6-0 Broncos have admitted to what Davis sees.
"We've got as many wins as we can have after six weeks, but are we as good as we can be? No. We understand that. We're going to keep working," Kubiak said.
Davis does see the mistakes and areas where improvement is needed, but he also points to what he knows best – the intangible characteristics of a winning team.
"The thing that I like is how they're winning. It's not pretty, but the fact that they're still winning games – to me, that's the mark of a champion," he says. "The mark of a champion is not making excuses that hey, we're not 100 percent. However, they're finding ways to win. Whether the defense has to pick up the slack for the offense or vice versa, they're finding a way to win.
"That's the mark of a champion for me. I like that, because there is no quit in them. If you can win ugly and when you don't have your best stuff, all that does is just breed confidence that when we finally figure this thing out, we're going to be dangerous."
Davis doesn't say "we" by accident. His memories are strong and fond. His connection to the organization is indelible and forever branded on his heart. No one knows better about what constitutes a championship-worthy Broncos team. It's not just about talent, but tenacity, resourcefulness and resilience.
His 1997 Broncos, remembered for their postseason "Revenge Tour," had it. That he sees similar traits in this year's Broncos is high praise indeed, because he knows what winners look like.
Check out the best photos of Terrell Davis, a 2017 finalist for selection into the Pro Football Hall of Fame.