MOBILE, Ala. --With the potential for five picks in the first 100 selections of the draft because of compensatory picks -- but three of those five picks potentially in the third round -- the Broncos are right in the sweet spot to find talent at this year's Senior Bowl.
The practices, which begin Tuesday, are a bit light on top-of-the-draft talent, most of which will come from the pool of early-entry candidates. But there are plenty of prospects worth watching that could be right in the Broncos' wheelhouse.
Here are 10 players whose progress and draft stock bears close monitoring this week, and could be on the Broncos' radar:
1. ALABAMA TE O.J. HOWARD (SOUTH TEAM)
With speed, blocking ability and an impressive 6-foot-6, 250-pound frame, Howard could be the best of a deep tight end class. With Miami's David Njoku and Virginia Tech's Bucky Hodges ineligible for this game as early-entry candidates and Michigan's Jake Butt recovering from a torn ACL, Howard is the best tight end here -- and may be the best player at any position practicing this week.
2. WESTERN MICHIGAN OT TAYLOR MOTON (NORTH TEAM)
The draft class for first-round offensive tackles is lean, but that leaves value in the Day 2 range -- and the chance for players in that realm to move up. Moton, a well-built 328-pounder who has a 570-pound squat on his resume, could be the most likely to move up if he can show the same quickness with his strength he demonstrated for a WMU team that rampaged through an undefeated regular season.
3. VILLANOVA DE TANOH KPASSAGNON (SOUTH)
Kpassagnon is a bit of a mystery coming out of FCS, but he wreaked havoc on Colonial Athletic Association foes, finishing last year with 11 sacks and 21.5 tackles for losses. The 6-foot-7, 290-pounder has the physical tools to succeed; the question this week is whether he can flourish against a higher level of competition.
4. LINDENWOOD ILB CONNOR HARRIS (NORTH)
Until now, the NFL contribution of Lindenwood, a St. Charles, Mo. school, was mainly limited to being the former training-camp home of the then-St. Louis Cardinals. Harris, a tackling machine who racked up an NCAA all-division-record 633 total stops in his college career, could change that. The versatile Harris even handled some punting and place-kicking duties, while also averaging 6.8 yards per carry. In Division II, he was a tornado. If he can display that same proficiency this week, he could have an Ali Marpet-like-rise up draft boards.
5. SOUTH ALABAMA TE GERALD EVERETT (SOUTH)
Everett played his college home games at Ladd-Peebles Stadium in Mobile, so no one working this week will feel more at home. Everett runs precise routes that help him get separation, and is a solid downfield threat, averaging 14.6 yards on his 49 receptions last year.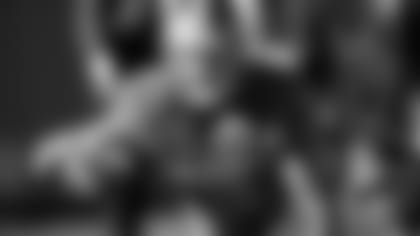 6. AIR FORCE WR JALEN ROBINETTE (NORTH)
The secret long known to Air Force supporters and Mountain West foes is out. The 6-foot-4, 220-pounder has big hands, long arms and quick feet that allow him to get separation through crisp cuts on his routes. Playing in the Falcons' triple-option offense, Robinette had to make the most of limited opportunities, but did so last year, averaging 27.4 yards on his 35 receptions.
7. TOLEDO TE MICHAEL ROBERTS (NORTH)
One thing that jumps out about Roberts: His massive hands -- 11 5/8 inches, the largest of any player at last week's East-West Shrine Game. Another is his amazing productivity last season, especially in the red zone; 16 of his 45 receptions resulted in touchdowns. He has a sizable catch radius, with 33 5/8-inch arms and a 6-foot-4 rename.
8. MICHIGAN RB DE'VEON SMITH (NORTH)
As with Robinette and Roberts, Smith was a standout during Shrine Game practices, earning him the opportunity for a longer look as a late addition to the North team roster. He caught just 38 passes in four Michigan seasons, but earned praise for his pass-catching abilities from onlookers at last week's practices in St. Petersburg, Fla. At 224 pounds, he could create matchup problems in the open field as a target out of the backfield.
9. UCLA DE EDDIE VANDERDOES (SOUTH)
Vanderdoes put a 2015 torn ACL behind him last year, opting to turn pro after his redshirt junior season despite having one year of eligibility remaining. The 325-pound Vanderdoes is particularly stout against the run; if he can show some punch in pass-rush situations, his stock should rise.
10. COLORADO QB SEFO LIUFAU (NORTH)
A relatively unheralded group of quarterabcks includes someone Colorado football fans know well. Liufau showed steady improvement at avoiding mistakes; after throwing one interception every 32.6 passes in his first two seasons, he improved to one interception every 55.3 attempts the last two years. But a right leg injury suffered in the Pac-12 championship game led to a ghastly three-interception night. Liufau comes to Mobile with nothing to lose; a good week could move him up to the middle of the third day.