ENGLEWOOD, Colo. -- **A minicamp unlike any other in recent Broncos history ended Thursday.
But the reasons behind Head Coach Gary Kubiak's decision to give team and seven-on-seven repetitions to the younger players who needed them most were clear all week. They could be even clearer six months from now.
"It's interesting, I was sitting in my office this morning watching some preseason football from last year. I was watching the Broncos and I went back to watch some of the stuff we did in Baltimore and it's funny how things worked out. I see guys playing in the fourth quarter last year for me that end up being really good players for us in Baltimore that you wouldn't have thought were going to be out there at that time," Kubiak said.
"So, you never know in this league. You've got to get everybody ready to play, but I think we'll have some young guys step up."
There are plenty of reasons why the Ravens have won at least one playoff game in six of the last seven seasons, have made the playoffs 10 of the last 15 years, and why they haven't had a losing season since 2007.
They get their young players on the field and trust their development process -- and then have the willingness to put those players onto the field when it matters, knowing that the extra work they put in during the summer makes them ready to contribute. That helps them absorb free-agent losses and keep right on soaring.
Executive Vice President/General Manager John Elway often says he wants to win "from now on." Weeks like this are crucial to reaching that goal, because of their value in player development.
And now, a few takeaways from the Broncos' last minicamp practice of 2015: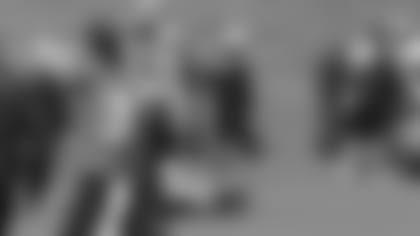 1. TREVOR SIEMIAN SETTLES IN.
Like Shane Ray, Siemian isn't all the way back from his injury, and a bulky brace on his left knee serves as a reminder of the torn anterior cruciate ligament that ended his Northwestern career early and put a damper on his draft stock.
Rehabilitation work is still a daily part of Siemian's regimen, and will remain so until he is fully cleared. But his progress is obvious with every pass; he has enough strength in his knee to get planted and deliver his passes at high velocity.
"I feel great right now," Siemian said. "I'm getting a little quicker with my feet and I'm feeling more powerful with my base."
In the limited seven-on-seven work he has received in recent weeks, Siemian's accuracy has improved.
"I think a lot of that is just knowledge. There's so much to learn every day where I'm at. You can't soak enough in," Siemian said. "I'm just trying to max out every day and obviously, with knowledge, I get a little better, a little more comfortable with my feet and throwing the ball into windows. I just want to keep getting better."
He'll have that chance when training camp begins.
The Broncos wore baseball caps and visors all week. But even without helmets or pads, they worked at close to full speed, although without heavy contact.
That creates a delicate balance: going all out in terms of getting from one point to another, but holding back to avoid the physicality typical of game conditions.
"It's something that I've had to get used to, as well," said rookie offensive lineman Max Garcia. "We're in the pros now, and we've got to practice like pros, and that means taking care of each other and making sure we stay up on our feet."
The "Keep Your Feet" t-shirts distributed to players and coaches serve as a constant reminder of that emphasis.
3. A BUDDING COMPETITION?
Britton Colquitt has had a vice grip on the punting job since 2010, but newcomer Karl Schmitz has shown that he has some potential after being a "little rough to start," as Special Teams Coordinator Joe DeCamillis said after Thursday's practice.
"[Schmitz] is getting better," DeCamillis said. "He just didn't know what he was doing a lot of times—not punting the ball, but just certain things like where to line up and how we want the ball punted in certain situations, but he's gotten better."
Both excelled Thursday, he added.
"It was a good day today for both of them from the standpoint that they were pretty even and that's the way it's been," DeCamillis said. "It's a good competition so we'll see how it goes."
The competition will be framed by the construction of the roster. DeCamillis reiterated that his goal is to keep three players to handle kicking, punting, kickoff and long-snapping duties, so either the punter or kicker would have double duty. Colquitt has not kicked off in recent years, but Schmitz has worked on kickoffs during the offseason practices. And late last season, Brandon McManus handled kickoffs while Connor Barth took care of placekicks.
"Ideally you'd like to have one punter, one kicker and one long snapper. That's the amount of specialists we'd like to carry going in and that's what the goal is going in," DeCamillis said.
"Yeah, it's been a good competition for those guys. We've had a lot of reps there and I think after the preseason is over we'll be able to decide who that best guy is."
Schmitz's progress will be fascinating to watch given that he has not kicked in a game in nearly eight years. His leg strength is unquestioned; the ball explodes off his foot, and he has an easy delivery that looks natural and comfortable. But the Broncos know that their other kicking specialists can handle the game-time glare. There will be larger crowds for some practices this summer than Schmitz saw in college; how he punts and kicks off under the spotlight could determine whether he can make a push during training camp. (Although, in his defense, he succeeded enough in a pressure-packed workout in front of Elway and some coaches to earn his contract in March.)
4. DOMINIQUE JONES: STILL CATCHING PASSES BY THE BUSHEL.
Jones used a carbohydrate-limiting diet and extra cardio work to slim down from 286 pounds to 265 in the last two months, and that has helped him improve his endurance and agility, making him a more consistent receiver. He began Thursday's work by catching three of Brock Osweiler's first five passes in the seven-on-seven period; he added another two receptions later.
"I feel like I'm running a little better, moving a little better than I was last year," Jones said.
That's essential to his hopes. The Broncos know that he can block; that's what allowed him to get a toehold on a roster spot last season. But in the wake of Jeff Heuerman's torn anterior cruciate ligament, they need a tight end who can block and receive.
"In this league now, everybody has turned into a versatile tight end that can block and catch the ball. I'm trying to make myself into that person," he said.
DARIUS KILGO SHOWS HIS AGILITY.**
Sylvester Williams and Marvin Austin Jr. were among the veterans who left early to work out this week, giving plenty of work to rookie Darius Kilgo at nose tackle.
Kilgo looks lighter on his feet than you would expect for a 320-pounder, and was one of the Broncos' quickest defensive linemen during their individual drills Thursday.
"I think he's really come on," Defensive Coordinator Wade Phillips said. "I think part of it with those guys is that they're all big guys. We've asked them to do a lot of running, so they've gotten into better and better shape as they've gone. They've tended to play better that way. Some of it is a learning progress, especially for the rookie guys, but we've concentrated on those guys -- the young guys -- this last week. I think they've progressed well, including Darius."
Linebacker Lamin Barrow had a good day defending the run. On one play, he waited for the blocks to develop, identified the hole and quickly filled it, preventing Montee Ball from getting upfield. ...
… At this point, it's no surprise when safety Josh Bush gets his hands on the football. He intercepted another pass Thursday, diving low to pick off a pass from Osweiler. …
… Wide receiver Isaiah Burse capped one of the first team's drives with a deep reception down the left sideline from Osweiler. Burse showed excellent balance reaching out for the pass and then keeping his feet before falling out of bounds just short of the goal line. It wasn't the first time Burse got open deep Thursday, he had another chance, but the pass was overthrown. …
… As the team period ended, running back Kapri Bibbs capped a solid day by alertly picking up a blitzing Lorenzo Doss.
The Broncos capped their offseason minicamp with another tough practice as players continue to try to prove themselves and coaches work to put in place the foundation for the season.