Take your eyes off the ball.
Ignore the center-quarterback exchange, the pitch to the running back and the toss to the tight end.
It's hard to do when everything seems to stem from where the quarterback chooses to go, how he avoids the pressure and how he throws the ball.
But instead, focus on the receiver on the outside.
Watch his footwork off the line — his speed to get into his route and his quickness to break out of it. See him streak across the field and elude the cornerback. The ball is there now, and he hauls in a pass and is racing forward, sideways, backward — any which way, so long as he avoids the defender.
Perhaps he somersaults into the end zone. Maybe he imitates a baseball pitcher and goes into his windup. It's possible he throws up a Mile High Salute and jumps into the stands.
With Emmanuel Sanders, it's hard to rule anything out.
And that's just how it goes when you let emotion — joy, mostly — rule your playing style.
Other emotions? They show up, too.
On one of those routes, you could've seen a play where the ball didn't go to Sanders, a play when the quarterback missed the 5-foot-11 blur flashing across the field.
If that's the case, you've probably seen throw his hands up. Or pound against his thigh pads. Or jump up and down.
But that's not his way of showing up the quarterback. It's no different to Sanders than any one of his touchdown celebrations.
"It's crazy, because you see me on film and you see me out there on the field, and you see sometimes I'll be wide open and I'm throwing my hands up and going crazy. On some teams, they'd say, 'Oh man, he's showing up the quarterback.' But I played with Peyton [Manning], I played with Trevor [Siemian], and they both know, 'He's not trying to show me up in any kind of way. He just loves the game of football and he wants to win.'"
This isn't manufactured emotion. On the other side of the football, Aqib Talib serves as the defense's energy, as its juice, as its soul.
When he finds himself in the position to celebrate or when he's on the wrong end of a big catch, there's no pageantry involved.
Emotion? Plenty of it. But fake, contrived reactions? Not a chance.
"It's how we play the game, man," Talib said. "It's real. It ain't like we're out here faking and trying to put on a show. We've been playing this since we were little. We love the game, and now we're getting paid for it."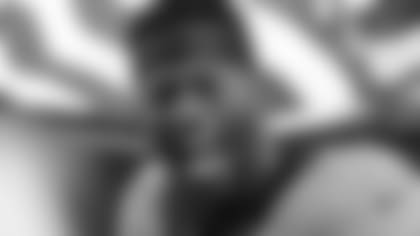 This joy isn't just part of Sanders' game.
It's the entirety. It's his calling card.
When Sanders decided in 2014 he wanted to leave Pittsburgh and test the free-agent market, Mike Tomlin had just one request for the wide receiver the Steelers drafted in 2010.
"He said, 'You were one of my favorite guys that I've ever coached,'" Sanders said. "'When I see you on film, whatever team you go to, I still want to see that same kid that's dancing in the end zone, that's having fun and is showing his love for the game.'"
That kid's been around for a while.
He couldn't show off his moves the way he wanted to while at Bellville High School or Southern Methodist University, but the NFL's relaxed celebration rules meant his emotional displays could come out in Pittsburgh.
Understand this, though: His reactions aren't born on game day. That's when they're seen, of course, but they stem from weeks, months and years of work.
"When you see me out there and you see me catch a pass, just because of all the hard work I put in prior to that week to go out and execute that play that I caught in practice and to make that big-time third-down catch for my team and to hear Broncos Country roar to the excitement of me making a catch. It's hard not to get pumped up. It's hard not to flex. It's hard not to be excited."
Lately, he's had another reason to work and another reason to be excited come Sunday.
His 3-year-old son Princeton has adopted his dad's team in an extreme way. And that's been just one more reminder for Sanders to play with joy and passion.
"My son, he's a die-hard Broncos fan," Sanders said. "I feel like he's going to be a Broncos fan till the day that he leaves this earth. He loves the Broncos. Every time I allow him to go and get dressed, he goes and throws on his Broncos gear, and he don't want to take it off. He'd wear Broncos gear every day if I allowed him to. That's all he knows."
"My kids have played a huge role in keeping me with my feet on the ground, and I think my son definitely does that," Sanders said. "Not only that, my family, as well. I care what they think. I care how I'm representing them. I love to go out and play in front of them and play for them and play for my teammates. Not only to play, but show out and have fun and hopefully lighten the mood off all my team, as well."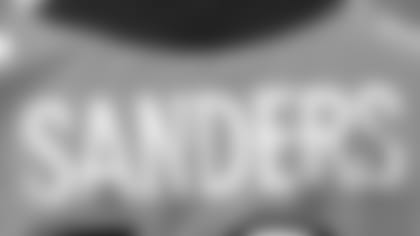 The NFL season is a grind.
As the calendar pages turn and October gives way to November and then December, the weekly routine can sap the energy from teams.
That's when some locker rooms fall off the pace.
And that's when players like Emmanuel Sanders are most valuable.
He and Talib are pivotal in keeping the locker room lively and engaged during the toughest parts of the season.
Talib thinks players feed off the pair's energy, and wide receiver Demaryius Thomas echoed that sentiment. Whether the team is coming off a win or a loss, Sanders' mood never changes.
"I think it's not just E. Everybody got their own emotions in different ways," Thomas said. "He's just showing it a lot more. It brings excitement not only to the crowd, but us as players. I know it motivates him. It helps him out. And I enjoy seeing it, so I try to do the same. It's just something he does."
"It's always the same with him," Thomas said. "You're going to get the best out of him. He's going to work hard and always has the same mood. There's no ups and downs, he's always up, no matter what."
While Sanders may not be a captain, that sort of contribution is invaluable to a locker room.
If his past is any indication, it's also unlikely to end anytime soon.
So when the Broncos take the field against the Giants, pick a third down, and ignore what Trevor Siemian does.
Keep your eyes on Emmanuel Sanders instead.
No matter how the play ends, you never know when you could be in for a show.