ENGLEWOOD, Colo. – Long before he became head athletic trainer for the Denver Broncos, Steve "Greek" Antonopulos sat with his dad in Eastern Colorado and watched the team on TV.
"Somehow, some way, someday, I'd like to work for the Denver Broncos," Antonopulos told himself in 1960.
Nearly 60 years later, the Broncos players, coaches and front office members honored "Greek" for 40 years of service to the organization.
Head Coach Gary Kubiak went through his normal list of announcements to the team before turning to a presentation he said he was "flattered" to give. Kubiak went on to speak of the consistency that makes the Broncos great before he ran through a list of Antonopulos' accolades.
From his perch at the top of the room, a surprised Antonopulos watched a video tribute to his years in Denver. He soaked in the moment as he stood between EVP/GM John Elway and President and CEO Joe Ellis. The three men have racked up a combined 84 years of service to the organization.
"I never thought I'd be here this long," Antonopulos said afterward. "I think after my fifth year, we changed owners and I had no idea whether I'd be around here or not. I thought you worked for the same people all the time and we've had three owners since I've been here. Obviously I've been so blessed to be with [Owner] Mr. [Pat] Bowlen. I love him so much and all the things that he stands for. Just wow. I don't know what to say, I'm so shook up."
Elway, Kubiak, Keith Bishop, Wade Phillips and Joe DeCamillis were just a few of the familiar faces in the video who heaped praise on Antonopulos and his dedication to the Broncos.
"He's the best in the business," DeCamillis said in the video.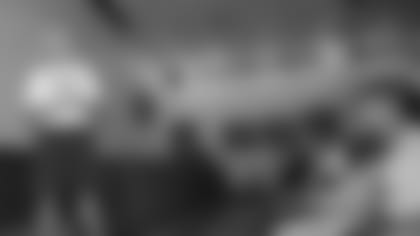 Kubiak then called Colorado's longest-tenured employee in sports to the front of the room as the players yelled out his nickname. Antonopulos, whose voice clearly reflected his surprise and shock, didn't take long to turn an event about him into a message for the team. He told the players to take advantage of the opportunity before them and to relish the chance.
"[These were] the greatest years of my life," Antonopulos said. "It doesn't get any better than this. [There was] not one day when I did not want to come to work."
Kubiak presented Antonopulos with a painting that celebrated his career, and then, as quickly as the presentation began, it was over and "back to work" for the Broncos.
That's how "Greek" wants it, Kubiak said.
As the players filed out of the team room to head to another set of meetings, that's when the best example of Antonopulos' impact on the organization was on display.
In a three-minute stretch, he faced a stream of hugs and fist bumps as everyone from Kubiak to C.J. Anderson stopped to congratulate him.
"It was unexpected," Antonopulos said, "and it was just really cool, and I love this place.
"I always have, always will."