ENGLEWOOD, Colo. —** Eric Studesville just couldn't leave Denver. Through staff overhauls in 2011 and 2015, the longtime running backs coach had stayed a Bronco. His status through a third coaching change, however, seemed uncertain given an opportunity to join the Jets as their offensive coordinator. But after carefully considering the decision, Studesville ultimately chose to continue his career in Denver.
That didn't mean Studesville wouldn't get a promotion he desired, though. He remains the running backs coach, but he added a new position to the front of his title: Assistant Head Coach.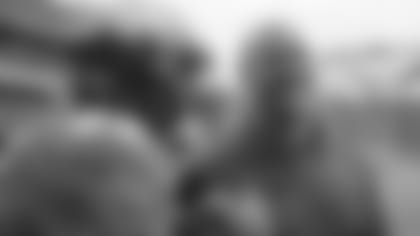 "The biggest thing is just to be a support mechanism for [Head Coach] Vance [Joseph]," Studesville said. "Obviously, I've been here longer [than many coaches] … so I know some of the players, I know the building. That just helps navigate some of those things, as well as to be a sounding board. I certainly respect Vance and what he's bringing, and the plan and vision he has for this, but sometimes you just need other ideas, too, and somebody that's there that you know that has full support of you and where this program's going."
When Joseph began working on putting together his staff, he found Studesville to not just be an essential position coach to retain, but one who should have more responsibilities than just teaching his group of running backs.
"Eric had opportunities to go other places and be coordinator maybe and he chose to stay here with us and that was important also," Joseph said. "Eric's a big part of what we're going to do here offensively and with our players he's got great respect in our locker room, so having Eric was a must."
Studesville has been a stabilizing presence for the team in its previous two coaching changes in 2011 and 2015 as the only coach to stay with the team since 2010.
In 2015, when the Broncos hired Gary Kubiak and brought a new offense with new terminology, C.J. Anderson relied upon Studesville to help in the transition but also felt a sense of security and familiarity that helped in the running back room. 
"It's really huge for us," Anderson said in June 2015," and I can say the same for the receivers with Tyke [Tolbert]. It's really huge for us because he knows his players. It's not like we have to get to know a new coach and the new coach has to get to know us. Coach Stu knows me and he knows that he can talk to me and I'll get it. He can put it on the board and I'll get it. He can use his hands and be silent and I'll understand it. Same with our other players in the room.
"And so when you bring the new offense in, you can still [use] our same terminology to fit in with the new terminology that we're learning today. So, Coach Stu has been a big part and a big help to my success." 
Studesville's reliability isn't just helpful for the players, but also for the coaches on the staff. Offensive Coordinator Mike McCoy, who coached with Studesville when McCoy was in the same position from 2009 to 2012, knows he can depend on Studesville's experience and opinions from their previous work together.
"Having worked with Eric and Tyke, it is a great plus," McCoy said Tuesday. "They know how I am. What I did with Eric the past couple of years when I was here calling plays, he was that crutch I leaned on a couple times and certain times during the game I was asking him for his opinion."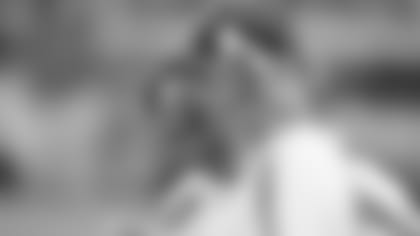 With 20 seasons as an NFL coach under his belt, including four weeks as an interim head coach in 2010, Studesville's experience was also a major advantage that matches with Joseph's other new offensive coaching picks, like McCoy, Quarterbacks Coach Bill Musgrave, Offensive Line Coach Jeff Davidson and Tight Ends Coach Geep Chryst, who each boast 18 or more years of NFL coaching.
"We're all a culmination of our experiences, and Vance has put together an incredibly experienced staff," Studesville said. "So, all of us are going to be needed to draw upon our experiences at some point in time this year, and that's what we're all here for, to support his direction and vision for the Broncos to go."