While teammate Sony Michel was the more explosive half of Georgia's ground tandem, Chubb brought the between-the-tackles power. That bore itself out in an impressive bench-press showing Thursday. The 227-pound Chubb posted 29 repetitions, matching Penn State's Saquon Barkley for the best among running backs.
CB Brandon Facyson, Virginia Tech
His ability to go step-for-step with Oklahoma State's James Washington in the Camping World Bowl last December offers evidence that he could fare better than expected in the timed speed and quickness drills.
LB Shaquem Griffin, Central Florida**
After an outstanding performance in the Peach Bowl and consistent play throughout the week for the South team at the Senior Bowl, Griffin is expected to take part in safety drills at the Combine, expanding his possibilities.
WR Anthony Miller, Memphis
It might be a stretch to call Miller a "sleeper," but after a foot injury forced him to miss the Senior Bowl, he comes to Indianapolis looking to bolster his stock. Miller could have pushed Oklahoma State's James Washington to be the best wide receiver at the Senior Bowl.
Smith matched Notre Dame guard Quentin Nelson by throwing up 35 repetitions in the bench press, finishing two behind UTEP's Will Hernandez (37), who was a star for the Broncos-coached North team during Senior Bowl week.
Edge rusher Ja'Von Rolland-Jones, Arkansas State
Consistent production for the Red Wolves and a solid week at the East-West Shrine Game offer a good foundation for Rolland-Jones, whose athleticism could allow him to distinguish himself in the 40-yard dash, three-cone drill and short shuttle.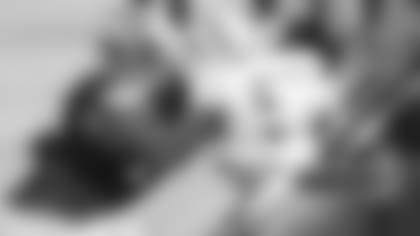 The athleticism Senat showed at the East-West Shrine Game last month should allow him to turn in some good times in the speed and agility drills during Friday's on-field work. Senat has added eight pounds to his frame since the East-West Shrine Game, bulking up to 302 pounds, and said he would like to get up into the 310-315-pound range. If he can maintain his quickness at that size, he should be a solid mid-round prospect.
DT Nathan Shepherd, Fort Hays State
Before an injury cut short his Senior Bowl week, Shepherd was the only defensive lineman on the North team who was able to muster any consistent success against Hernandez during one-on-one drills. A good weekend could help him stick as a Day 2 pick.
QB Mike White, Western Kentucky
White's short-to-intermediate-range accuracy lends itself well to the drills he will be asked to do when the quarterbacks take the field Saturday, and that could allow him to build off of a solid performance in the Senior Bowl in January.