ENGLEWOOD, Colo. — Sitting in Pam Papsdorf's office on a Friday afternoon in March, two things quickly become clear.
First, the Broncos' personnel logistics manager is busy.
The NFL Combine is in the rearview mirror, but there have been a number of free-agent signings in recent days — and there are plenty of pre-draft prospect visits on the horizon.
Just 54 seconds into an interview about her 36 years with the Broncos, Papsdorf's phone buzzes. Then again, a few moments later.
"Never a good time, right?" Papsdorf says with a laugh.
As the Broncos build their roster this offseason, General Manager George Paton leads an extensive scouting staff dedicating to constructing a winning team.
Without Papsdorf, though, the process would not be possible. In her role, she manages a slew of logistics, including travel for the team's scouts and prospects who visit Denver. She's one of the first people a player speaks with when they're signed by the Broncos, and she's involved in a number of key processes.
"I want to recognize someone who doesn't get enough credit," Paton said at the end of the 2022 NFL Draft. "She's been doing this for three decades, and she just works behind the scenes. She doesn't get any credit, but she works day and night. She keeps everything on track with our logistics and our itineraries, and that's Pam Papsdorf. Doesn't matter what time of night you call her — midnight, players call her all the time. She's all about the team. She's all about helping out."
And that's the second thing that stands out about Papsdorf, who is the second-longest tenured employee currently with the Broncos: She doesn't need — or want — any attention.
"[Paton's comments] means a lot because it means that they recognize what I do, but by the same token, it's because I am so behind the scenes and I like to be behind the scenes," Papsdorf says. "I'm not one that likes to be out in the spotlight by any stretch. It's very cool and I'm very grateful that they do that. It really does mean a lot. I certainly don't expect it, because I guess I feel that I don't do anything more than anybody else does. We all work really hard, and we have to. This is a team. This isn't just a team on the field, it's a team off the field. We all have to do our part and work together to make it go. I feel like I'm just a part of that. I'm a piece of the puzzle to make it work."
And work, Papsdorf does. She is among the longest-tenured women who have worked for the Broncos in the team's 63-year history, and she's played a critical role in Denver since being placed with the organization by a temporary agency in 1987.
The Greeley native joined the Broncos after previously working for Coca-Cola and IBM, and she was thrust into the fire immediately. At that time, the NFL was a far cry from the power it is today, and Papsdorf estimates she was one of about 35 team employees. Her role was all-encompassing and included facilities, operations and human resources.
She joined the organization on April 1 — ahead of a strike-impacted 1987 season — and she was immediately placed in charge of choosing hotels for team road trips. The players changed, but Denver found success and reached Super Bowl XXII in Papsdorf's first season.
"The first quarter was great, and then I cried for three quarters after that," Papsdorf says.
Papsdorf says that when she joined the organization that season, she never imagined she'd still be with the team nearly four decades later.
"I never in a million years growing up ever would have thought this is what my career would be, and I didn't think in 1987 that this is what my career was going to be, but I'm so thankful and grateful every day that it is," Papsdorf said. "It's a lot of hard work. People don't understand the hours that go into it. … [The way] I was raised, you do [a job] 100 percent or you don't do it. If it's a job well done and it helps the team do what they need to do, then that's all satisfaction that I need. I don't need accolades. I don't need this. I don't need any of that and I don't ask for it. I want my job and how well I do my job to speak for itself."
Papsdorf has held herself to that standard for years — even as she's traveled a road that's included a number of different roles.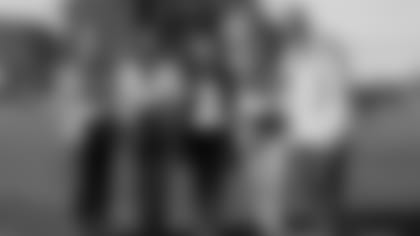 She began working with former director of administration Sandy Waters before moving to the football side in 1991. She worked in college scouting for 12 years, while also helping administratively with the training staff. In those days, her friends away from the Broncos would ask her what her second job would be during the offseason, not understanding the year-round nature of the business.
During this stretch, the Broncos finally won their first world championship after falling in a pair of Super Bowls during the early years of Papsdorf's tenure.
"There will never be another feeling like that one," Papsdorf says, "because we worked so hard for so many years and could just never get there and then we finally got there and that was just the best."
In 2003, Papsdorf changed roles, this time working as Assistant to the General Manager during Ted Sundquist's tenure. She remained in the player personnel department and worked closely with GM Brian Xanders until John Elway assumed the role.
From 1991 to 2010, Papsdorf also held the responsibility of calling players the team selected in the draft. Each year during that span, Papsdorf was the first person to talk to the Broncos' draft selections.
"The best part of [the job] is that we get to see them and talk to them as people, as human beings," Papsdorf says. "Not the players that are on the field that everybody sees."
Papsdorf, too, was one of the staff members responsible for calling players in to be released.
When Elway became general manager, Papsdorf's role changed again. She worked with the college and pro scouting departments and assumed football administration responsibilities in 2012. That role included typing players contracts, and it quickly became a memorable part of the job.
"My very first contract that I ever typed … was Peyton Manning," Papsdorf says. "That was pretty cool."
Papsdorf set up Russell Wilson's pre-draft visit with the organization in 2012 — and she said he remembered speaking with her a decade later when he arrived in Denver.
In 2016, Papsdorf began to manage travel for football operations, as well.
Across her tenure, Papsdorf has built relationships with many across the organization — and it's easy for her to rattle off more than two dozen players that she's cherished getting to know. From Elway to Champ Bailey and from Steve Atwater to John Lynch, there's no shortage of players, coaches or staff members that have proven to Papsdorf that she's in the right line of work.
"I've just been so fortunate to know so many of them, and there's been so many great, great players and coaches that have been through here," Papsdorf says.
During her career, she's seen her share of changes — and that includes how women are able to have an impact both within the Broncos' organization and on the larger game of football.
When Papsdorf started at the Broncos, she said there were three essentially career choices for women in the field: accountant, secretary or receptionist. Now, the Broncos have an ownership group that includes Carrie Walton Penner, Mellody Hobson and Condoleezza Rice and a number of women in leadership roles on its executive staff and among the company's vice presidents. On the football staff, Executive Director of Football Operations/Special Advisor to the General Manager Kelly Kleine also plays a critical role for the team's front office, and Roya Burton is a player personnel assistant.
As the Broncos and NFL look to continue to provide pathways to increase diversity in the game, Papsdorf says she's pleased to see women receive opportunities that were previously unavailable.
"Football has changed so much from when I started to today, and I think women in football can only enhance the sport and the business," Papsdorf says. "We've proven we are just as hard working and as driven as men in the sport, and the sacrifices we make are no different. Sometimes more, as many women in the business are still the main caregivers at home as well. So our work-life balance can be more difficult to navigate, but we are still just as dedicated. We are great multitaskers and planners and have proven we can handle a wide variety of duties and roles as well as anyone. From coaching, to personnel, medical, nutrition, media, operations, equipment, finance, front office – there are not many areas women have not touched in football today. And we can bring a different element to it all.
"I believe men and women, together, can make this sport — this business — something really special."
And for Papsdorf, who is closing in on four decades of service with the Broncos, it's deeply important to help the organization be at its best.
"I feel like I'm working for something," Papsdorf says. "I'm not just working."