ENGLEWOOD, Colo. -- **Next week marks the end of OTAs, but it is expected to be a beginning for first-round pick Shane Ray.
When the Broncos reconvene for their last organized offseason work, they hope to have the rookie outside linebacker taking his first team-period repetitions in practice.
"The plan is for him to do some team (work) next week, which he's kind of been doing more seven-on-seven, individual (periods to this point)," Head Coach Gary Kubiak said.
Ray began taking individual repetitions June 1. The Broncos hoped to have him see some team work by this week, but a strained quadriceps muscle held him back.
"I was coming back last week, just kind of pushing a little bit, and had a little tweak," said Ray. "It's nothing serious at all. But as far as coming back from my foot injury, they wanted to make sure that there's nothing else that slows me down."
To date, the installation of packages involving Ray has been limited to walk-through periods. From there, it's all about mental repetitions, which he doesn't take alone.
"He's so sharp on the board and in watching film, and then on the sideline, we have a coach with him every play, and he tells the coach what he's supposed to do on that play," Defensive Coordinator Wade Phillips said.
Ray said the coach that he works with during each play is coaching intern That Bogardus.
"Whatever the defensive play is, he'll ask me, 'OK, what's the formation the offense is in? What's your responsibility on this? What didn't he do right? What did he do right? Where are you supposed to be?'" Ray said. "And so I'll go through each one of those progressions on every play, be like, 'I should be here.'
"(I'll say) what I would have done (and) this is what I think he should do better. Or you know whatever along any of our play calls. And I think that's really important because I'm getting a lot of mental reps and I'm seeing it even though I'm not doing it."
All that is on top of the classroom work he receives with Outside Linebackers Coach Fred Pagac and Pro Bowlers DeMarcus Ware and Von Miller. Ray's work with Miller began when the two met in the pre-draft process through a mutual friend and continued after the Broncos selected him.
"Now that I'm able to sit in a room and kind of learn from his point of view on how he does certain things -- whether it be in coverage or a feeling that he has on a certain rush -- I'm now able to use that knowledge and bring it back to my game, just like with DeMarcus," Ray said. "It's very helpful to me, especially as a rookie, because I get to see from the eyes of two Pro Bowlers and how they view things, and now I can apply it to myself."
And, most importantly, apply it on the field.
"I think next week will be a big week for him," Phillips said.
"I've been putting in all the mental work I possibly can, getting as much work as I can in the weight room and learning," Ray added. "For me to get out on the field, actually, I'm real excited. I can't wait."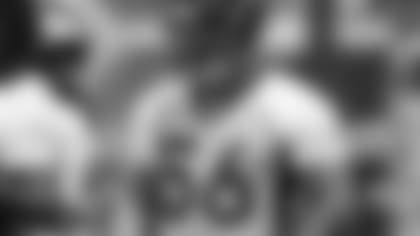 Phillips added that Ray will play both sides at outside linebacker.
"Again, for a rookie, I think it's exceptional that he's learned a lot of things as quickly as he's learned them," Phillips said. "But live action on the field -- even though you know the X's and O's of it, sometimes your reaction is a little slower."
Ray's work won't stop next week. He will be one of the players who has to report to Dove Valley on a daily basis during the approximate six-week period between the end of OTAs and the start of training camp.
That will allow him to complete the rehabilitation from the toe injury that hindered him in the pre-draft process.
"Summer will be real important to him," Kubiak said. "There's a lot of guys that get to get away, and some guys that have to stay here and make sure he's 100 percent and ready to go."
Added Ray: "I feel the best I've felt since the injury. I feel like I'm almost to 100 percent. I'm able to break and run and stop."
The Broncos capped their offseason minicamp with another tough practice as players continue to try to prove themselves and coaches work to put in place the foundation for the season.